MSNBC's Stephanie Ruhle Defends Ivanka Trump's Qualifications As UN Ambassador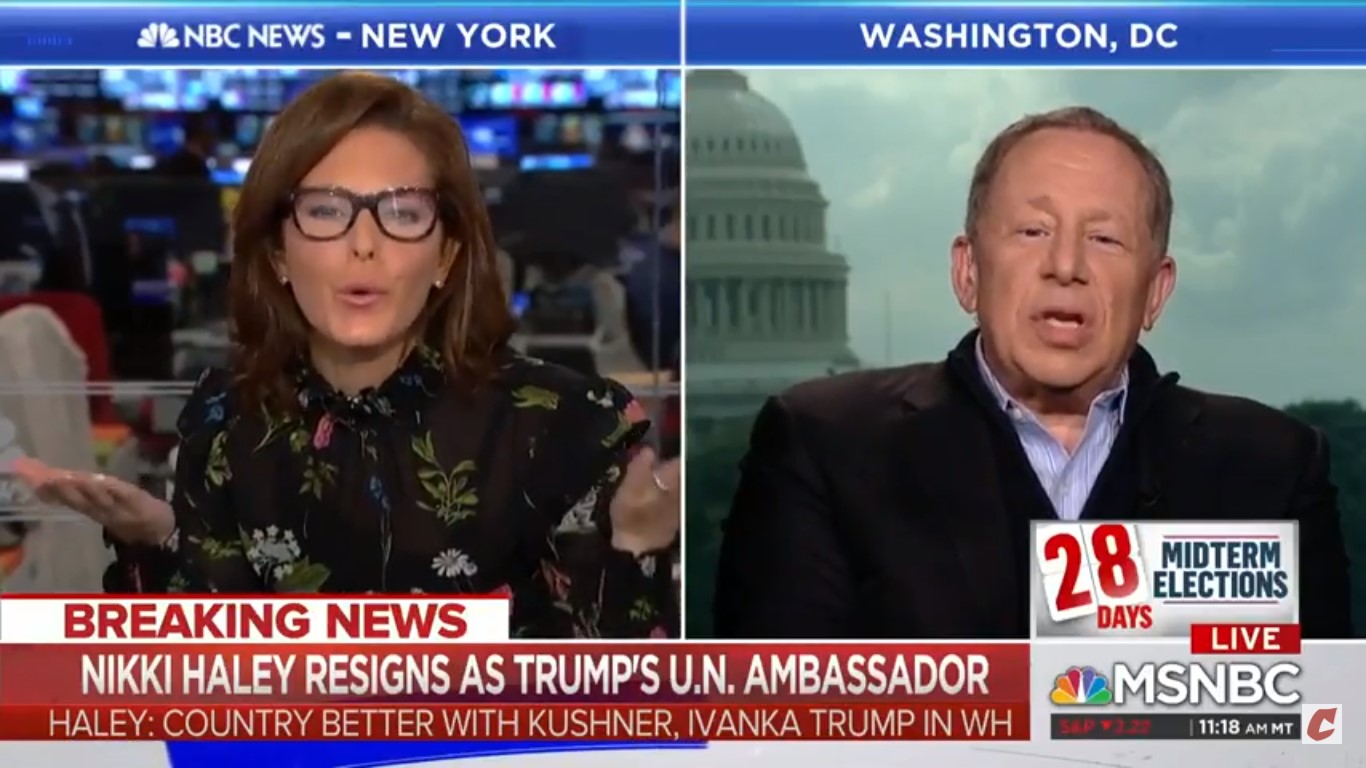 Following the shocking resignation of U.S. Ambassador to the United Nations Nikki Haley, speculation ran rampant that President Donald Trump would choose none other than presidential daughter and White House senior advisor Ivanka Trump to replace Haley.
Obviously, the thought of a brand-obsessed and policy-inexperienced celebrity potentially being made a top diplomat resulted in a certain amount of mockery. During an MSNBC panel discussion on the subject, host Stephanie Ruhle felt it was her duty to come to Ivanka's defense when one of her guests compared Ms. Trump to rapper and MAGA hero Kanye West.
"Let's pump the brakes here a little bit, okay," political scientist David Rothkopf said. "I mean, you know, Ivanka Trump is under investigation by the state of New York for problems with their charity."
He added, "If you want to go and elect, you know, nominate a celebrity for this job, why don't we go to the White House now? The president's having lunch with Kanye. Kanye's just as qualified as Ivanka. He's a celebrity."
Ruhle shot back, telling Rothkopf multiple time "that is not fair" before explaining why Ivanka should be seen as at least more qualified than West.
"Listen to me, you can say that Ivanka is under investigation with regard to the family's charity, but she's without a doubt more qualified for the job and has spent the last two years in Washington," she exclaimed. "You cannot — there's no equivalency between Kanye and Ivanka. That's a no!"
Rothkopf, however, was undeterred and continued to make his case that Ivanka was essentially nothing more than a substanceless celeb.
"You may believe that and I respect that, but the reality is what Ivanka Trump has gone out and done is a lot of photo ops," he noted. "She's achieved nothing substantive. Meanwhile, she's been getting trademarks for her business along the way."
He concluded, "She's been involved in a whole bunch of ethical issues that raise a lot of eyebrows. and I don't think there is anything substantive that anybody can point to that suggests she's a legitimate candidate to be an ambassador for the U.S., other than the fact that she's genetically related to the President of the United States."
Watch the clip above, via MSNBC.