Fox News Pulls In Huge Ratings For Kavanaugh Hearing, Outdraws CNN And MSNBC Combined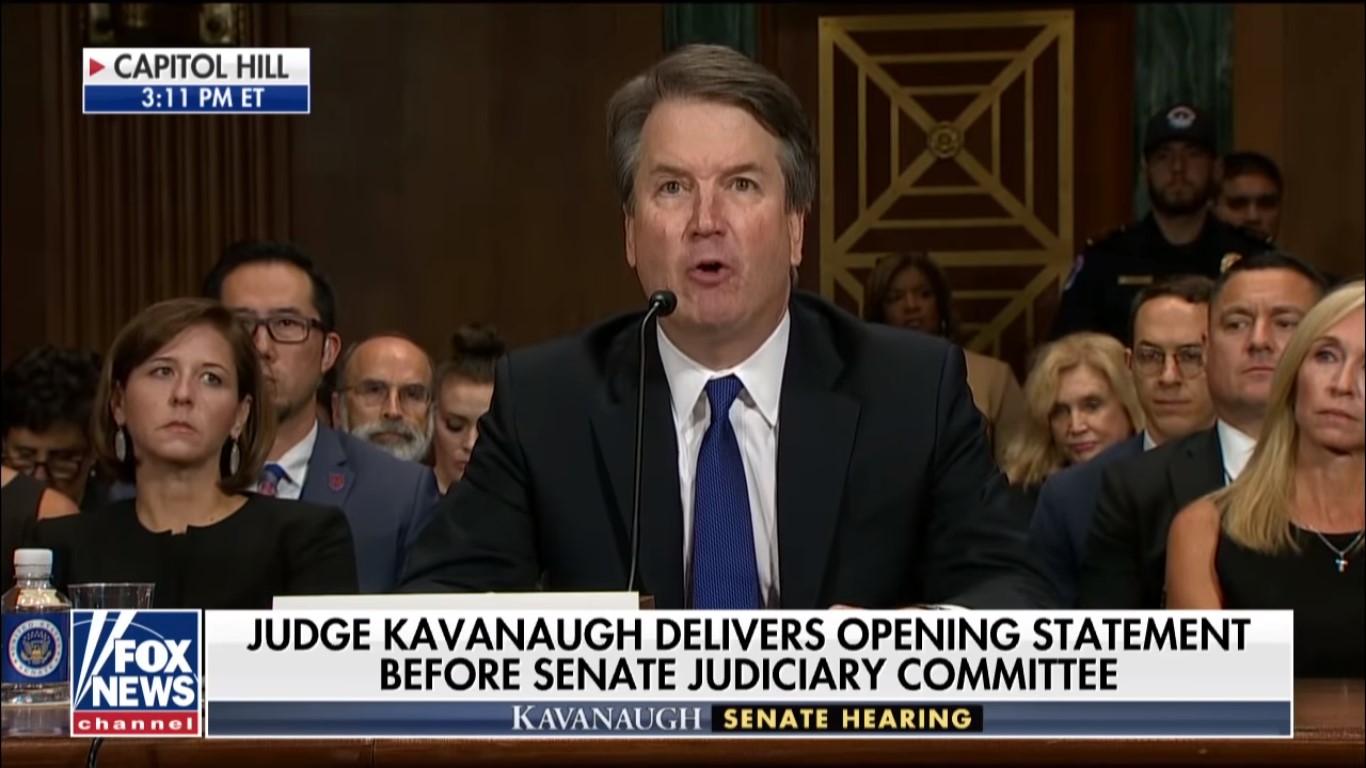 Much of the country was glued to their television sets on Thursday to watch the emotional and captivating Senate testimonies of Supreme Court nominee Brett Kavanaugh and Christine Blasey Ford, who has accused Kavanaugh of sexually assaulting her when they were in high school. Over on cable news, which was completely devoted to live coverage and analysis of the hearing, Fox News was the clear ratings champion.
According to early Nielsen numbers, Fox News led cable news across the board during the 10 AM to 7 PM hearing, drawing 5.691 million total viewers and 1.073 million in the key 25-54 demographic. CNN averaged 736,000 in the demo and 2.515 million viewers overall. MSNBC captured a demo audience of 464,000 and 2.892 million total viewers.
In the 8 PM to 11 PM primetime hours, Fox pulled in a total audience of 5.503 million and a robust 1.313 million in the demographic. MSNBC came in second in both metrics, nabbing 3.176 million total viewers and 721,000 in the key demo. CNN snagged a total viewership of 1.896 million and 669,000 in the 25-54 demo.
Fox's Hannity was the most-watched cable news program in both the demo (1.366 million) and overall audience (5.857 million). Fox's 10 PM show, The Ingraham Angle, took second place in the demo (1.289 million) and total viewers (5.369 million).
In fact, Fox had the top four rated shows on cable news Thursday outside the hearing, with 7 PM's The Story with Martha MacCallum outdrawing MSNBC's 9 PM ratings stalwart The Rachel Maddow Show in both total viewership (4.972 million to 4.033 million) and the key demo (1.268 million to 935,000).
It should be noted, however, that while Fox News clearly dominated on Thursday and beat CNN and MSNBC combined in total audience during the hearing, the other two networks still saw higher-than-normal numbers during the day, with MSNBC scoring its best ever daytime numbers.
The top-rated individual CNN program of the day was Erin Burnett OutFront, which aired immediately after the hearing. It attracted a total viewership of 2.308 million and 820,000 in the key demo.
UPDATE 6:39 PM ET: Nielsen released the broadcast numbers and Fox News beat NBC, ABC, and CBS in hearing coverage. ABC averaged 3.468 million total viewers and 718,000 in the demo during the hearing, CBS pulled in 3.238 million viewers overall and 660,000 in the demographic, and NBC attracted a total audience of 3.191 million and 794,000 demo viewers.
Also, Fox News' late-afternoon hearing coverage captured larger audiences than the season premieres of CBS' Murphy Brown and ABC's Grey's Anatomy.