Speculation Abounds That NYT Bombshell Was Planted So Trump Can Fire Rosenstein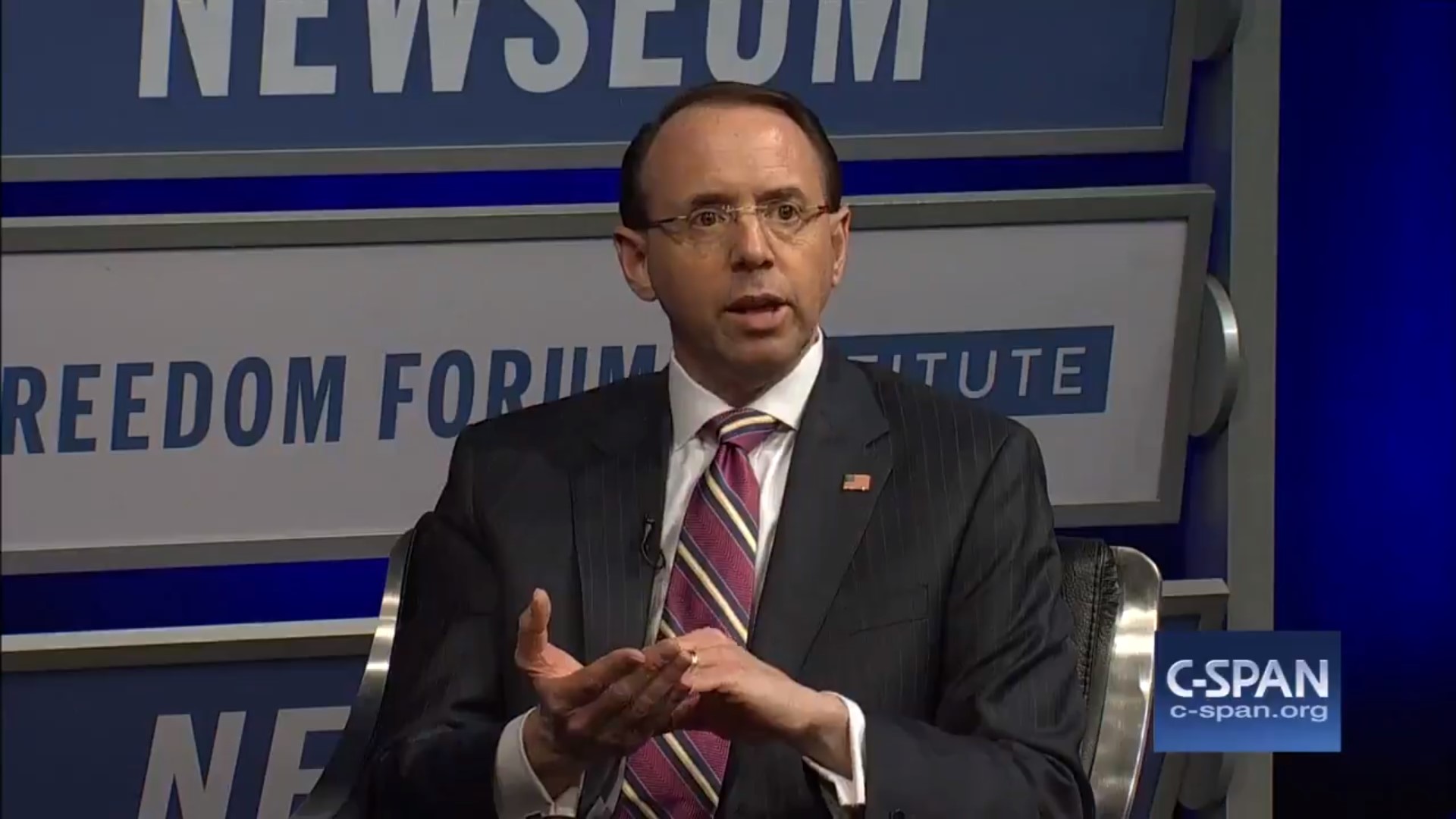 So this happened today.
As if the news cycle wasn't already jam-packed, what with the Christine Blasey Ford allegations and Brett Kavanaugh's nomination hanging in the balance, the New York Times dropped a bombshell report that Deputy Attorney General Rod Rosenstein suggested he'd be willing to wear a wire to secretly record President Trump and talked about invoking the 25th Amendment to remove the president from office.
The story cited a number of anonymous officials who "were briefed either on the events themselves or on memos written by F.B.I. officials, including Andrew G. McCabe, then the acting bureau director, that documented Mr. Rosenstein's actions and comments." Rosenstein, for his part, issued something of a non-denial denial, stating that the Times story was "inaccurate and factually incorrect" while adding that he won't comment any further on a "story based on anonymous sources who are obviously biased against the department and are advancing their own personal agenda."
Considering the fact that Rosenstein oversees the Mueller investigation and was the one who tapped Robert Mueller to lead the probe, and the president has long made his anger with Rosenstein clear as well as his desire for the Russia investigation to end, many immediately speculated that this story was leaked by the White House or Trump's allies in order to give Trump an opening to fire Rosenstein and get rid of the Mueller probe.
Below are some reactions from media folks and political insiders:
A theory:

Why did Rosenstein story leak now?

Kavanaugh may be sunk. So Trump feels freer to do something audacious. Also keen to take actions that get Dems to talk "impeachment" because that's only way to mobilize Repubs in midterm. Mueller closing in.

Result: Rosenstein fired

— Ryan Goodman (@rgoodlaw) September 21, 2018
My gut says this leak was intended to get Rosenstein fired as well…. https://t.co/jVdG7aVrnL

— Susan Hennessey (@Susan_Hennessey) September 21, 2018
NYT Gives Trump His Excuse to Fire Rod Rosensteinhttps://t.co/y4nIIepibg

By this description, ZERO of the people accusing Rosenstein of acting erratically were actual witnesses to his actions. pic.twitter.com/XIajdwA08S

— emptywheel (@emptywheel) September 21, 2018
It's fairly clearly an effort by admin sources who want Rosenstein ousted and don't have direct knowledge of the facts, and I'd suggest we weigh the credibility of the story on the basis of all we know about those folks.

— southpaw (@nycsouthpaw) September 21, 2018
I wouldn't gloss over the timing and placement of the Rosenstein story — coming just after the anonymous op-ed and in the same publication.

This has a hint of "two can play this game"… https://t.co/G93IlCQKTk

— Caroline O. (@RVAwonk) September 21, 2018
Trump uses story to fire Rosenstein. Trump installed judge box of wine. Democracy dies. pic.twitter.com/mzgOyopYhL

— Molly Jong-Fast (@MollyJongFast) September 21, 2018
The #RodRosenstein story is a set-up.

— Pedro da Costa (@pdacosta) September 21, 2018
Some noted that the bust of Trump's declassification gambit could have also played into this:
trump gets humiliated by rosenstein and the feds on his idiot declassification scavenger hunt from sean hannity so rudy phones a few friends and ratfucks them right back with a story whose overly specific details make very little sense

— Kilgore Trout (@KT_So_It_Goes) September 21, 2018
Everyone who thinks this is coming from the Fire Rosenstein/Dissolve the Mueller probe camp is probably right. But that is more evidence of how flailing they are. The declass gambit seems to have been a bust.

— Noah Rothman (@NoahCRothman) September 21, 2018
Meanwhile, if the intention is to get Rosenstein fired in order to end the Mueller probe, it would appear that message was received loud and clear.
Rod Rosenstein must be fired today. @realDonaldTrump

— Laura Ingraham (@IngrahamAngle) September 21, 2018
Shocked!!! Absolutely Shocked!!! Ohhh, who are we kidding at this point? No one is shocked that these guys would do anything in their power to undermine @realdonaldtrump.

Rosenstein Suggested He Secretly Record Trump and Discussed 25th Amendment https://t.co/ZTEwS8E1iJ

— Donald Trump Jr. (@DonaldJTrumpJr) September 21, 2018