Tucker Beats Maddow On Wednesday Night, Hannity Delivers Dominant Performance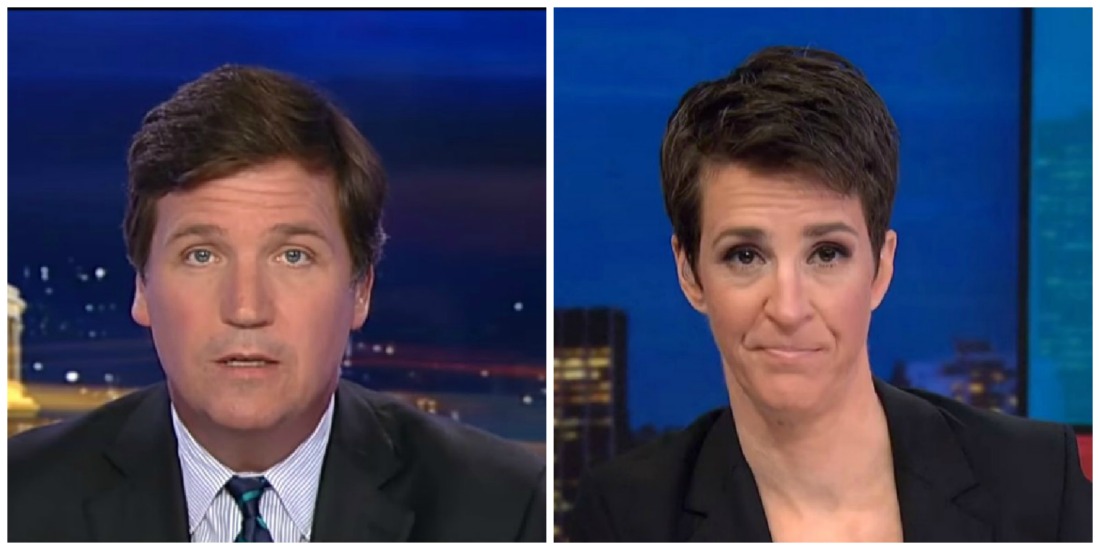 Last week, MSNBC's The Rachel Maddow Show was enjoying its best week ever while leading all of cable news in the key 25-54 demographic and total viewership. This week, however, Fox News' Hannity has ruled the roost. On Wednesday, the primetime Fox show delivered a dominant performance as it was easily the most-watched cable news program.
According to Nielsen, Fox News averaged a sizzling 3.356 million total viewers and 644,000 in the key demo during the 8 PM to 11 PM primetime hours. MSNBC finished a distant second in both metrics, pulling in 2.439 million viewers overall and 455,000 in the demographic. CNN attracted 344,000 demo viewers and a total audience of 1.028 million.
In the 9 AM to 5 PM daytime slot, Fox captured 1.515 million total viewers and 239,000 in the demo. CNN nabbed 189,000 demo viewers and a total viewership of 763,000. MSNBC averaged 1.012 million viewers overall and 149,000 in the 25-54 metric.
Hannity led across the board with 3.744 million total viewers and 704,000 in the demographic. Hannity's lead-in show, Tucker Carlson Tonight, finished second in both total viewership (3.254 million) and the key demo (665,000).
Maddow settled for a third-place finish in the demographic (636,000) and total audience (3.082 million). Fox's The Ingraham Angle took fourth in both metrics, drawing 3.055 million viewers overall and 550,000 in the 25-54 demo.
The top-rated CNN program was the 9 PM broadcast of Cuomo Prime Time, which drew 1.115 million total viewers and 381,000 in the demo.