John Dean: Christine Ford 'Ought To Go On 60 Minutes' Before Testifying At Senate Hearing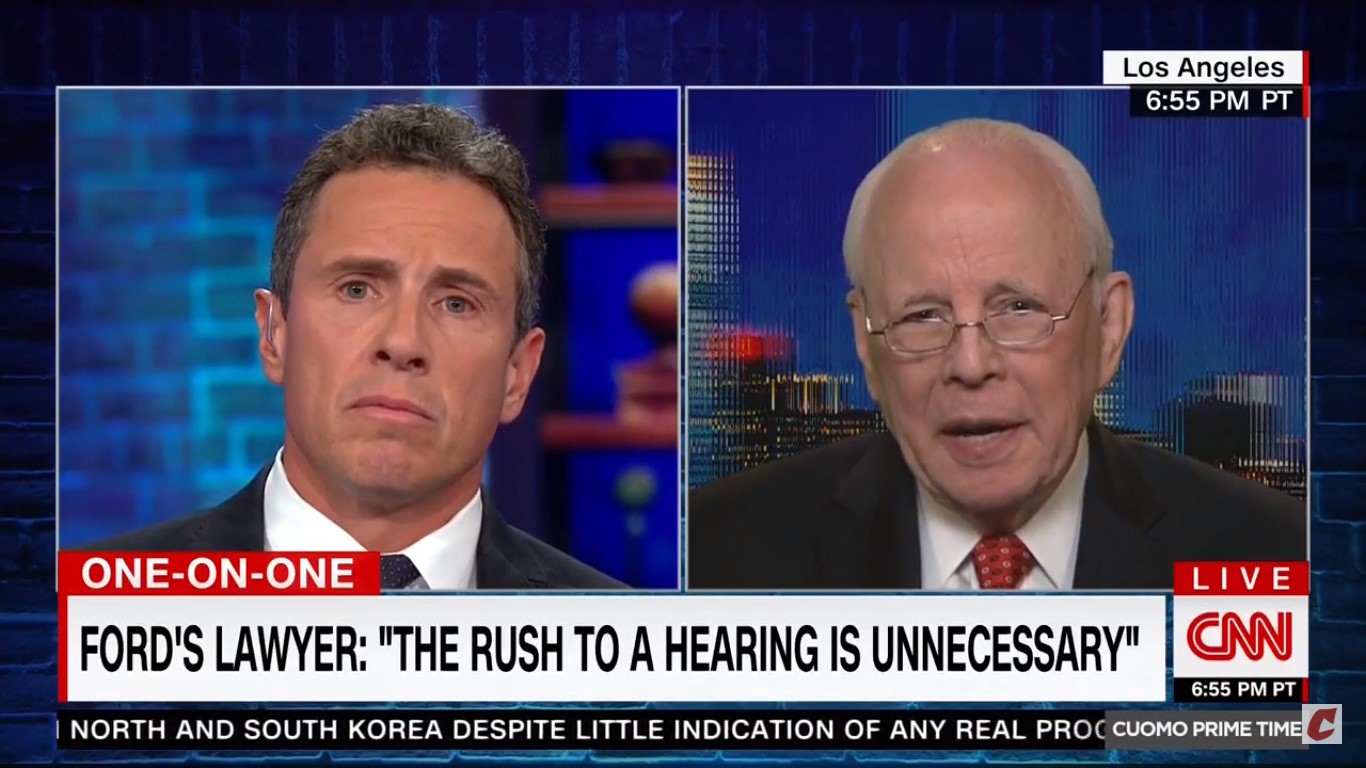 Former Nixon White House Counsel John Dean feels that Christine Blasey Ford should go forward with testifying at a scheduled Monday hearing even if the FBI doesn't conduct an investigation into her allegations that Supreme Court nominee Brett Kavanaugh sexually assaulted her when they were both teenagers. At the same time, he offered some advice to Dr. Ford.
Do a primetime television interview right before her Senate testimony.
Appearing on CNN's Cuomo Prime Time Wednesday night, Dean agreed with host Chris Cuomo that it would be risky for Republicans to not fully pursue investigating the allegations into Kavanaugh before elevating him to the Supreme Court. Dean then noted that Attorney General Jeff Sessions could step in and help protect Ford, who has received death threats since coming forward.
"I think that the attorney general, who is not recused from this, should offer witness protection to Dr. Ford," he stated. "She's had threats against her. I'm somebody who was in a high-profile hearing and was given witness protection."
He continued, "They could facilitate everything from travel to getting in and out of the hearings to rest — her assurance of mind that her family and she were safe because this is going to be a circus if she appears."
After saying that it would show a level of respect to the accuser that wasn't there during the 1991 Clarence Thomas hearing with Anita Hill, Cuomo wanted to know if Dean felt Ford should testify of the FBI isn't brought in.
"I think it's important she testify," Dean responded. "I think a witness protection offer would help. I think she ought to go on 60 Minutes on Sunday night with [Anderson Cooper] because another audience will see her much broader than might catch the hearings."
The CNN anchor asked Dean if he really thought she should go on 60 Minutes, causing Dean to promote the potential bombshell interview by saying Cooper is familiar with the subject and "nobody could get ready for it quicker."
Meanwhile, Blasey Ford's attorney said earlier this evening that the "rush to a hearing is unnecessary" and her client "continues to believe that a full non-partisan investigation of this matter is needed and she is willing to cooperate with the Committee," adding that a "plan to move forward with a hearing that has only two witnesses is not a fair or good faith investigation; there are multiple witnesses whose names have appeared publicly and should be included in any proceeding."
Watch the clip above, via CNN.