CNN's Kirsten Powers Accuses Margaret Hoover Of 'Smearing' Christine Ford In Heated Exchange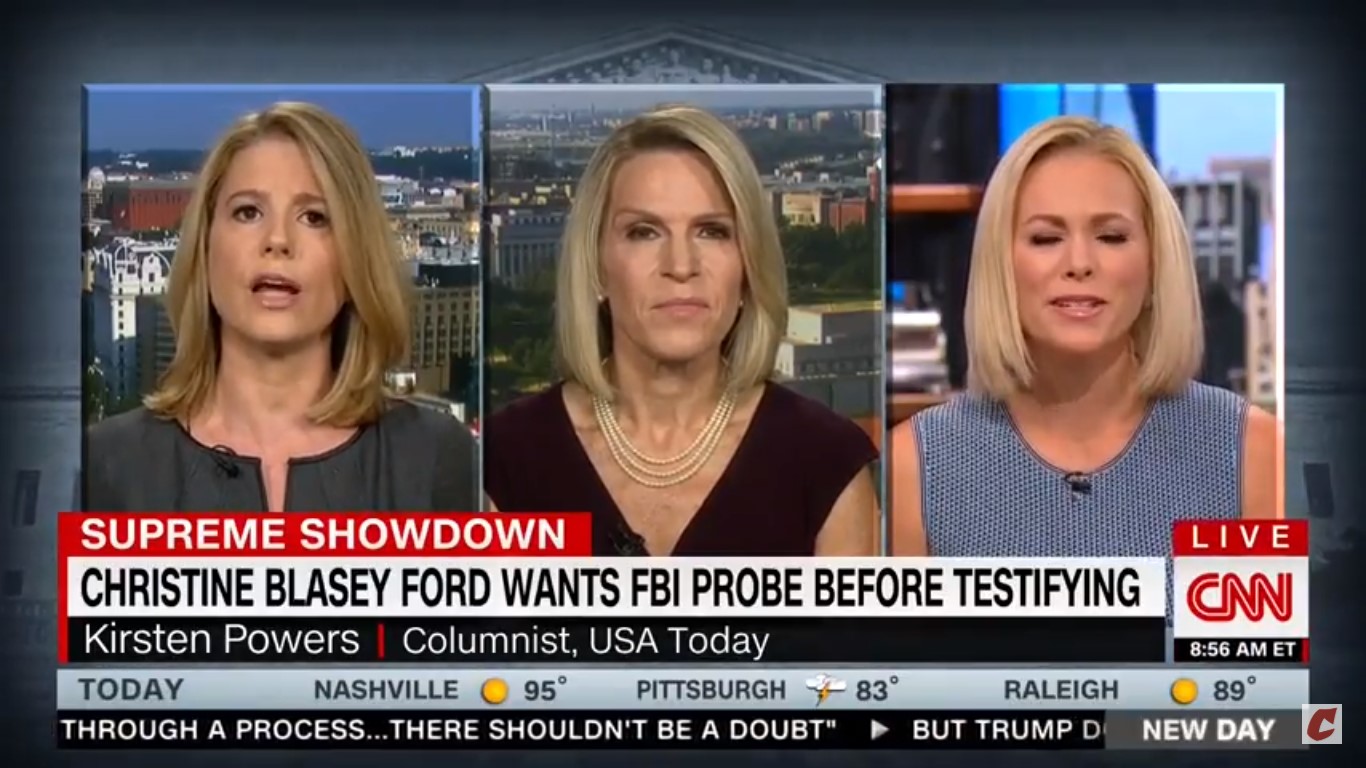 Things got a bit intense and personal earlier today when CNN political analyst Kirsten Powers tore into CNN political commentator Margaret Hoover for "smearing" Brett Kavanaugh accuser Christine Blasey Ford.
With Ford's attorneys stating that the professor wants the FBI to investigate the sexual assault allegations she's made against Kavanaugh before testifying in a Senate hearing, Hoover noted during a CNN panel discussion that "cooler heads must try to find a way that makes sure that she has her time, but also make sure that Brett Kavanaugh has a fair hearing."
"I just want to raise one other point about Brett Kavanaugh — a man I happen to know personally," the former Bush White House staffer said. "I've met him. I worked in the White House, and I know he has high integrity and character."
She continued, "Do you remember what they said about Rob Porter because of the FBI investigation — this was the White House staff secretary who had a quote-unquote woman problem? … Brett Kavanaugh has had six FBI investigations over the course of his life. There would be some other semblance of some other degree of problem with women if this were a character — if this were a past problem."
Host Alisyn Camerota then threw it to Powers for a rebuttal and the USA Today columnist did not mince words.
"There is not enough time to rebut everything that Margaret just said," Powers declared. "So I just take issue with almost everything that she just said."
After pointing out that it doesn't mean you don't have a "cool head" if you ask for an investigation and how it was a political decision to rush through a hearing, Hoover began talking over Powers, which obviously set the political analyst off.
"Margaret, I just sat here and listened to you go on and basically smear this woman and now I don't have time to respond," Powers snapped.
"I am not smearing a woman and you know that," Hoover exclaimed in response.
"You just basically said you know him and he didn't do it," Powers shot back. "That's irrelevant, and you know it is irrelevant."
Hoover reiterated that she knew Kavanaugh personally and that he is a "person of high integrity and character," causing Powers to ask what that has to do with anything.
"Because you know him, that means he didn't do this?" Powers wondered aloud. "I also am not saying that he did this. I don't know. I'm actually interested in getting the people who may have been in the room on the record, and under oath."
She added, "And not just telling people that it didn't happen. And so I'm not actually saying that he definitely did it. I don't know. I'm inclined to believe her. But I don't think people who want to hear what she has to say and want an investigation don't have cool heads."
What was supposed to be the end of a segment ended up going a few more minutes as Camerota extended the discussion a bit longer and allowed everyone to get in some additional thoughts.
You can watch how it concluded above, via CNN.