Hannity And Tucker Finish One-Two In Ratings Monday, Maddow Places Third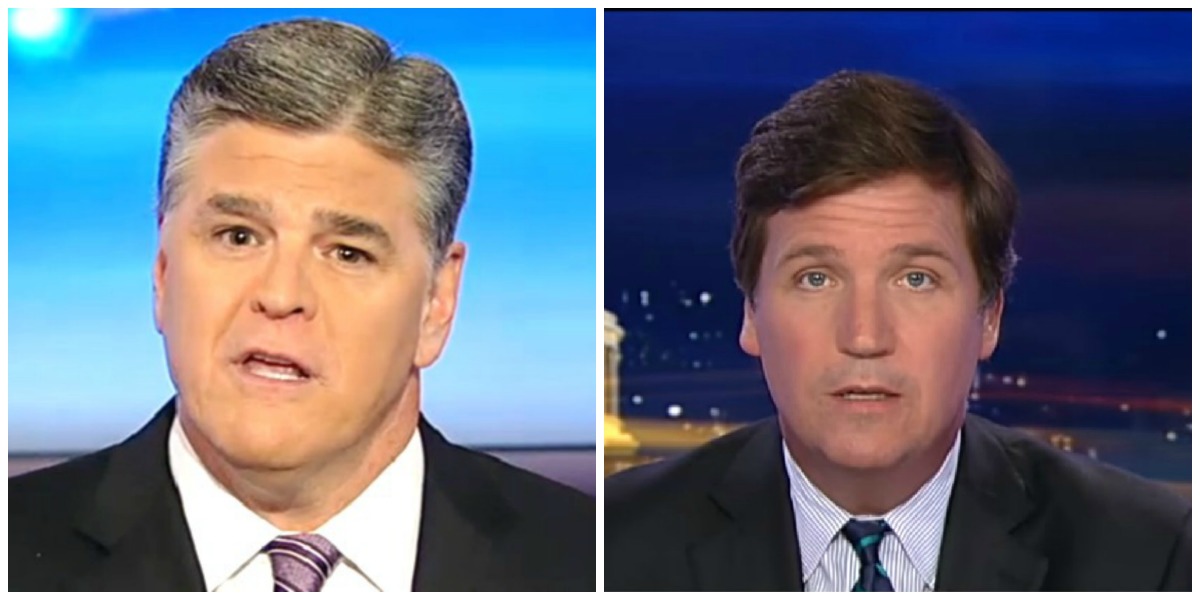 After finishing its best ever week by leading all of broadcast television in total viewership on Friday, MSNBC's The Rachel Maddow Show saw a dip in viewership on Monday night, falling to third place overall in both the key 25-54 demographic and total audience. Meanwhile, Fox News had the top two most-watched programs of the day led across the board in primetime and total day viewership.
According to Nielsen, Fox News averaged 561,000 demo viewers and 3.154 million viewers overall during the 8 PM to 11 PM primetime hours. MSNBC placed a fairly distant second in both metrics, drawing 2.443 million total viewers and 442,000 in the key demo. CNN pulled in a total audience of 1.089 million and 331,000 in the 25-54 metric.
Fox News' Hannity was the most-watched cable news program in both total viewership (3.577 million) and the key demographic (653,000). Fox's Tucker Carlson Tonight took the silver with 594,000 demo viewers and 3.054 million viewers overall. Maddow followed up with 2.989 million total viewers and 573,000 in the key demo.
The top-rated CNN program was Cuomo Prime Time, which drew 1.149 million viewers overall. Erin Burnett OutFront led the network in the key demo with 360,000.
Weekly ratings also came in for the previous week and Fox News enjoyed its 36th straight week as the most-watched cable network in total day, averaging 1.435 million viewers overall. MSNBC placed second in basic cable with 1.177 million total viewers and CNN placed fifth with an average audience of 872,000.
In primetime, Fox News was second overall with 2.492 million total viewers. MSNBC finished third (2.492 million) while CNN came in sixth (1.200 million).
In the weekly business network ratings, Fox Business led in business day with 214,000 total viewers while CNBC pulled in 162,000. CNBC led in the key demo, drawing 27,000 compared to FBN's 23,000.