Tucker Carlson Defends Anti-Diversity Segment, Suggests 'Disunity' And 'Diversity' Are Same Thing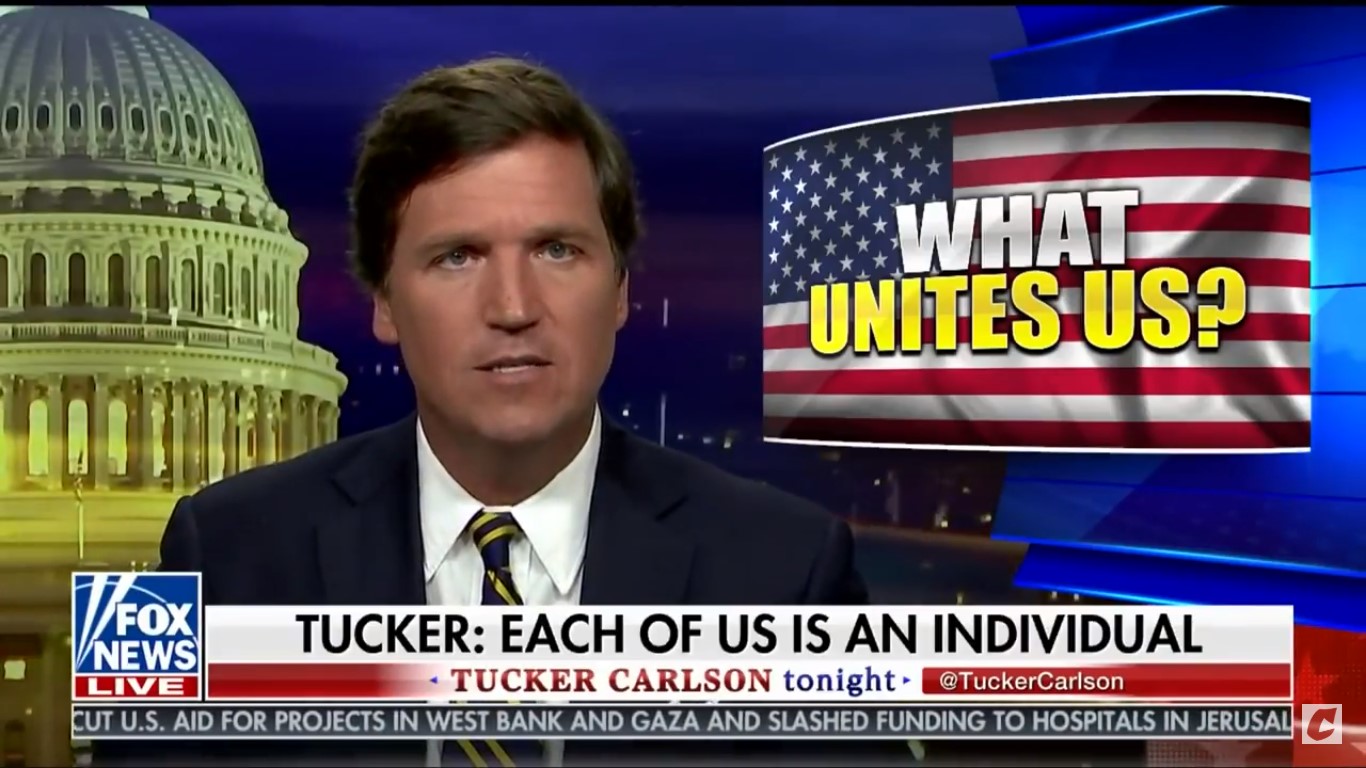 Following his Friday night anti-diversity segment that has been decried across the board as racist, Fox News' Tucker Carlson addressed the intense fallout by essentially doubling down Monday night and claiming that all he was doing was asking tough questions while trying to make the nation wiser.
At the top of his segment, Carlson said that for the the first two centuries of America's existence the nation's motto was E Pluribus Unum — out of many, one — and that was the source of the country's strength. However, the way Carlson tells it, political leaders decided a few decades ago to replace it with a new slogan "with no vote or acknowledgement" — Diversity Is Our Strength.
"The new slogan seemed to have the opposite meaning of the one the founders wrote," Carlson declared. "Our differences, they began telling us, are now the single most important thing about us. The less alike we are, the better."
He continued, "Now it's possible this is true, that disunity somehow makes us stronger, what is striking is that nobody bothered to explain exactly how."
After suggesting that diversity and disunity are the exact same thing, Tucker went on to defend his Friday segment by saying that "one of our jobs on this show is to ask questions that nobody else is asking — we believe that open debate is our birthright as Americans but we also believe it produces wiser conclusions."
After playing a clip from last week's broadcast, Carlson denied that the segment had anything to do about race while claiming his critics resorted to calling him racist instead of addressing the questions he asked.
"None of this is about race at all," he exclaimed, after taking a shot at Al Sharpton. "They're trying to silence us, they don't want to answer the question. They don't want to answer it because they don't have an answer to it."
It should be noted that over the past couple of days, countless people — pundits, political leaders, journalists, artists, writers, etc. — have responded to Tucker wondering how exactly diversity is a strength. It would almost seem as if Carlson isn't really interested in getting an answer.
And now he's claiming that no one answered his idiotic question about how diversity is a strength…he obviously did not read his mentions, doesn't know how google works, and has never had an interaction with anyone other than a trust fund baby with a TV show pic.twitter.com/w5rsuZCpr7

— Andrew Lawrence (@ndrew_lawrence) September 11, 2018
Watch the clip above, via Fox News.