Mika Brzezinksi: It Wasn't 'Becoming' For Serena Williams To Get 'Extremely Personal'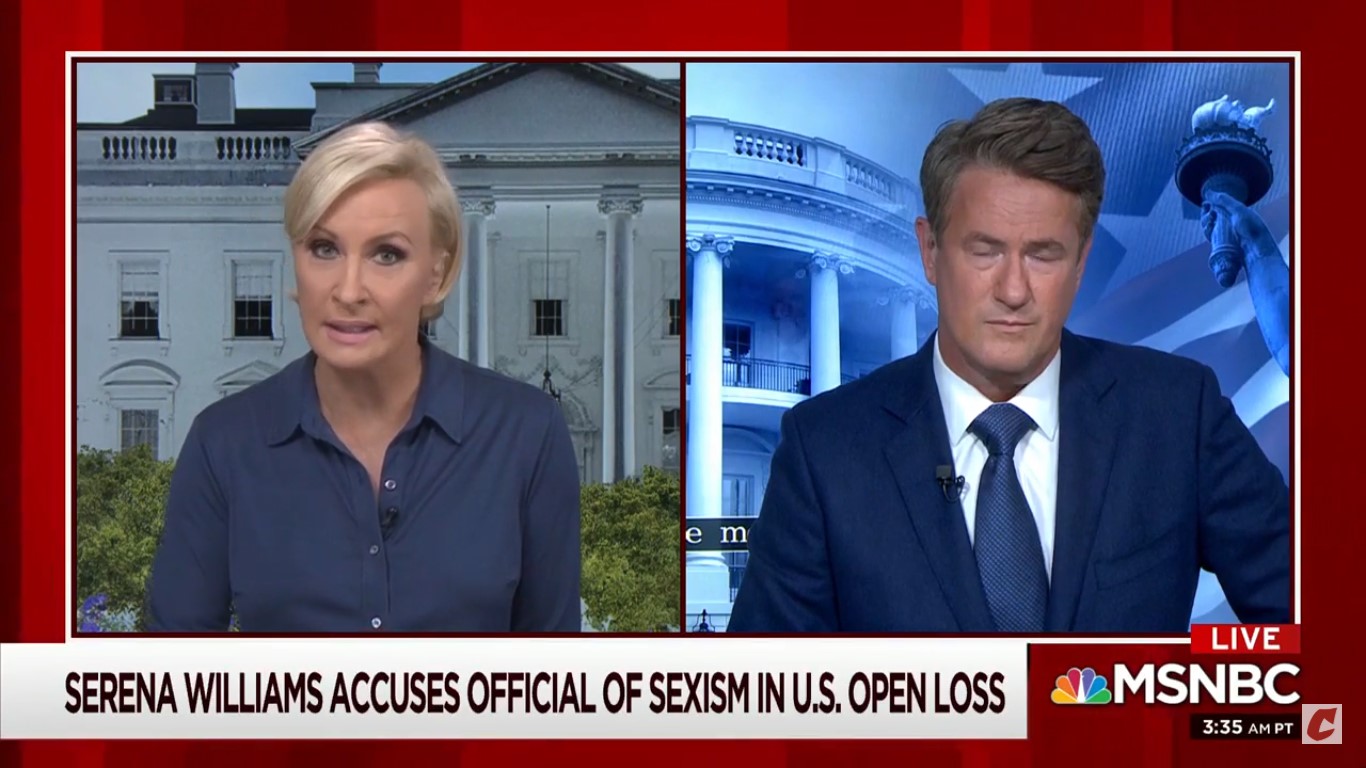 Morning Joe co-host Mika 'Know Your Value' Brzezinski jumped into the national conversation surrounding the controversial finish to the US Open final between Serena Williams and Naomi Osaka that featured Williams being docked a game by a chair umpire following an unfortunate series of events that quickly resulted in three code violations. And she took the opportunity to lecture the greatest women's tennis player of all time about her unbecoming behavior.
"She was being coached, and she also did throw the racket," Brzezinski said, remarking on Williams' first two code violations. "Personally, I don't think that's becoming, whether a man does it or a woman does it. And apparently, it's against the rules and she threw it, so it happened."
Right here would be a good time to note that the rarely-enforced coaching violation called by umpire Carlos Ramos is what set Williams off as she felt Ramos was impugning her character. After losing a game, Williams took out her frustration by slamming down her racket, resulting in a point deduction. This caused a clearly incensed Williams — who likely thought Ramos had backtracked on enforcing the coaching violation and that her racket-busting would be the first code violation — to lash out at Ramos and call him a "thief," leading Ramos to deduct a game from Williams for personal abuse.
Brzezinski went on to say that she has had conversations with many women "about knowing their value and communicating it effectively," saying one of the big know your value rules is "don't take it personally."
"The entire thing that played out on the court was extremely personal," she declared. "It was about Serena, it was about being apologized to and it became — it just completely blew out of control and quite frankly impacted her tennis, you could argue."
She continued, "But even more so took away from what was really happening. The winner was amazing and she won and really what should have happened for her, was taken away by Serena, incapable of not taking this all personally and taking it all in."
While Brzezinski — someone who talks a lot about gender double standards — seems more concerned about Williams's level of decorum on the court, a number of male tennis players, legends of the sport, and columnists have sided with Serena, stating it was blatant sexism and a case of a male official obviously having an issue with a "woman speaking sharply to him."
Watch the clip above, via MSNBC.