Giuliani Suggests NYT 'Orchestrated' Anonymous Op-Ed: 'How Much Is The Times Complicit?'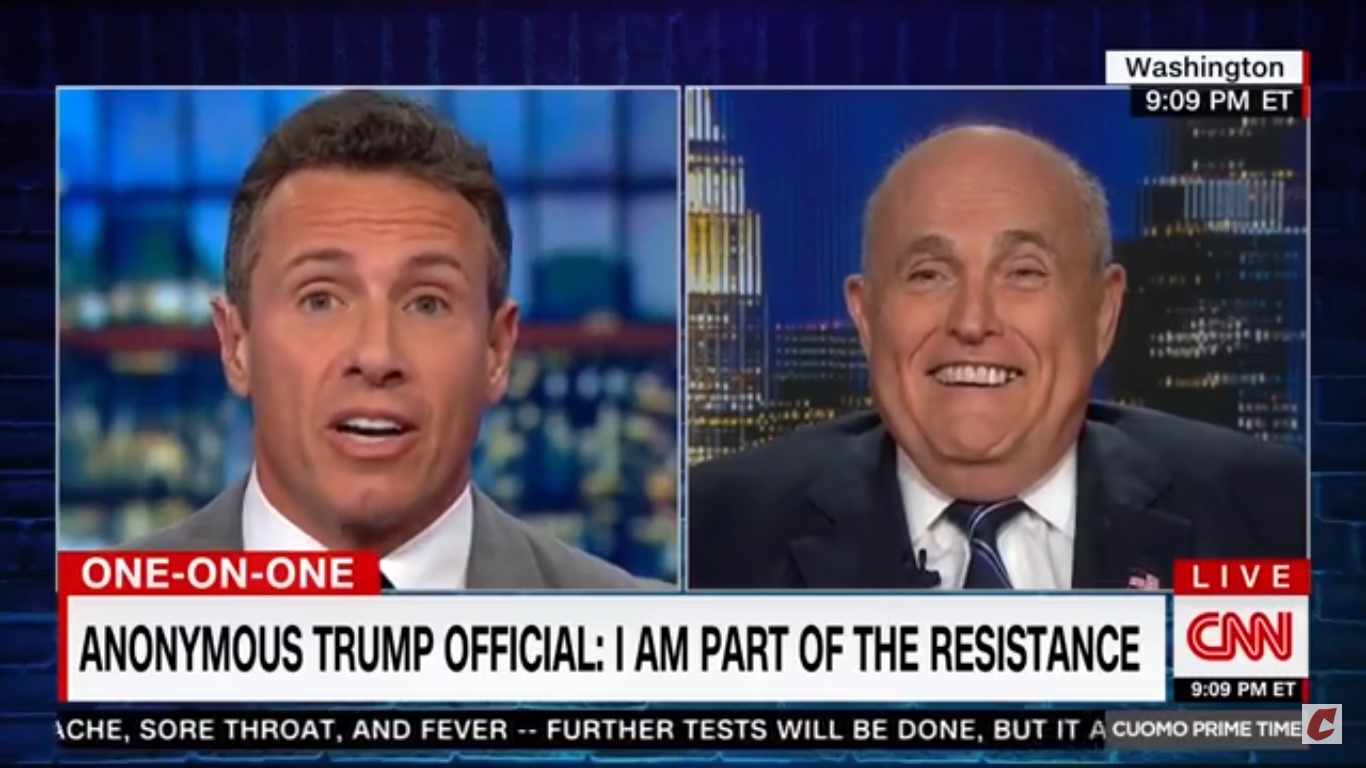 Trump lawyer and former New York City Mayor Rudy Giuliani played the loyal soldier Wednesday night and predictably railed against the explosive New York Times op-ed written by an anonymous senior Trump administration official that claims there is a "resistance" in the White House against the president. And much like his client, Giuliani bounced between suggesting the Times made up the author to calling for the paper to turn over the source for the sake of national security.
Does the so-called "Senior Administration Official" really exist, or is it just the Failing New York Times with another phony source? If the GUTLESS anonymous person does indeed exist, the Times must, for National Security purposes, turn him/her over to government at once!

— Donald J. Trump (@realDonaldTrump) September 5, 2018
Appearing on CNN's Cuomo Prime Time, America's Mayor first railed against legendary journalist Bob Woodward's for the "diaper" anecdote included in the highly-anticipated White House book Fear: Trump in the White House. After Giuliani whine about Woodward for a few minutes, anchor Chris Cuomo brought up the op-ed, noting that it echoed the same themes of Woodward's book before asking Rudy his thoughts on it.
"Well, number one, I don't know how much of it to believe," he reacted, after noting it may be "orchestrated."
Giuliani continued, "Is it a Trump appointee? Is he in the White House? Is he phonying it up? How much is the Times complicit?"
The CNN host responded by asking Giuliani if he believed the Times would really risk their reputation on faking an op-ed, causing the Trump attorney to mockingly say "oh, no, no, no, I don't think so."
This led to a back-and-forth between Cuomo and Giuliani in which the anchor pointed out how scandalous it would be for the Times to make up the author while Giuliani shrugged and said he just didn't trust the paper.
Shortly after they went at it over the possibility of the Times fabricating a source, Giuliani then justified Trump's call that the Times turn over the name of the person who wrote the piece by citing national security concerns.
"We don't know who this man is," the ex-mayor exclaimed. "We don't know what position he's in. We don't know how sensitive it is. I'm sure he exists. Suppose he's in a very sensitive national security position. This guy is obviously an unhinged guy. A guy without many morals, without any principle."
Well, there you go. Giuliani is sure the person exists, but also thinks the Times may have made up the author.
Watch the clip above, via CNN.