Tucker Carlson Sincerely Claims Nike's Colin Kaepernick Ad Is 'An Attack On The Country'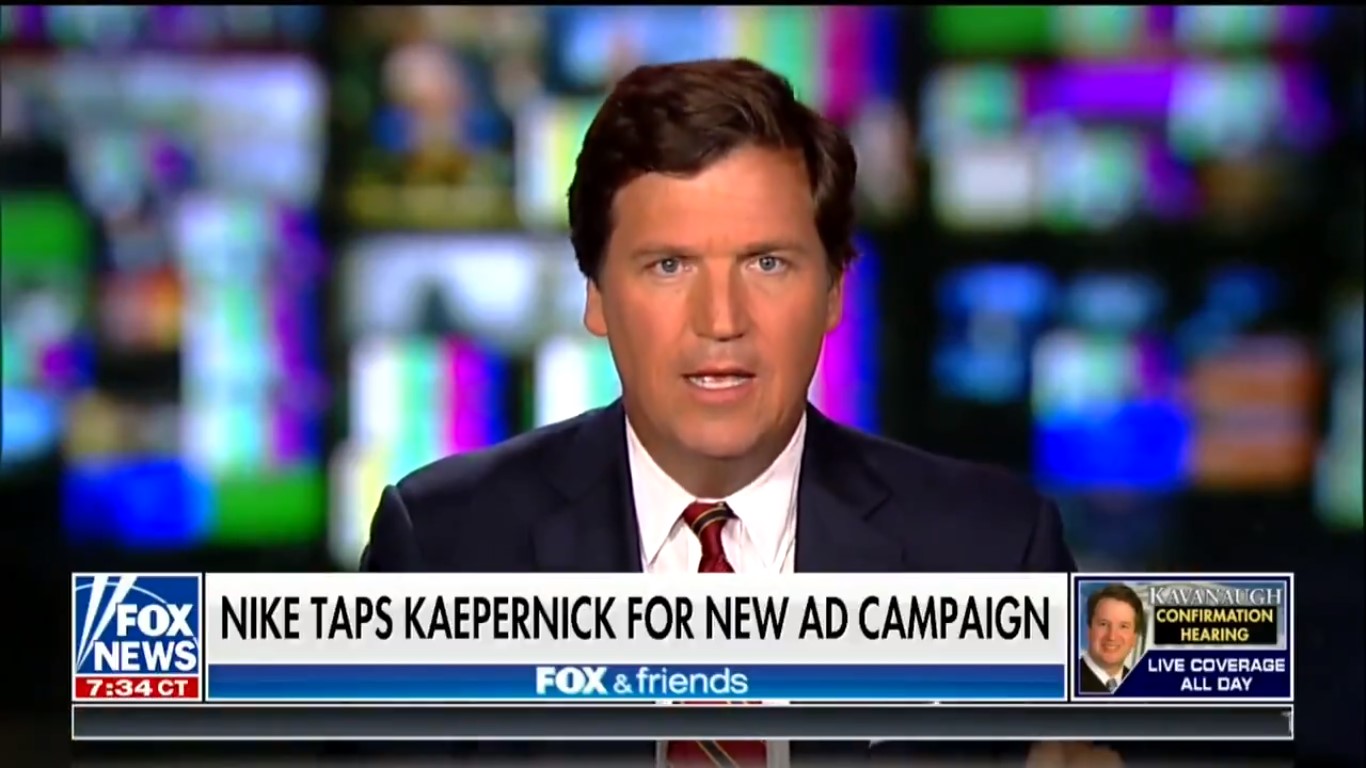 It was a given that Fox News was going to be ALL OVER the Monday night news that Nike had made former NFL quarterback Colin Kaepernick — who has been blackballed from the league for protesting racial injustice during the national anthem — the face of their new ad campaign. And they absolutely did not disappoint us on Tuesday morning, with Fox & Friends devoting numerous segments to decrying the move before bringing on Fox News primetime host Tucker Carlson to pontificate on the issue.
You can only guess how the culture warrior and white nationalist friendly commentator responded.
Carlson immediately described the campaign as "decadent" while snarling that the Nike executives were profiting off of Kaepernick's "attacks on the United States.
"They are saying he raised the issue of racial discrimination that has never been raised before," Carlson said dismissively with his signature smug laugh. "The historical problems with that aren't obvious to every single American — of course they are. This is an attack on the country."
tucker carlson is denouncing nike's "decadent" endorsement of colin kaepernick's "attacks on the united states" pic.twitter.com/5qOboSShjA

— Bobby Lewis (@revrrlewis) September 4, 2018
After Tucker complained that Kaepernick's protests were "broad-based" and "impossible to rebut," he again said they were an "attack on our country" that Nike is profiting from before going on a tangent about the "ruling class" — a favorite subject of one Tucker Swanson McNear Carlson.
"what happens over time if your ruling class decides to attack the very system that made their lives possible? everything falls apart"

tucker carlson believes that nike's kaepernick campaign may well lead to the total collapse of american society pic.twitter.com/6aApkV9nYX

— Bobby Lewis (@revrrlewis) September 4, 2018
"This is a hapless kid," Carlson noted after co-host Brian Kilmeade suggested Kaepernick's protests originated with him being pissed that he'd been benched. "This is why we shouldn't take Colin Kaepernick as seriously as people around Colin Kaepernick — the sinister figures in this. Again, who are profiting from attacking the country and its most basic symbols."
He continued, "What happens over time if the ruling class decides to attack the very system that made their lives possible. Everything falls apart! That's why we should actually be worried about this. It's bigger than just one football player."