Fox's Brit Hume: 'Thank God For The People Around Trump' Who Stole Papers So He Wouldn't Sign Them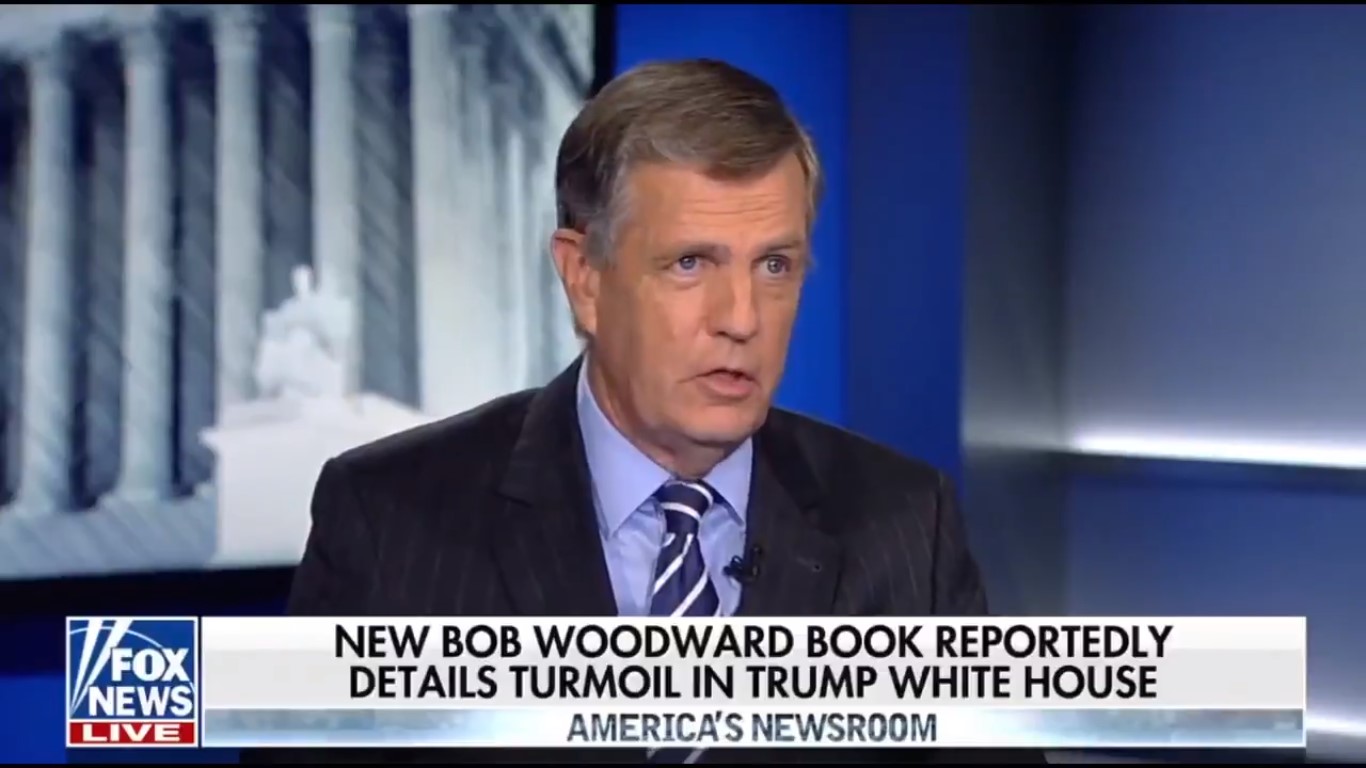 In the wake of the explosive revelations contained within legendary journalist Bob Woodward's upcoming White House deep-dive Fear: Trump in the White House, Fox News senior political analyst Brit Hume made an interesting and somewhat confounding observation during a Fox News panel discussion Tuesday afternoon.
Critics of President Donald Trump should be thanking the Good Lord for White House staffers and advisers who swiped documents from Trump's desk so he wouldn't sign them, fearing disaster if he saw the documents.
Noting that the book described a "volcanic president" who treats the people around him in the "most demeaning ways" and "walks up to the edge of what would be incredible disastrous decisions all the time," the longtime Fox News personality brought up examples Woodward highlighted of aides stealing papers before Trump sees them.
"What does that say to the people in the Never Trump movement, particularly on the right, who don't think that people serving in the administration should do so because it participates in this fiasco of a presidency?" Hume pondered.
He then added, "It seems to me that the lesson to take away from this is thank god for the people around trump who are keeping him on the straight and narrow to the extent they can. Because that's a service to the country, it seems to me, without question."
Minutes after making his case on Fox airwaves, Hume repeated his thought on Twitter:
Woodward's accounts of chaos and dysfunction in the Trump WH suggest he has been repeatedly restrained by advisers from his most reckless impulses. And to think there are never-Trumpers on the right who think good people should not serve this president. Good thing they do.

— Brit Hume (@brithume) September 4, 2018
So it would appear in his effort to own the #NeverTrumpers over their apparent argument that it is wrong no matter what to serve this president, Hume is conceding the point that Trump is a dangerously reckless individual who has no business holding the highest office in the land.
Watch the clip above, via Fox News.