Rick Santorum: 'Why Don't You Beat Up On John McCain' For Not Inviting Trump To His Funeral?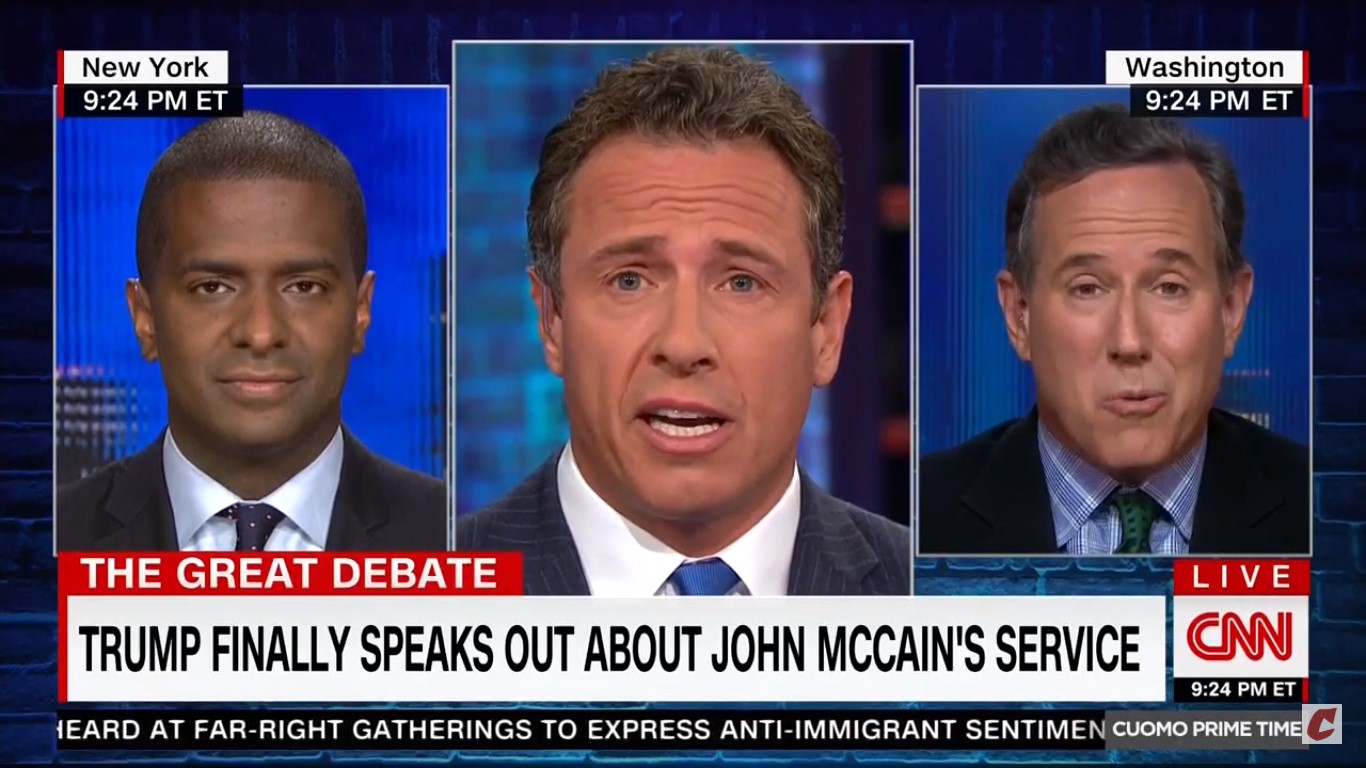 Well, that didn't take long.
Hours after Sen. Jim Inhofe (R-OK) said the recently deceased John McCain was "partially to blame" for the controversy surrounding President Donald Trump raising the American flag back to full-staff Monday morning, CNN political commentator and resident Trump defender Rick Santorum went one step further by wondering aloud why the press doesn't "beat up" on McCain.
During Monday night's 'Great Debate' on CNN's Cuomo Prime Time, anchor Chris Cuomo recapped how Trump initially refused to answer reporters' questions about his thoughts on McCain's death. Eventually, the president relented, releasing a statement in which he said he respected the late senator's service while having the flag once again lowered to half-staff.
Cuomo went on to ask Santorum if he could "dignify that for us," causing the former Republican presidential candidate to immediately whine that the media was just using Trump's issues with McCain to attack the president.
"I don't think it does anything for the memory of John McCain to use him as a cudgel to beat up on the president at this point," Santorum stated. "Let's focus on the man and what he did and his life. But the media seems to have this fascination to try to use the death of John McCain to beat up Donald Trump."
The CNN host asked the ex-Pennsylvania senator if he really thought they needed reasons to criticize Trump before telling Santorum that "this is a moment that matters."
Cuomo added, "You should think about how you behave in it as well, all of us should. These moments matter. John McCain made a point to not have him invited to his funeral. Why?"
"Why don't you beat up on John McCain for not inviting the president to his funeral?" Santorum exclaimed.
As Cuomo replied that he didn't think McCain was wrong for doing that because it's "his funeral," Santorum complained that the anchor wasn't beating up on McCain — a dead man, mind you — and therefore "shouldn't beat up on the president."
During this whole time, fellow CNN political commentator Bakari Sellers just looked on and laughed at the utter silliness of the argument at hand. Shortly afterwards, he would tangle with Santorum and the whole thing would go off the rails because, y'know, Great Debate and all.
Watch the clip above, via CNN.