Fox News Contributor: Trump Calling Women Dogs Is A 'Compliment,' Like Saying 'My Dog'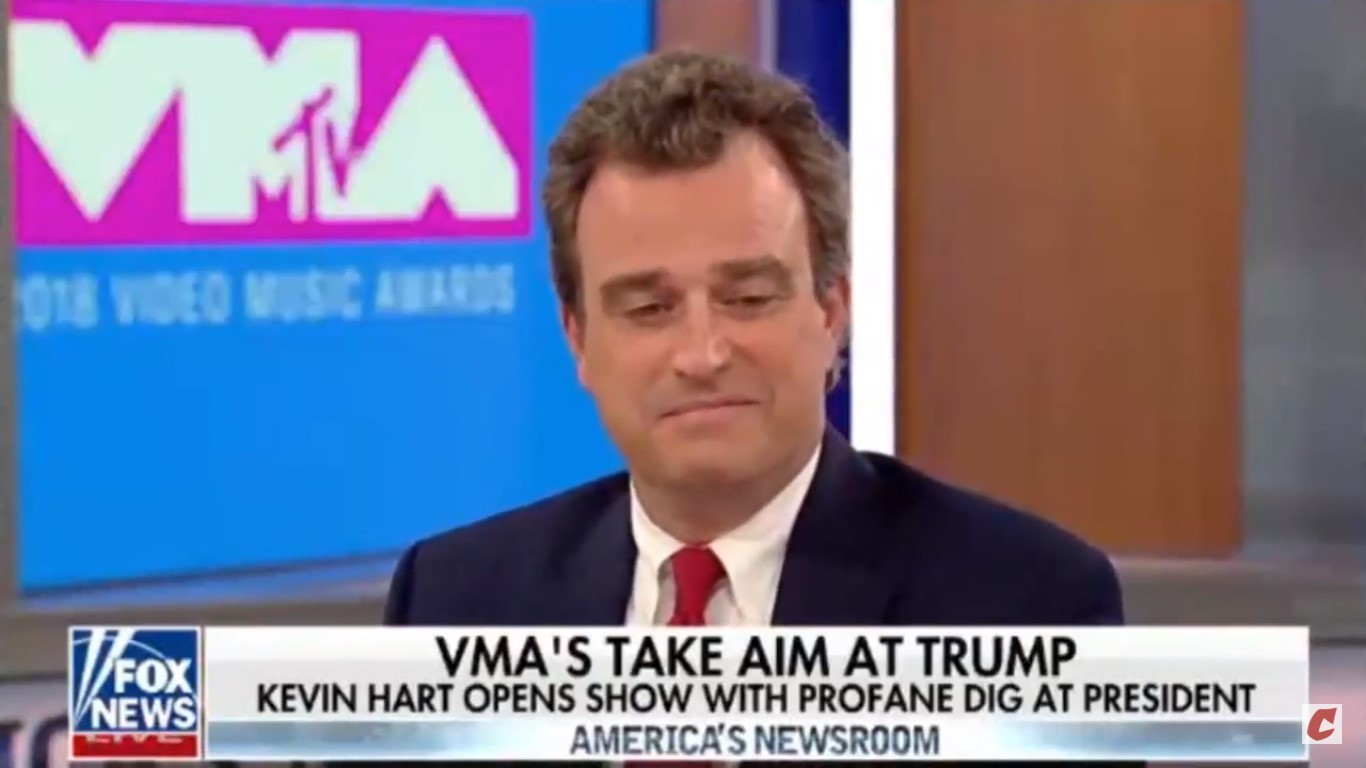 I mean…
During a Tuesday morning Fox News panel discussion revolving around Monday night's VMAs, Washington Times columnist and Fox News contributor Charlie Hurt attempted to paint President Trump's "dog" insult of Omarosa Manigault Newman as POTUS just using some hip lingo to flatter his former aide.
Hitting back at conservatives' complaints over Kevin Hart's dig at the president during the VMAs, Fox News political commentator and former State Department spokesperson Marie Harf noted that Trump "says incredibly offensive things on Twitter" and "calls women dogs and says terrible things about people."
"I think dog is a compliment," Hurt responded. "If he called me 'my dog' I would –"
Anchor Eric Shawn immediately interjected and shut down that sad piece of spin: "Nah, that's not a compliment, Charlie."
Hurt would sheepishly grin and laugh it off as the segment came to an end.
Some folks on Twitter reacted to Hurt's remarks after a short clip of the segment was posted online:
the spin from some of Trump's media supporters is reaching new levels https://t.co/2Fp2Kyg7sk

— Oliver Darcy (@oliverdarcy) August 21, 2018
This is like when Ali G would tell that woman that "bitches" isn't an insult because he loves his bitches https://t.co/9nLx3sNQI5

— Asawin Suebsaeng (@swin24) August 21, 2018
In which the Washington Times' Charlie Hurt briefly tries to make the case that the president calling women "dogs" is actually a compliment pic.twitter.com/YopD23Jcvp

— Robert Maguire (@RobertMaguire_) August 21, 2018
— Oliver Willis (@owillis) August 21, 2018
LOL even for Fox News this is a pretty lazy argument. https://t.co/Mftp8foiEv

— Erick Fernandez (@ErickFernandez) August 21, 2018
Watch the clip above, via Fox News.