WATCH: Kellyanne Conway Can't Name Highest-Ranking Black Official In White House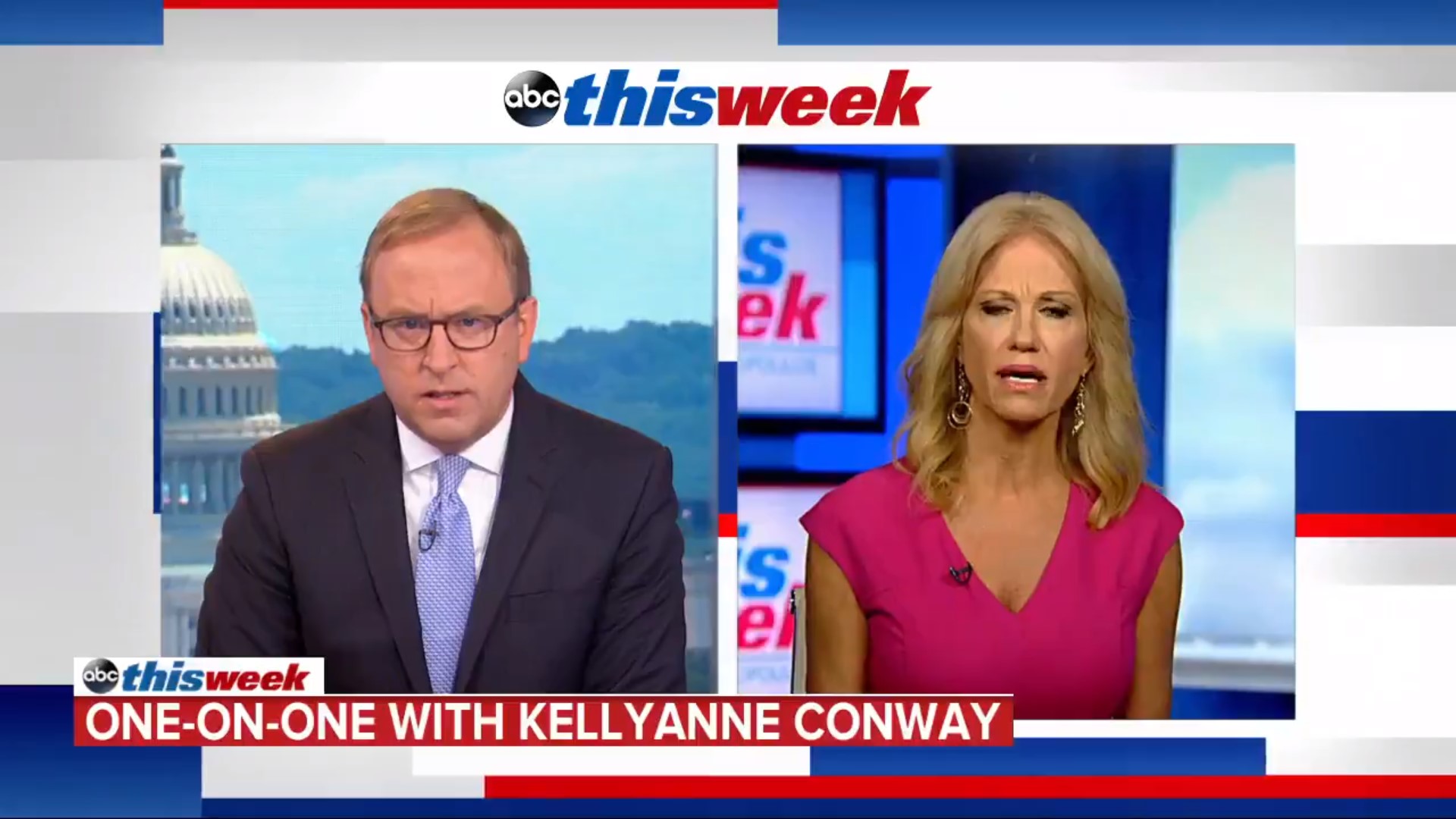 Until she was fired last December, former Director of Communications for the Office of Public Omarosa Manigault Newman was the highest-ranking African American official in the White House. During her Meet the Press interview Sunday, Omarosa said that since she was let go the Trump administration has not brought in any other black people into the West Wing. She's also insisted that the president himself is a racist and has been captured on tape using the N-word.
Appearing on ABC's This Week, White House counselor Kellyanne Conway was pressed by host Jonathan Karl about Omarosa's claims that Trump used racial slurs and if there are any prominent African American officials in the White House. After Conway denied the president has used any racist epithets, she then found herself struggling to come up with a name of any black staffers in the West Wing.
"Omarosa was the most prominent, high-level African American serving in the West Wing on President Trump's staff," Karl noted. "Who now is that person? Who is the most prominent, high-level adviser to the president on the West Wing staff right now?"
"African American?" Conway wondered aloud with Karl answering "yes."
She went on to name HUD Secretary Ben Carson while whining that Karl wasn't covering him. The ABC host didn't take the bait, though, and pointed out that he was talking about the White House staff.
"I'm asking about the people the president is with every day," he insisted. "Who there is on the White House staff right now?"
Conway ended up mentioning Ja'Ron, apparently referencing Ja'Ron Smith, who is a Special Assistant to the President for Domestic Policy. When Karl asked if he has an office in the West Wing, Conway acknowledged that he is housed in the Eisenhower Executive Office Building.
"But not in the West Wing," the ABC host highlighted. "What does that say to have not a single senior adviser in the West Wing who's African-American?"
This eventually resulted in Kellyanne implementing some of her tried and true interview tactics when she doesn't want to answer the question — deflect, pivot and complain about the media not covering all of the administration's accomplishments.
Watch the clip below, via ABC News.
"Omarosa was the most prominent, high-level African-American serving in the West Wing on Pres. Trump's staff. Who now is that person?" @jonkarl asks Kellyanne Conway.

Here's how Conway responded https://t.co/P6iz1j1VA4 #ThisWeek pic.twitter.com/wVnz5WZ97I

— This Week (@ThisWeekABC) August 12, 2018