Maddow's Nunes Tape Exclusive Most-Watched Show In All Of Cable On Wednesday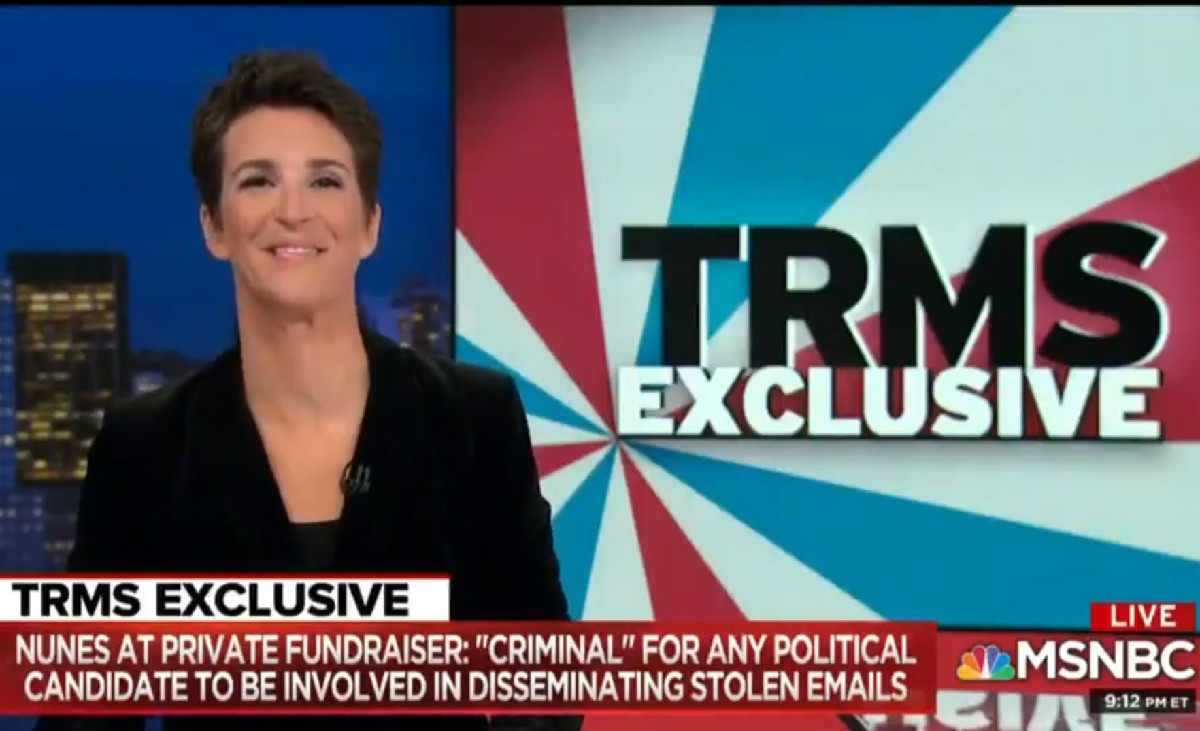 MSNBC's Rachel Maddow exclusively obtained leaked audio of House Intelligence Committee chairman Devin Nunes speaking at a closed fundraiser Wednesday night and focused much of her program around it. That Nunes tape exclusive resulted in Maddow leading all of basic cable in total viewers. Meanwhile, Fox News pulled off a close victory in primetime while comfortably leading in total day.
According to Nielsen, Fox News averaged 2.635 million total viewers and 497,000 in the key 25-54 demographic during the 8 PM to 11 PM primetime hours. MSNBC pulled in 2.465 million viewers overall and 477,000 in the demo. CNN drew a total audience of 1.155 million and 375,000 in the demographic.
In total day, FNC attracted 1.478 million total viewers and a demo audience of 289,000. MSNBC placed second in both metrics, drawing 1.204 million viewers overall and 231,000 in the 25-54 demo. CNN captured 206,000 demo viewers and an overall audience of 717,000.
The Rachel Maddow Show led basic cable and was fifth in all of television with 3.066 million total viewers. Maddow also topped cable news programs in the key demo (618,000). Fox's Hannity placed second in cable news in both the demo (577,000) and total viewership (2.997 million).
FNC's Tucker Carlson Tonight, guest hosted by Mark Steyn, finished third in total viewers (2.487 million) and fourth in the demo (441,000). Fox's The Ingraham Angle took third place in the demographic (472,000) and fourth in total audience (2.414 million).
The top-rated program on CNN was Anderson Cooper 360, which pulled in 1.189 million viewers overall. Cuomo Prime Time led in the demo with 387,000.