Fox News' Laura Ingraham: 'The America We Know And Love Doesn't Exist Anymore'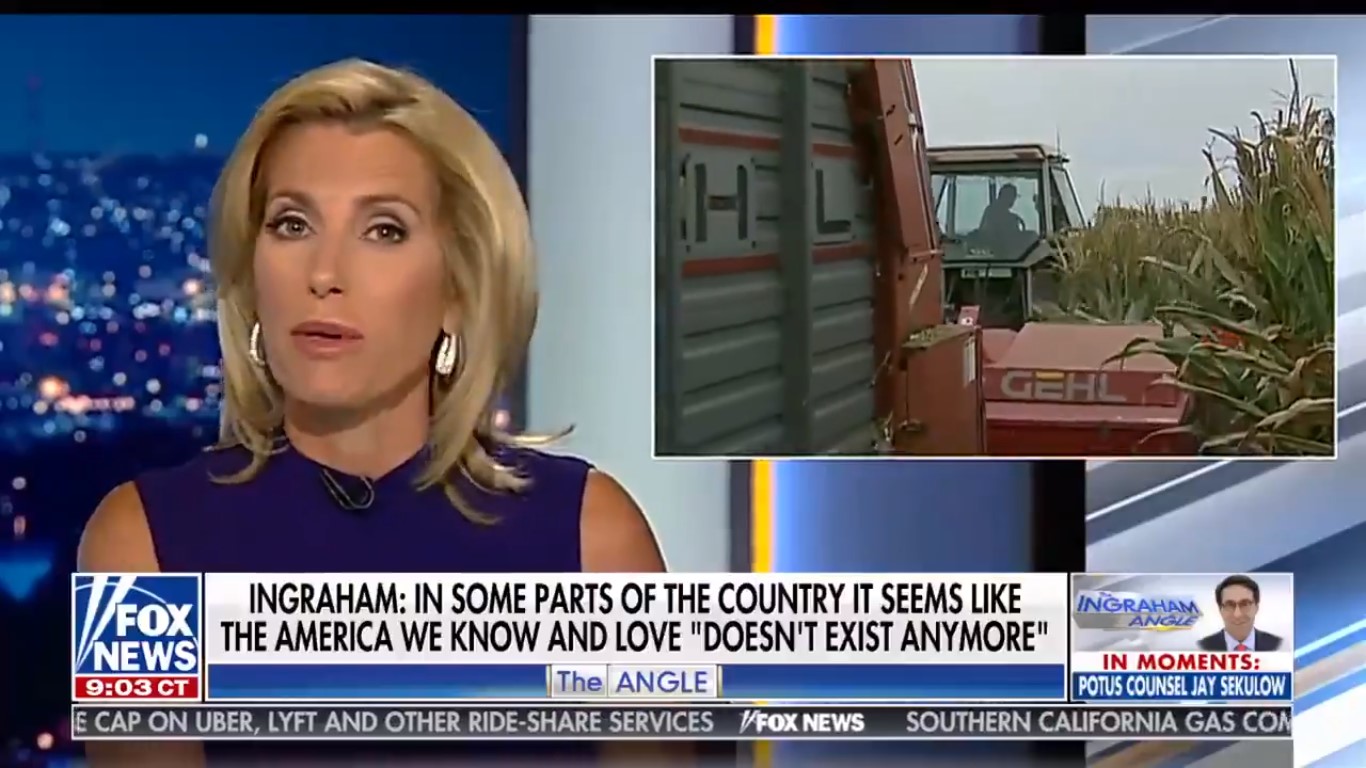 At the top of her program Wednesday night, Fox News host Laura Ingraham touched on a subject near and dear to her heart — immigration. This time around, however, she disposed of her normal dog whistles and went right to the bullhorn while fearmongering about brown and black people coming to America.
After taking some shots at rising Democratic star Alexandria Ocasio-Cortez while portraying Tuesday's elections as bad for progressives, the conservative commentator informed her audience that the country they grew up is gone.
"In some parts of the country, it does seem like the America that we know and love doesn't exist anymore," Ingraham declared. "Massive demographic changes have been foisted on the American people and they are changes that none of us ever voted for and most of us don't like."
She continued, "From Virginia to California, we see stark examples of how radically in some ways the country has changed. Much of this is related to both illegal, and in some cases, legal immigration that of course progressives love."
Going back to Ocasio-Cortez, who has suddenly become the right's favorite boogeyman, the Fox News host said that "old Democrats" used to "think that borders matter." But new activists, led by the likes of the 28-year-old Democratic Socialist, "believe immigration laws is essentially an ongoing human rights violation."
"Today we were reminded again of why our law has to be enforced, borders strengthened and the wall built, loopholes closed in sanctuary city policies and data once and for all," she concluded.
Ingraham's comments caused an immediate stir as many felt she was echoing white nationalist rhetoric.
"Hi, I'm Laura Ingraham, and I'm a white nationalist" would've been much quicker, Laura https://t.co/rX5uotUz5I

— Melanie Schmitz (@MelsLien) August 9, 2018
Laura Ingraham captures a driving force behind the modern conservative movement. https://t.co/XPNrmhTM6d

— Sahil Kapur (@sahilkapur) August 9, 2018
Laura Ingraham getting straight to the white nationalist red meat tonight https://t.co/bdRGAzz6bJ

— Brandon Wall (@Walldo) August 9, 2018
i think a fair question to ask ingraham and the like is: what's an acceptable level of diversity for you? if certain "demographic changes" are unpalatable, what's the cut off? they should say it out loud, rather than tip toeing. https://t.co/irx7zRBMd8

— Tom Kludt (@TomKludt) August 9, 2018
Ingraham did finish her Angle monologue by insisting that the issue wasn't about "race or ethnicity" but instead about a respect for the Constitution.
"The president can be so persuasive, so give us the whole truth, Mr. President, the good, the bad, and yes, the uncomfortable," she said. "This is a national emergency and he must demand that Congress act now. There is something slipping away in this country and it's not about race or ethnicity. It's what was once a common understanding by both parties that American citizenship is a privilege, and one that at a minimum requires respect for the rule of law and loyalty to our constitution."
Watch the clip above, via Fox News.