Fox's Pete Hegseth: I Had 'Off-The-Record' Conversation With Pence, Here's What He Said (UPDATE)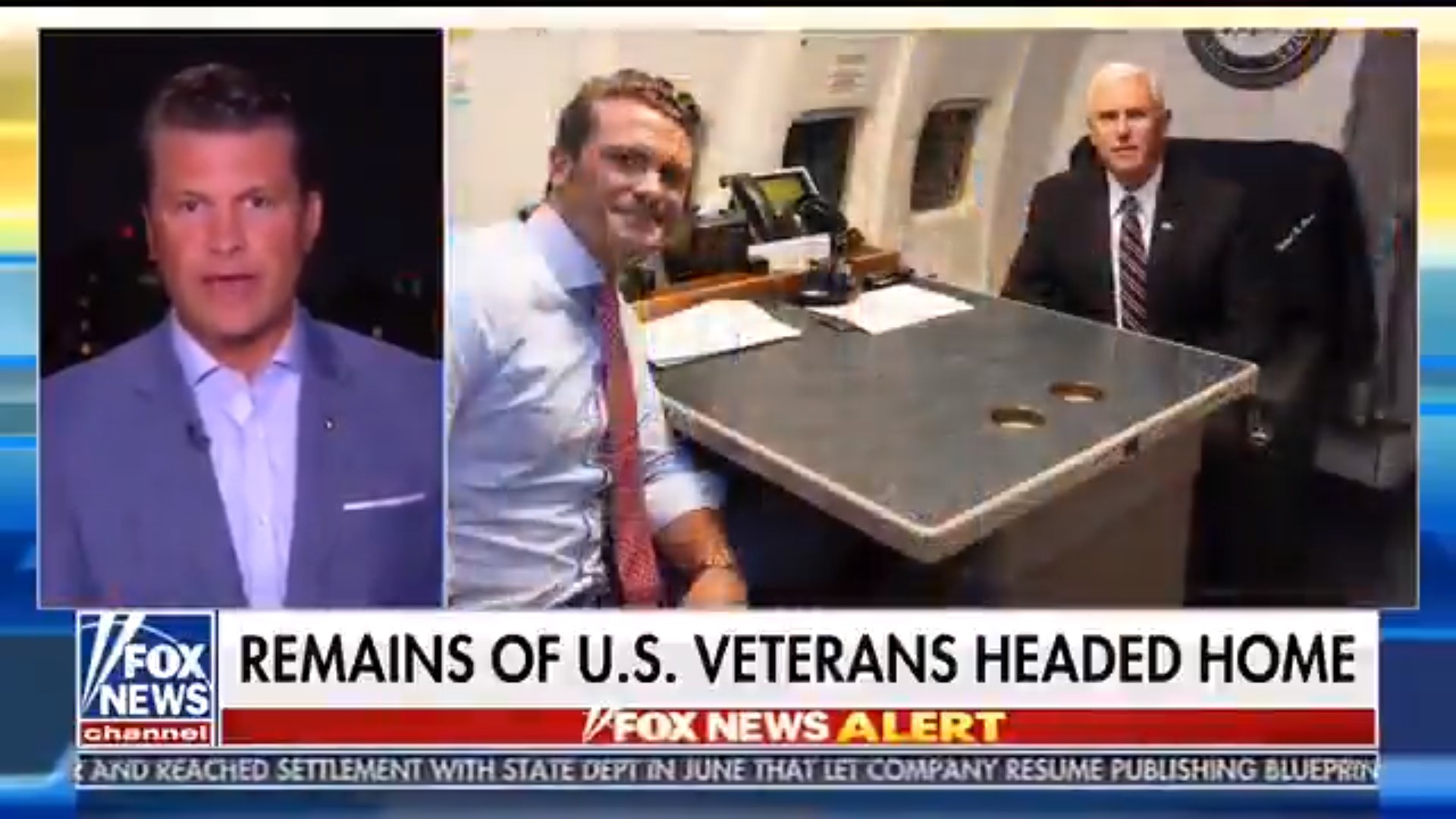 Oh for Pete's sake (I'm so, so sorry).
Reporting live from Hawaii early Wednesday morning, Fox News host and one-time rumored candidate for VA Secretary Pete Hegseth talked to the Fox & Friends crew about his trip with Vice President Mike Pence to receive the purported remains of fallen American soldiers from the Korean War.
Asked by co-host Brian Kilmeade about the gesture by the North Koreans to return the remains to America and how this was different than previous instances as the United States didn't have to provide any payment, Hegseth noted that he had discussed that very thing with Pence. Except, as he noted, his conversation with the VP was supposed to remain private.
"I had a chance to speak off-the-record with the vice president on the flight over," he told Kilmeade. "He emphasized just that."
He could have just left it at that, hinting at what Pence had said in their supposedly off-the-record conversation, but Hegseth instead decided to expand upon the discussion.
"He said, don't underestimate what a powerful statement this is by Chairman Kim and the North Koreans," Hegseth continued. "We didn't give up anything other than the willingness to meet. They said they would deliver remains, they have. All we can do is take that as a gesture of good faith, and hope that it means that we are continuing down the path toward a better outcome on the Korean Peninsula."
So, exactly how off-the-record was the conversation Hegseth had with Pence? Well, the vice president himself tweeted out the Fox & Friends video clip Wednesday morning and called on his followers to watch Hegseth's report.
Watch @PeteHegseth's report on @FoxandFriends after traveling with us for a very meaningful ceremony later today at @JointBasePHH to receive the remains of American heroes from the Korean War. pic.twitter.com/kppqBixt3m

— Vice President Mike Pence (@VP) August 1, 2018
So was this just a situation of Hegseth, who spends much of his time criticizing the rest of the media, not knowing journalistic terms and standards? Or did Pence not really care that the Fox host publicly dished about their private conversation?
UPDATE 3:29 PM ET: Through a Fox News spokesperson, Hegseth clarified that the part of the conversation he discussed on air with the Vice President was a separate conversation and was not off the record.