CNN's Brian Stelter: Trump And His Allies Are Promoting A 'Hate Movement' Against The Media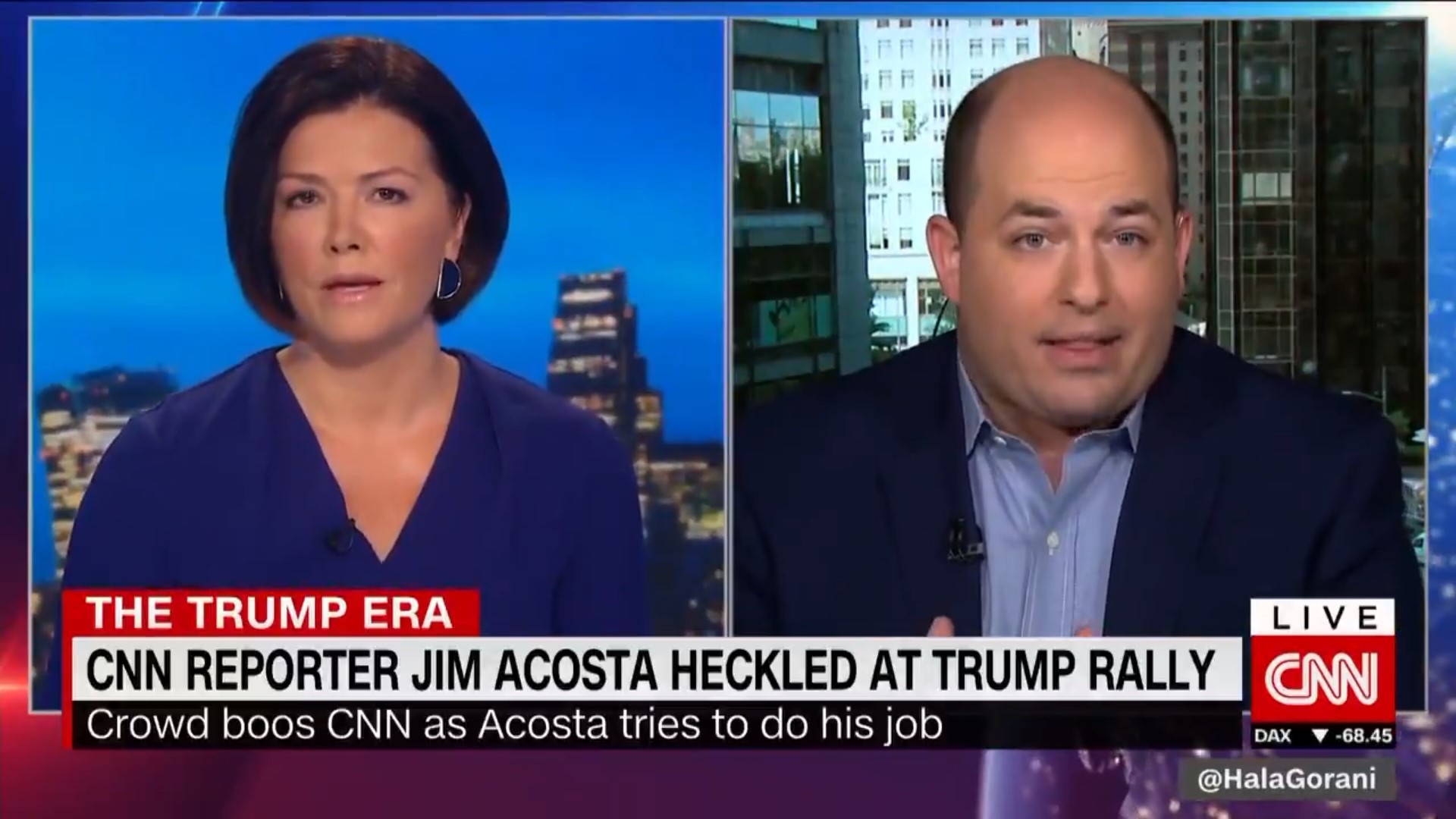 In the wake of the extreme harassment CNN correspondent Jim Acosta experienced at the hands of Trump supporters at Tuesday night's Trump Tampa rally, White House Press Secretary Sarah Huckabee Sanders said that while the White House respects the free press they also respect free speech, essentially punting on condemning the actions of the rallygoers.
Appearing on CNNi Wednesday afternoon, CNN senior media correspondent Brian Stelter noted that this was typical of the Trump administration as instead of bringing down the temperature they tend to "raise the temperature even hotter" in situations like this. He then made a pretty remarkable observation that is sure to draw the ire of the president's most ardent defenders.
"I think what we're increasingly seeing from the president and his aides and his allies is a hate movement against the American press," Stelter told host Hala Gorani. "Some media critics like Jay Rosen have used this term in the past. When you look at the behavior around Jim Acosta and some of the other reporters at these rallies, you really do see a hate movement."
Stelter went on to point out that Trump is constantly telling people to hate journalists while literally calling the media the "enemy of the people."
"He's treating the press corps as his opponent because it's convenient and creates an enemy — perceived enemy to attack," he noted. "That's really a hate movement and the results are what we see at these rallies and because he's holding rallies more and more often we are seeing it more and more often and that's why reporters like Jim Acosta are saying this is worrisome — someone might get hurt."
Gorani then asked the media critic how dangerous this could be, causing Stelter to state that while we haven't seen the level of targeted violence against the press as witnessed in authoritarian states, "there's ample reason to be concerned because the rhetoric is getting more intense and violent."
Watch the clip above, via CNNi.