Chuck Todd Scolds Hugh Hewitt For Whining About Trump-Putin Media Coverage: 'I'm Tired Of That'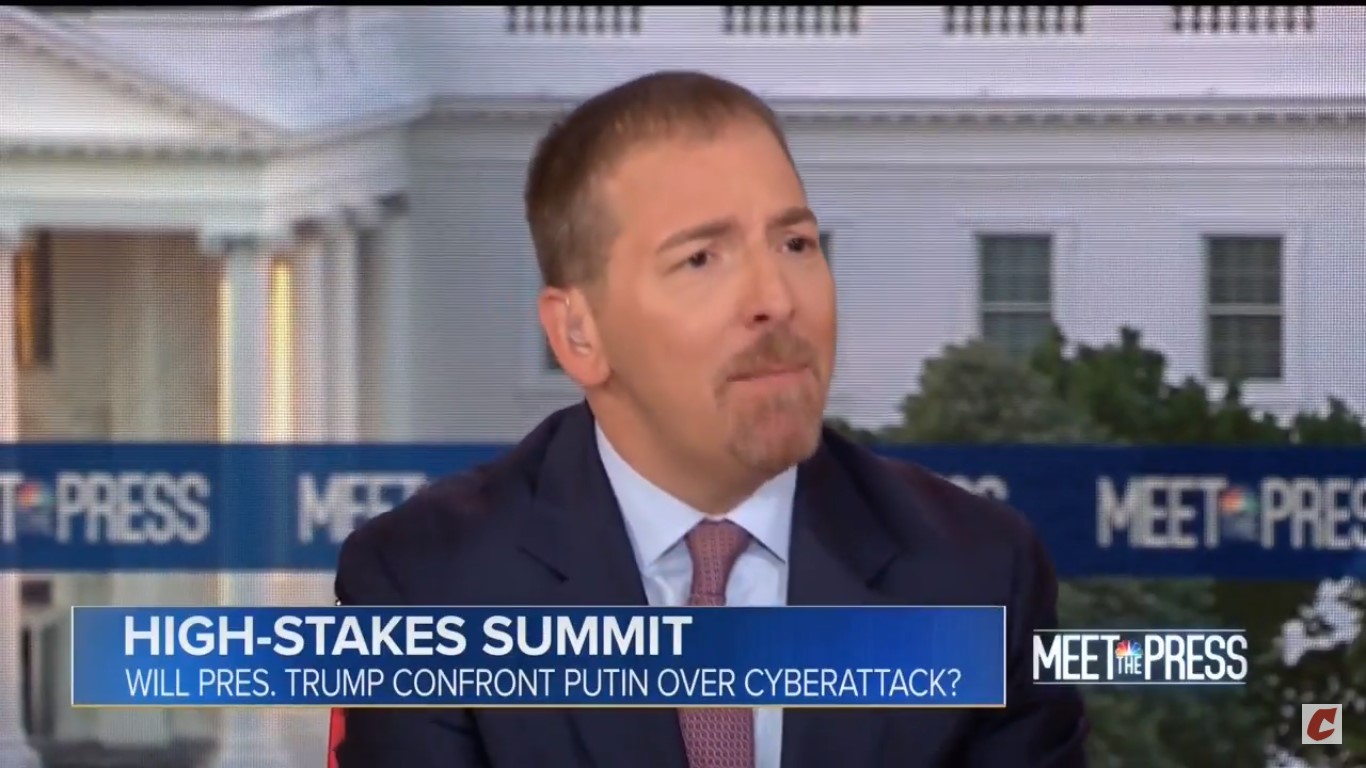 A couple weeks after losing his MSNBC weekend show due to low ratings, Hugh 'Sean Hannity with Glasses' Hewitt found himself in the receiving end of a scolding from NBC News anchor Chuck Todd when he attempted to blame the media for portraying President Donald Trump as unprepared heading into his Helsinki summit with Russian President Vladimir Putin.
During a Meet the Press panel discussion, Todd and his panelists noted that DNI Dan Coats recently warned that the Russian government was currently engaging in cyberattacks on the United States and compared the situation to right before 9/11. Cook Political Report's Amy Walter added Trump won't confront Putin on the issue by saying Putin won't admit to it and it all happened under Obama's watch.
"Both of those things are true, but that's not the point," she said. "The point is not to say, well, did you do it and then have him say of course not, we don't spy. It's to say we know you did it. We know the names of the people where you're doing it."
Hewitt jumped in to claim that he recently spoke with two veterans of the intelligence community and they explained that Russia has been the same Russia since Stalin, pointing out that Mitt Romney was right in 2012 to call them our greatest adversary. Then came the whining about the media.
"I think the American media is trying to infuse Donald Trump with a sort of willful blindness he doesn't demonstrate," the conservative commentator declared.
"What the heck are you talking about — the media?" Todd exclaimed in response. "It's not media! This is John McCain. This is actual — this is Mark Warner. These are serious officials on both sides. This is not the media. That's such a cop-out. I'm tired of that."
Hewitt attempted to clarify his remarks, stating he was talking about the commentary surrounding the summit and how Trump is being portrayed as unprepared when he has a very capable national security team.
"It's people inside the White House saying it, Hugh!" Todd shot back, with analyst Elise Jordan adding that the only preparation has been National Security Adviser John Bolton going over last week to pursue a contradictory foreign policy.
A number of lawmakers and political figures have called on Trump to cancel the Helsinki summit in the wake of the Mueller investigation indictments of 12 Russian intelligence officers to
Watch the clip above, via NBC News.