MSNBC's Andrea Mitchell On North Korea Denuclearization Talks: 'We Sure Did Get Played'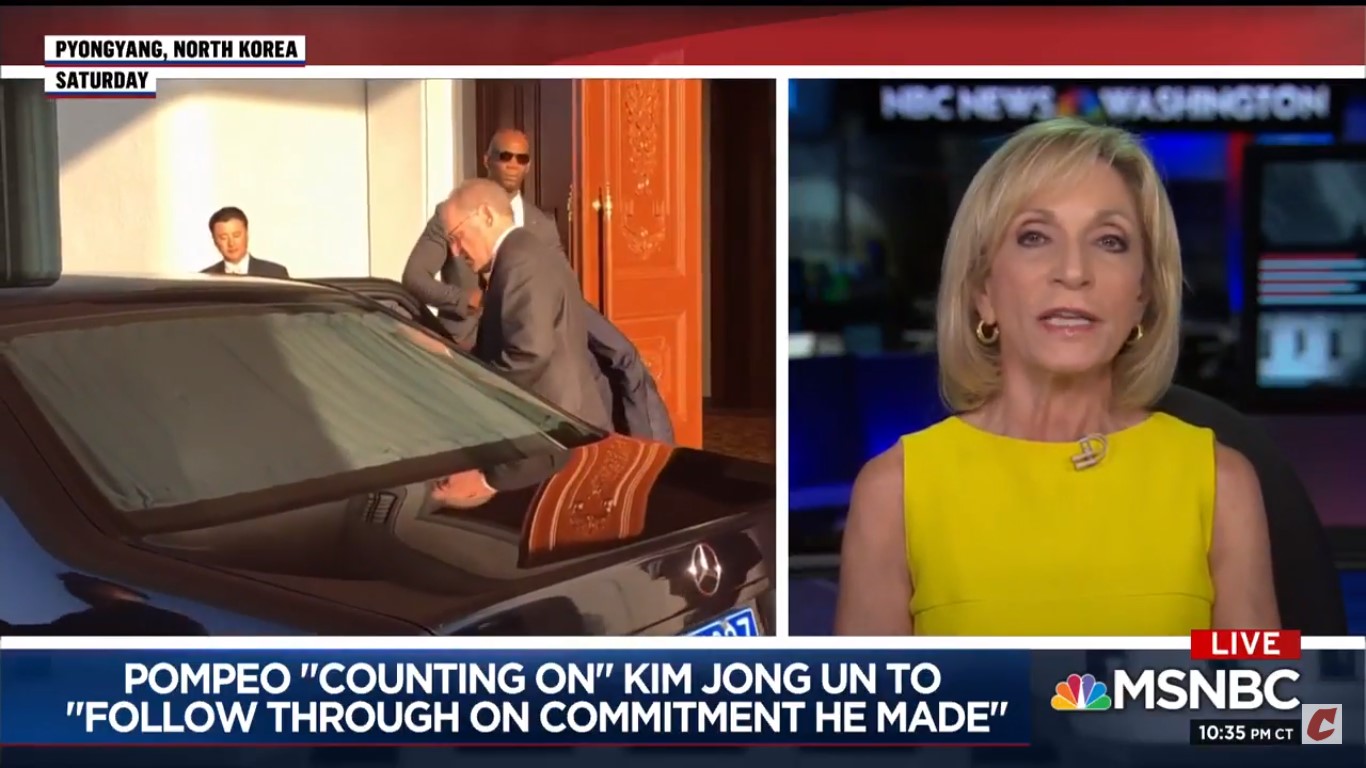 Weeks after President Donald Trump triumphantly declared that North Korea was no longer a nuclear threat following his Singapore summit with dictator Kim Jong Un, the North Korean government accused America of having a "gangster-like mindset" following Secretary of State Mike Pompeo's "regrettable" visit to further discuss denuclearization. Trump reacted to this by sending out a desperate tweet saying that he expected Kim to honor their handshake.
I have confidence that Kim Jong Un will honor the contract we signed &, even more importantly, our handshake. We agreed to the denuclearization of North Korea. China, on the other hand, may be exerting negative pressure on a deal because of our posture on Chinese Trade-Hope Not!

— Donald J. Trump (@realDonaldTrump) July 9, 2018
During a Monday night MSNBC hit, NBC News correspondent Andrea Mitchell was asked directly by anchor Brian Williams if the United States and POTUS had been played by the North Koreans this whole time.
"We sure did get played," she replied. "And Pompeo, with the best of intentions to try to flush out what in fact was agreed to in Singapore if anything, he got snubbed."
Noting that White House Press Secretary Sarah Huckabee Sanders had previously said that the secretary of state would be meeting with the North Korean leader, Mitchell explained that the Kim meeting "was never in the cards" and Pompeo was just jerked around for two days.
"They never got to the meat as to what really was agreed to in Singapore," she stated. "And that's the problem. The president referring to a contract? What they signed were promises, empty promises."
Mitchell went on to bring up the president's tweet and wondered aloud why Trump would be "trusting the handshake from someone who is from a regime that has a history — a family history — of having cheated and lied to the United States."
Watch the clip above, via MSNBC.