Ron Paul Under Fire After Tweeting, Then Deleting, Extremely Racist 'Cultural Marxism' Cartoon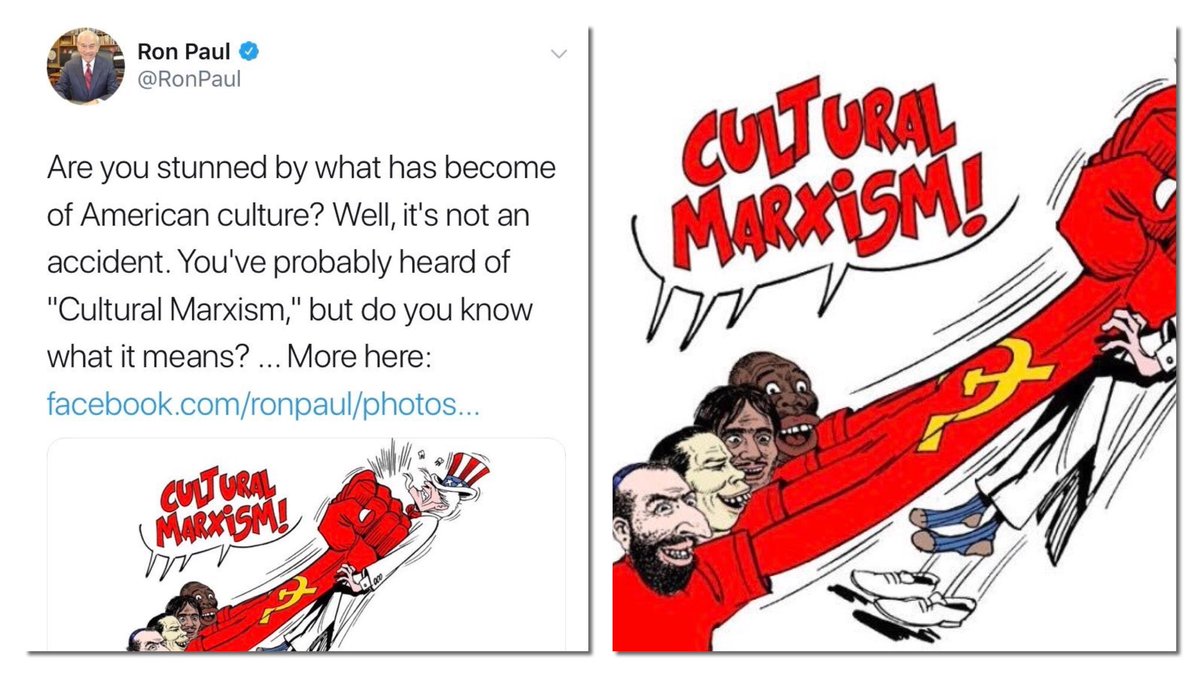 Cultural Marxism! According to some, it's the terrifying erosion of American society that's leaving conservatives and right-wing pundits quaking in their boots. Fans of psychiatrist Dr. Jordan B. Peterson might be familiar with the theory, which proposes that traditional western values are under siege by encroaching liberalism — aka Marxism.
It seems that former Republican Rep. Ron Paul has become privy to the matter of Cultural Marxism, and he's recently sounded the alarm on social media in typical Ron Paul fashion:
When @RonPaul and @DineshDSouza tell you who they are… believe them. https://t.co/gHlA3sJa7r pic.twitter.com/tjOPsiLlQQ

— Molly Jong-Fast (@MollyJongFast) July 2, 2018
Before we take a closer look at the cartoon in question, let's check some of the incredulous reactions from around Twitter:
Recap for those following at home. Over the past few weeks:

Ron Paul tweeted out a racist and anti-Semitic cartoon abt 'cultural marxism'

Dinesh D'Souza (guy pardoned by Trump) retweets the hashtag #BurnTheJews

And congressman Steve King retweets neo-Nazi, won't apologize https://t.co/aAnvY7uJaU

— Christopher Mathias (@letsgomathias) July 2, 2018
Are people just now waking up to the fact that Ron Paul is a huge racist?

— Matthew Yglesias (@mattyglesias) July 2, 2018
can't imagine why a bunch of the Ron Paul fanboys went from libertarian to white supremacist https://t.co/xVR0lKRtIY

— Caleb Ecarma (@calebecarma) July 2, 2018
Look, Ron Paul has been playing footsie with white supremacists for years now. This isn't a shock! But you've got to sit back and admire the ill-considered audacity of sharing such an inflammatory cartoon.
It's one thing to rigorously debate the implications of America's multi-cultural society — that's regrettably commonplace under the Trump administration. But to share a cartoon that depicts a Jewish man with a large hook nose, a Chinese man with protruding teeth, and an African-American man with gigantic lips, that's beyond disgusting and simply uncalled for.
Of course, it didn't take Ron Paul long to delete the tweet and issue a non-apology that blamed a staff member for the post.
Earlier today a staff member inadvertently posted an offensive cartoon on my social media. I do not make my own social media posts and when I discovered the mistake it was immediately deleted.
-Ron Paul

— Ron Paul (@RonPaul) July 2, 2018