Fox's David Bossie Apologizes For Telling Black Man 'You're Out Of Your Cotton-Picking Mind'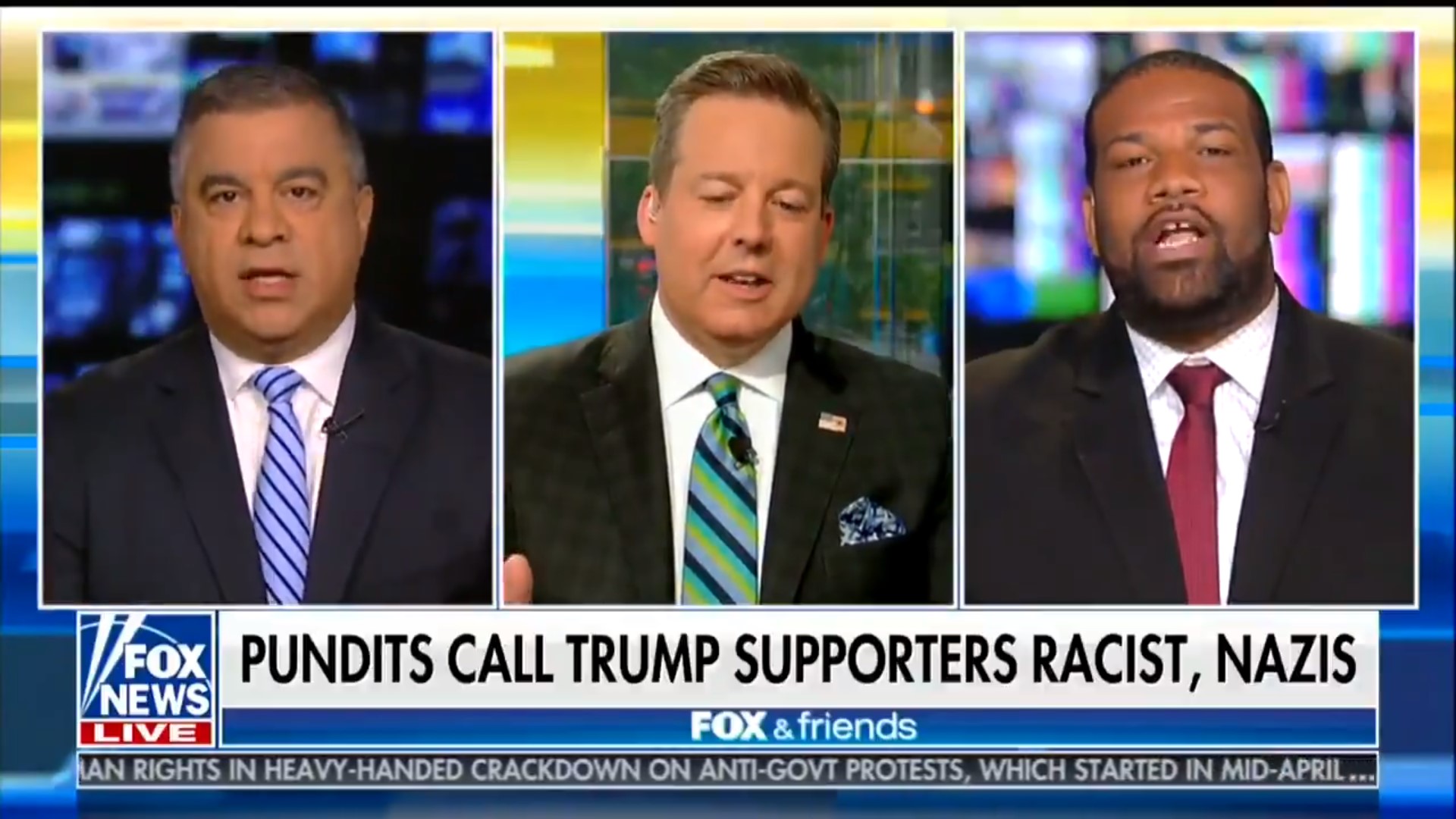 Citizens United president and ex-Trump campaign advisor David Bossie created a firestorm Sunday morning when he angrily told black Democratic strategist Joel Payne "you're out of your cotton-picking mind" during an intense Fox & Friends debate on dog whistles and hate speech.
Yes. You read that right. Bossie, a Fox News contributor, decided to throw a blatantly racist phrase at a black man as they argued over the rhetoric coming from the White House and Trump supporters. You can't make this up.
On Fox News, David Bossie, former Trump Deputy Campaign Manager, telling a black panelist that he's "out of his cotton-picking mind." pic.twitter.com/wpoqHKbINw

— Yashar Ali 🐘 (@yashar) June 24, 2018
Following the segment, Fox News, Fox & Friends host Ed Henry, and Bossie have all issued statements apologizing for the former Trump aide's remarks. In an on-air segment, Henry pointed out that Fox News, the show, and Henry himself "don't agree" with Bossie's comments:
"Alright, I just want to address what just happened in that debate. Obviously, it got fiery. David Bossie used a phrase that clearly offended Joel Payne, and it offended many others. I don't know what David meant by it. It went back and forth between the two of them. I've known David a long time, I'll let him address exactly what he said, but I want to make clear Fox News and this show, myself, we don't agree with that particular phrase. It was obviously offensive, and these debates get fiery. That's unfortunate. We like to have honest and spirited debates but not phrases like obviously and so I will just leave it at that."
Bossie, meanwhile, took to Twitter to deliver his apology.
During a heated segment on Fox & Friends today, I should have chosen my words more carefully and never used the offensive phrase that I did. I apologize to Joel Payne, Fox News and its viewers.

— David Bossie (@David_Bossie) June 24, 2018
In a statement to Contemptor, a Fox News spokesperson said "David Bossie's comments today were deeply offensive and wholly inappropriate. His remarks do not reflect the sentiments of FOX News and we do not in any way condone them."
We have asked Fox News about Bossie's status as a network contributor in the wake of his racist comments and will update if we hear back.