Laura Ingraham: Detention Centers Holding Migrant Children Are 'Essentially Summer Camps'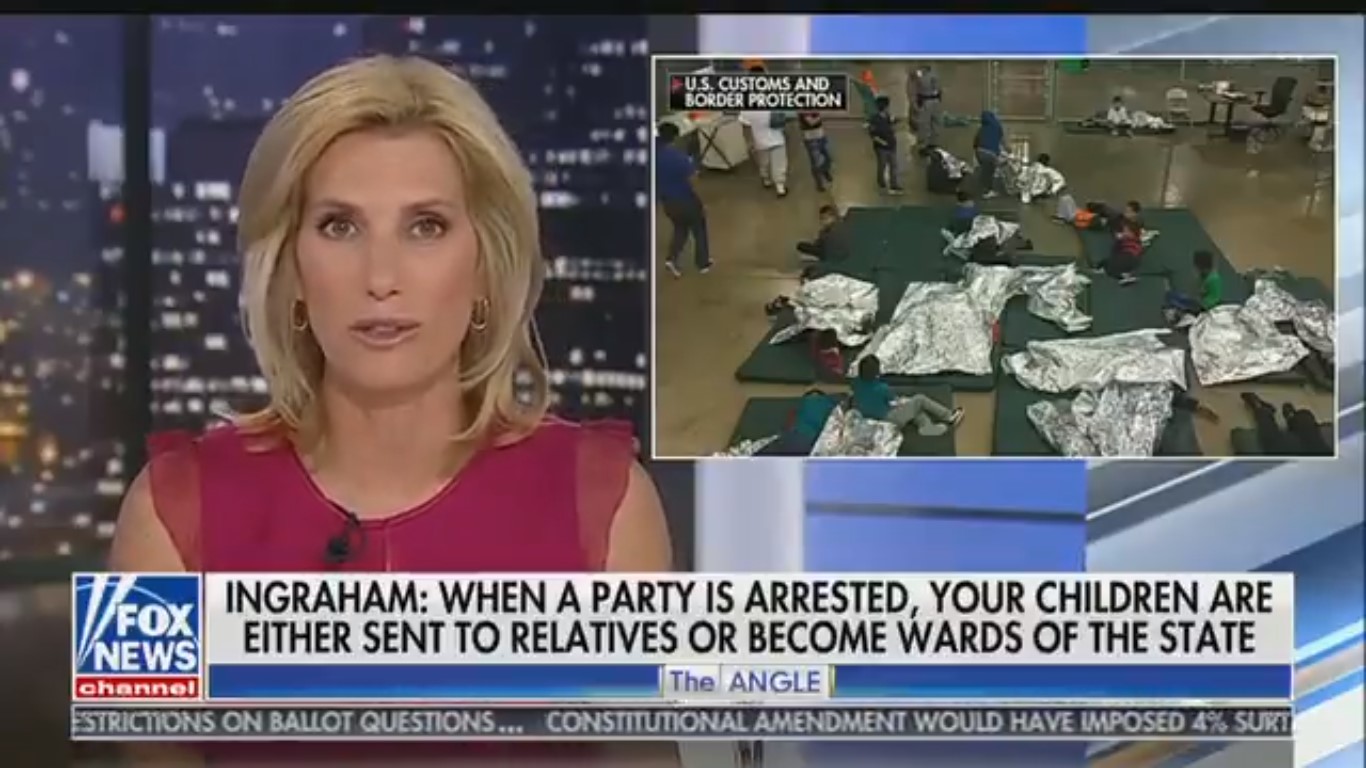 With much of the nation's focus centered squarely on the humanitarian crisis of migrant children being separated from their parents at the border, the MAGA crowd has attempted to defend the Trump administration's "zero tolerance" policy while insisting criticism of the situation has been way overblown.
On Monday night, Fox News' Laura Ingraham railed against what she described as "faux liberal outrage" while applauding the administration's actions, stating that America "is not an open repatriation center."
.@IngrahamAngle: "The United States is not an open repatriation center." pic.twitter.com/hojXezHPe1

— Fox News (@FoxNews) June 19, 2018
And, oh yeah, she indicated that kids who had been torn apart from their families were having a grand old time.
"So since more illegal immigrants are rushing the border, more kids are being separated from their parents," she said with a smile on her face. "And temporarily housed in what are essentially summer camps."
Ingraham continued, "Or as the San Diego Union-Tribune described them today as basically looking like boarding schools."
Laura Ingraham describes the detention facilities where children are sent after being forcibly separated from their parents as "essentially summer camps." pic.twitter.com/K6ao3lbS6Q

— Judd Legum (@JuddLegum) June 19, 2018
So there you go. Ingraham, who earlier in the day said those condemning the "phony border outrage" were "hilarious," is letting us know that children who've been traumatically separated from their parents and held in cages are just enjoying a nice summer vacation abroad.
UPDATE: Later in the show, after her comments had already made waves on social media, Ingraham circled back and addressed them.
"Apparently there are a lot of people very upset because we referred to some of the detention facilities tonight as essentially like summer camps," she said. "The San Diego Union Tribune today described the facilities as essentially like what you would expect at a boarding school. So I will stick to there are some of them like boarding schools."
Ingraham continued, "And I suggest that a lot of the folks who are worried about that spend more time in Central America. I have. And we should make adoption easier for American couples who want to adopt these kids who are true candidates for adoption because our policies don't allow that. So let's put our hearts out there for the kids in the right way. Take care of them the right way. Open your hearts and your homes to them."
Below is that clip, via Fox News.