At What Point Does CNN Stop Doing Kellyanne Conway Interviews?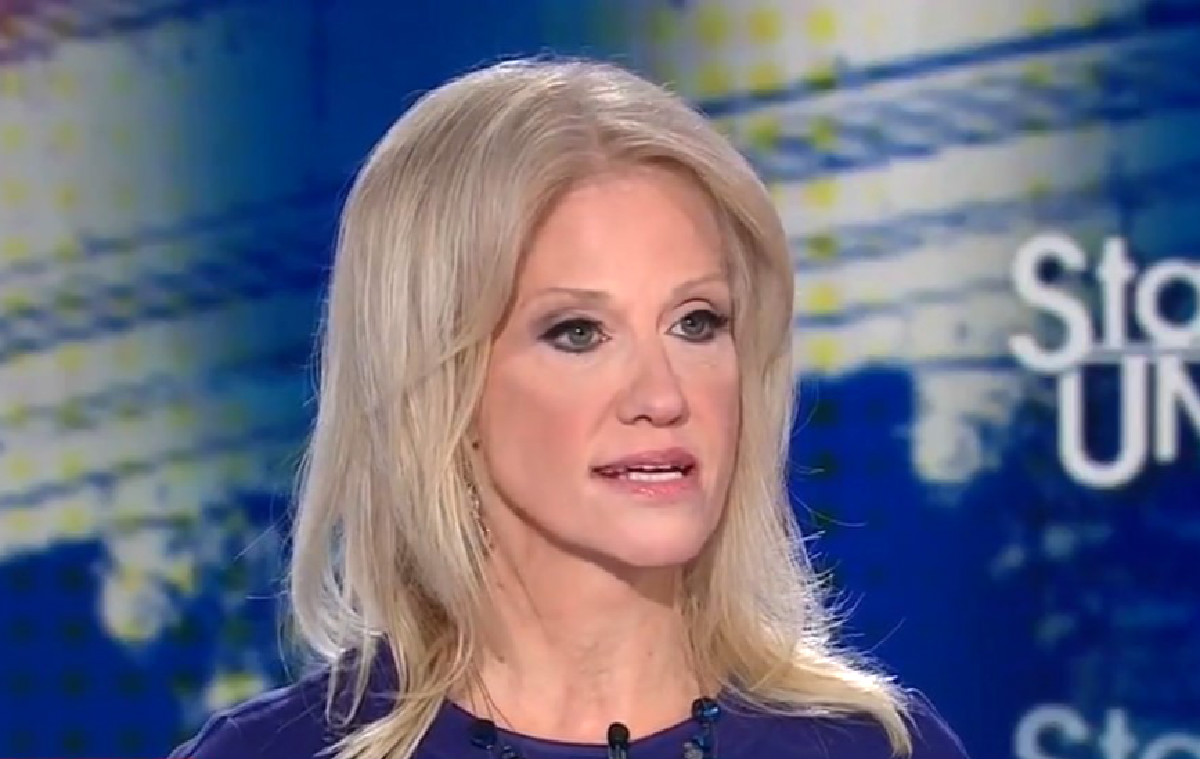 Wednesday morning brought us yet another quote-unquote off-the-rails CNN interview with White House counselor Kellyanne Conway. Among the lowlights of the combative shoutfest, we saw Conway insist that Trump isn't painting kneeling NFL players as "unpatriotic," dodge and deflect when asked a simple question about now-former White House aide Kelly Sadler, and just completely ignore a question about Sarah Sanders to rant and whine about CNN's coverage. (No, we didn't forget the "Commander of Cheese" moment.)
All in all, it was a standard Kellyanne/CNN hit. Lots of criticisms and complaints about how the Trump administration is portrayed in the press, tons of frustrating deflections and hard pivots rather than concise answers, and the dreaded "alternative facts." So, with another exasperating and uninformative Conway segment in the books, one has to wonder — why does CNN keep going back to this well? What blood are they hoping to squeeze from this stone?
Conway's Wednesday interview comes on the heels of a handful of CNN segments that were noted more for her combativeness with the hosts rather than any actual information conveyed to the viewers. She got into it with Jake Tapper over President Donald Trump's propensity for lying. A lengthy session with Brian Stelter was marked by Conway taking personal shots at the Reliable Sources host and his network while demanding to know who he voted for in 2016. Then there was her State of the Union interview with Dana Bash which featured the veteran pollster threatening to go after CNN employees after Bash asked about Conway's husband's anti-Trump tweets. And we haven't even gotten into all of her food fights with Chris Cuomo.
Last month, in the wake of their recent interviews with Conway, both Tapper and Stelter defended bringing her on their shows, pointing to her position as a senior administration official who speaks for the president as a key reason to host Conway. Stelter stated that her "answers AND non-answers are revealing."
100s of people have asked this today. Answer: Conway is a key W.H. aide. She speaks to POTUS. She reps the POV of many Trump voters. So, I strive for thought-provoking Q's. I think her answers AND non-answers are revealing. Judge the transcript: https://t.co/kjSLI37qls https://t.co/aNVmoDjvQv

— Brian Stelter (@brianstelter) May 20, 2018
I'm grateful for all the feedback. I GET why people object. That's why we've discussed this interviewing-Conway issue on @ReliableSources. For more on this, I recommend @JakeTapper's answer when Colbert recently asked him about it https://t.co/BhlXS2iMLo

— Brian Stelter (@brianstelter) May 20, 2018
"I thought it was worth the time to have Kellyanne Conway come on and for me to challenge her on the notion of why does this president tell so many lies," Tapper told late-night host Stephen Colbert when pressed on the issue, with Colbert calling her a "collection of deceptions with a blonde wig stapled on top."
And those responses to the Conway situation are completely rational and make perfect sense. Except, of course, we now have nearly two years of Kellyanne as a Trump mouthpiece in which to make a judgment call about the value of interviewing her. Sure, under normal circumstances, you bring on administration officials to get clarity on policy positions and to provide some insight into the president's current mindset. With Conway, you don't get any of that. Ever. So why keep attempting to tap that well?
It would appear that for both viewers and hosts, Conway's appearances are infuriating, and they always end in anger and frustration. She has shown that she only values them as an opportunity to get in childish taunts and sticking it to CNN, which obviously makes her boss very happy. So why play along? Why give her the opportunity, especially when you get nothing in return?