With More Embarrassing Blog Posts Resurfacing, How Long Can MSNBC And Joy Reid Stay Quiet?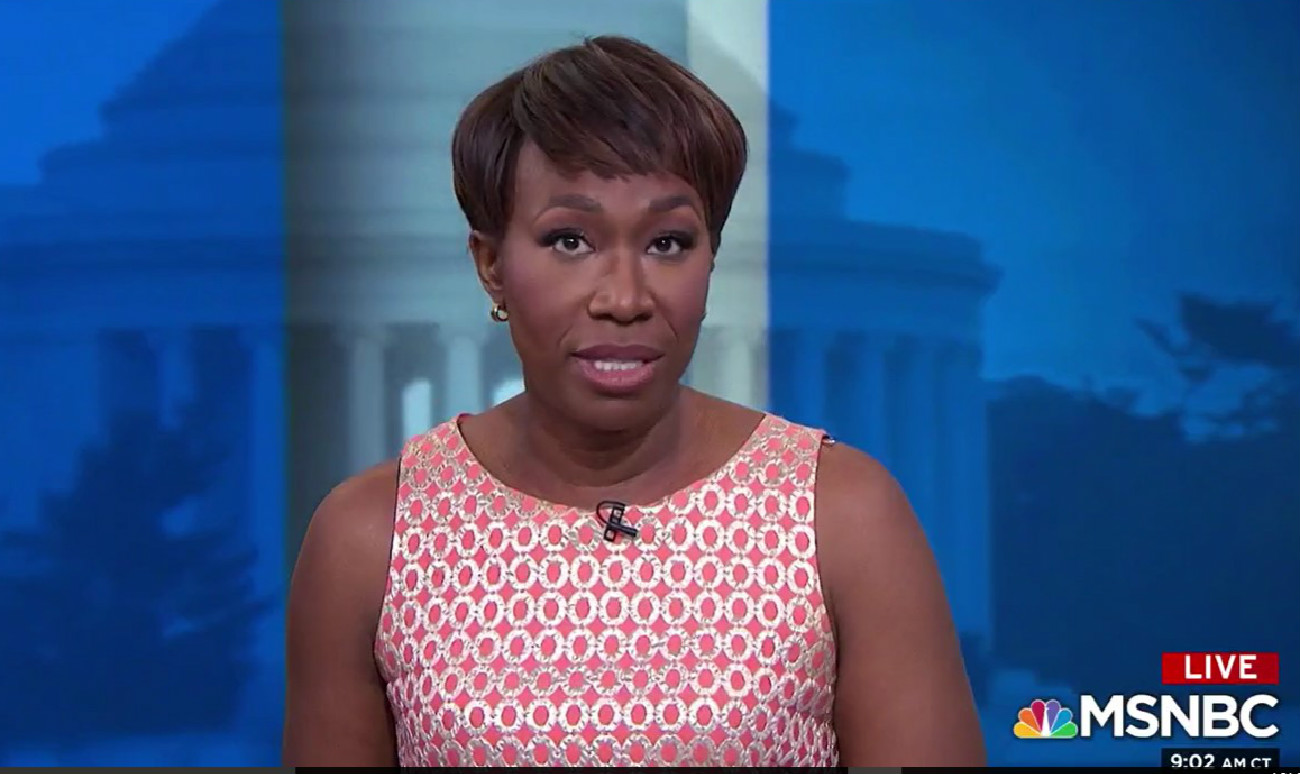 This week, there has been increased attention placed on the now-defunct blog of MSNBC weekend host and #Resistance hero Joy Reid, which has resulted in more controversial and inflammatory posts unearthed. The renewed scrutiny comes in the wake of Roseanne Barr's racist tweets that led to the comedian's hit sitcom revival getting canceled by ABC.
Over the past few days, BuzzFeed News has reported that Reid's blog once encouraged its readers to check out an Alex Jones-produced documentary that pushed a conspiracy theory that 9/11 was an inside job by the American government. BuzzFeed also highlighted an old post in which Reid shared a photoshopped image of John McCain as the Virginia Tech shooter, leading Meghan McCain to call on MSNBC to address the issue.
But it isn't just BuzzFeed digging up embarrassing and offensive posts from Reid's old blog. Fox News' Tucker Carlson gleefully shared entries that showed Reid espousing anti-immigrant views that he said feel in line with President Donald Trump's "America First" policies. He also revealed Reid once praised ultra-conservative commentator Lou Dobbs, who is currently a sycophantic Trump defending host on Fox Business.
Meanwhile, right-wing publication The Federalist discovered a post in which Reid hammered CNN anchor Wolf Blitzer for "a former flak for American Israeli Public Affairs Committee" while hitting him for booking Israeli guests because he couldn't hide "his partisanship for their cause." And The Weekly Standard's Jeryl Bier found a post in which Reid mocked current MSNBC analyst and former RNC chairman Michael Steele by comparing him to Humpty Hump.
So, here's something I just ran across… from @JoyAnnReid's old blog. Mocked @MichaelSteele with a "separated at birth" photo. (From Feb. 9, 2009) pic.twitter.com/KPSZ7KSWMB

— Jeryl Bier (@JerylBier) June 1, 2018
Reid found herself at the center of a bizarre scandal in late April when Mediaite reported on a slew of homophobic posts that were found on her pre-fame blog The Reid Report. In a statement to Mediaite, Reid — who had previously apologized for similarly themed posts she made about Charlie Crist — said she was the victim of "fabricated" posts in an effort to personally defame her. She also noted that she was working with a cyber-security expert who had discovered the manipulation and hacking.
Reid's hacking claims, however, soon fell apart under scrutiny. The Internet Archive, who runs the Wayback Machine, published a report stating that they found no evidence to support Reid's assertions. Her security consultant, Jonathan Nichols, eventually backed away from his findings that he claimed showed "significant evidence" that her blog was "compromised," saying that there appeared to be issues with his methodology. Nichols has since said he is through with commenting on the issue.
Meanwhile, Reid's attorney, John H. Reichman, released a statement shortly after Reid claimed her blog was hacked in which he said the FBI was looking into "potential criminal activities" surrounding Reid's blog and online accounts. An MSNBC spokesperson shared Reichman's statement at the time while noting the network was going to let the process with law enforcement play out.
Once Nichols' report was essentially debunked, Reid took to her show on April 28th and addressed the controversy. While she apologized for some tweets she sent years ago and the views she held years ago, she also said that she truly didn't believe that she wrote the posts in question, stating they felt alien to her. Immediately following her on-air statement, Reid's colleagues rallied around her, and an MSNBC source told Contemptor that network executives remained supportive of Reid and felt she did well with her on-air statement.
And since then, neither Reid or MSNBC has addressed the matter, apparently hoping that it would just fade away and reporters would eventually move on. However, the combination of the Barr controversy and MSNBC's decision to have Reid co-host a primetime town hall on racism has pushed the issue back into the spotlight.
It would appear both parties are sticking to their strategy of silence, even as pressure grows. Contemptor has recently reached out to Reid, her attorney, and MSNBC on this matter, asking about the status of the FBI investigation into her blog, but has received no response from any of them. In fact, outside of MSNBC sharing statements from Nichols and Reichman, the network has not given any official comment on the strange sage revolving around their rising star.
The fact of the matter is, the scrutiny around Reid is not going to suddenly abate. We are heading into the weekend and Reid will take to the air to host her program, AM Joy. This will only lead reporters and observers to continue to ask more questions and scrub through her blog in an attempt to find more inappropriate and incendiary posts.
The strategy of silence will only make those voices louder and louder. Reid and/or the network have to fully address this situation, with Reid making a definitive statement on whether or not she was responsible for the posts. They can no longer place their fingers in their ears and hope that eventually everyone will go away. The network, more than anything, is risking its own credibility with its attempts to sweep this under the rug.
Will Reid and MSNBC finally open up about this and finally address this in the manner they should have more than a month ago? Can we get some transparency on this situation? Or will they all continue to stonewall and ignore the growing chorus of criticism?
UPDATE: Friday afternoon, both Joy Reid and MSNBC released statements regarding the recently unearthed blog posts. Reid "sincerely" apologized for the content of the posts while not addressing her past claims that her blog was hacked. MSNBC said the posts were "hateful and hurtful" while standing by the weekend host.