Did MSNBC Shoot Itself In The Foot By Having Joy Reid Co-Host Its Primetime Racism Special?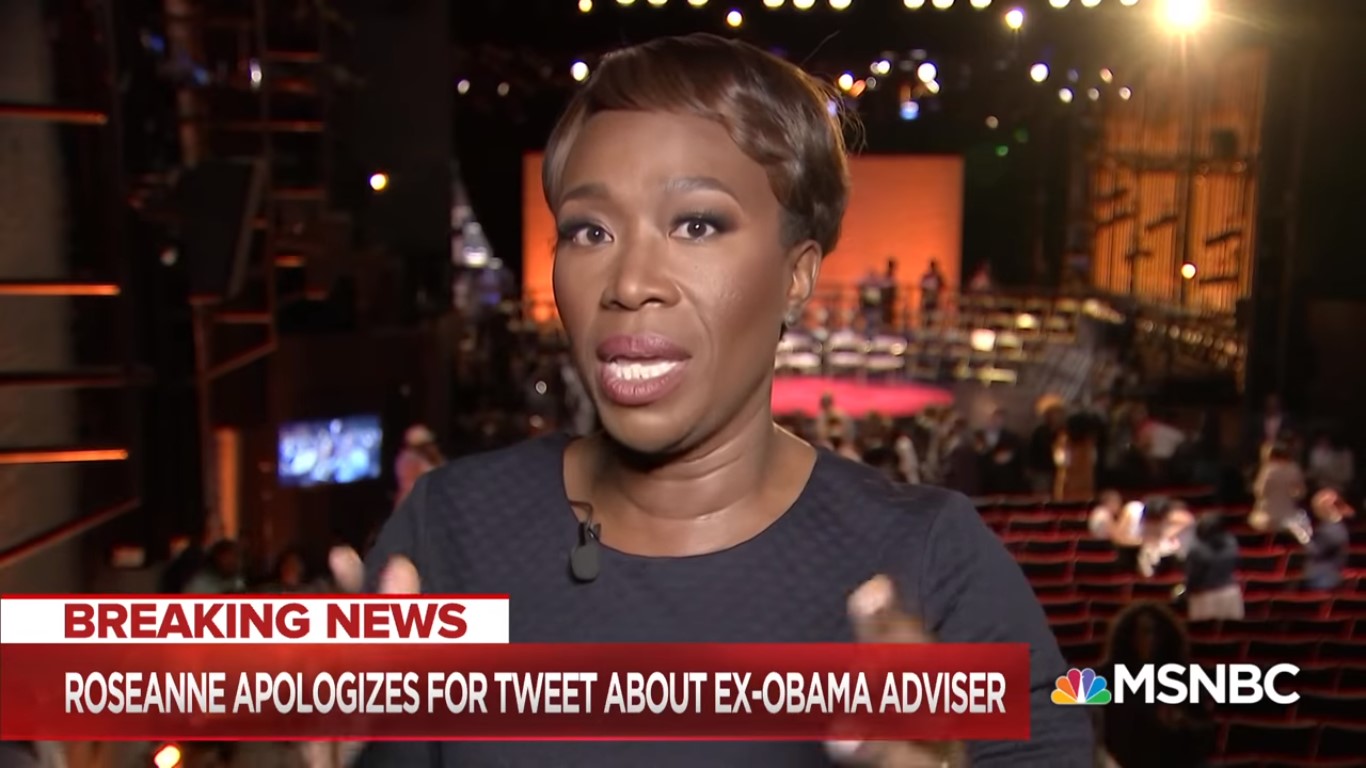 What was MSNBC thinking? Did they not know that this would reignite a controversy they had hoped would quietly fade away?
Just to recap, it has been roughly a month since MSNBC host Joy Reid found herself embroiled in a bizarre scandal related to her now-defunct blog. As you may recall, grossly homophobic posts were unearthed from the blog, dating back a decade or so. Reid, having acknowledged a few months before that she had written similar posts about former Florida Governor Charlie Crist, asserted this time around that the new posts were the result of hacking and manipulation.
After the Internet Archive published a report stating it saw no evidence to support Reid's claims, we were then presented with a statement by Reid's cyber-security expert, Jonathan Nichols, declaring his methodology revealed Reid was indeed the victim of a combination of hacking and screenshot manipulation. Reid's attorney also released a statement claiming the matter was being looked at by federal investigators. By the time she hosted her Saturday morning program, however, Nichols' findings didn't hold up to scrutiny, and she admitted on air that while she didn't believe she wrote the posts in questions, she was unable to prove otherwise.
And that, it would appear, would be that on the whole subject. Reid's colleagues rallied around her and MSNBC executives were apparently happy with the tone she struck in delivering her semi-apology. It looked like they were going to be able to put this all behind them and move forward.
That is, until they tapped Reid to be one of the co-hosts of the network's special, Every Racism In America. And Roseanne Barr happened.
With former Obama senior advisor Valerie Jarrett already booked to appear on the special — an event that coincided with Starbucks' stores briefly closing to hold racial sensitivity training, the event drew even more notice, as viewers and observers wanted to see how Jarrett would react to Barr's racist attacks on her. And Barr losing her hit sitcom hours after her bigoted tweets provided all the opportunity critics and detractors needed to bring Reid's issue back up.
Roseanne made some racist comments, apologized for it and her show was taken off the air.

Joy Behar, Joy Reid and Jimmy Kimmel make racist comments, constantly attack this administration for their beliefs in god and yet they still have a platform with no recourse. LIBERAL BIAS!

— Ryan Fournier (@RyanAFournier) May 29, 2018
This is INSANE. Joy Reid (yes, the same Joy Reid that made homophobic comments, blamed a hacker, and was never fired) is sitting on a panel with Valerie Jarrett discussing Roseanne Barr's comments that got her ABC show cancelled. pic.twitter.com/g5jmyB59HK

— Caleb Hull (@CalebJHull) May 30, 2018
Since we got Roseanne out of the way, let's just go ahead and take off Bill Maher and Joy Reid to make it a perfect trifecta.

— Ross Patterson (@StJamesStJames) May 30, 2018
Of course, one thing that certainly didn't help Reid or MSNBC avoid the obvious comparisons made between Roseanne's and Reid's situations was a super-awkward Tuesday interview between Andrea Mitchell and Reid. With their discussion happening shortly before ABC decided to cancel Barr's show, Mitchell asked Reid this jaw-dropping question, when you consider the context:
"What do you have to do on social media to get fired from a top-rated show on an American broadcast network?"
Sure, the question was meant to reference Barr's horrible comments and whether that should be enough for ABC execs to act, but the irony of this question being presented to Reid wasn't lost on observers.
And now, in the aftermath of the primetime forum, we're seeing the renewed attention being placed on Reid's past blog posts, revealing more controversial and inflammatory opinions made by the MSNBC star years ago.
On Wednesday afternoon, BuzzFeed News published a report that highlighted 2006 posts that Reid wrote in which she encouraged her readers to watch the Alex Jones-produced 9/11 truther documentary Loose Change. The article also noted that Reid expressed skepticism regarding the 9/11 terror attacks.
BuzzFeed pointed out in its article that Fox News' Tucker Carlson was planning a segment on other unearthed Reid blog posts. Hours after the BuzzFeed report went live, Carlson highlighted posts from Reid's old blog in which she praised current ultra-conservative Fox Business host Lou Dobbs and slammed migrant farm workers. Having already blasted MSNBC's racism event earlier in the show — calling it "racist" — Carlson proceeded to mock Reid for pushing "America First policies" more than a decade ago.
Stating that Reid is now the "totally dogmatic race-baiting MSNBC weekend host," he said Reid would probably blame the posts on a hacker but could "do the unexpected and admit that there was a time before the revolution currently in progress when she was actually kind of smart and reasonable." He also snarked that she wouldn't currently express these Trumpian views because "MSNBC would fire her right away for the crime of independent thinking."
Both Carlson and BuzzFeed noted that they reached out to MSNBC for comment but were met with only silence. We also reached out to the network for comment, asking for updates on the investigation into Reid's hacking allegations, but also have not heard back as of yet.
The thing is, this is just going to keep continuing for MSNBC, and tossing Reid out as one of the co-moderators of the special brought this back on the network's doorstep. Even if Roseanne didn't decide to go off on a racist tirade that garnered national attention, I'd still have to believe that they'd be feeling some strain to answer for Reid's unanswered questions.
Regardless, they've made their bed now. And there will be more pressure to come.