Glenn Beck Throws In #NeverTrump Towel, Puts On MAGA Cap, And Boards Trump Train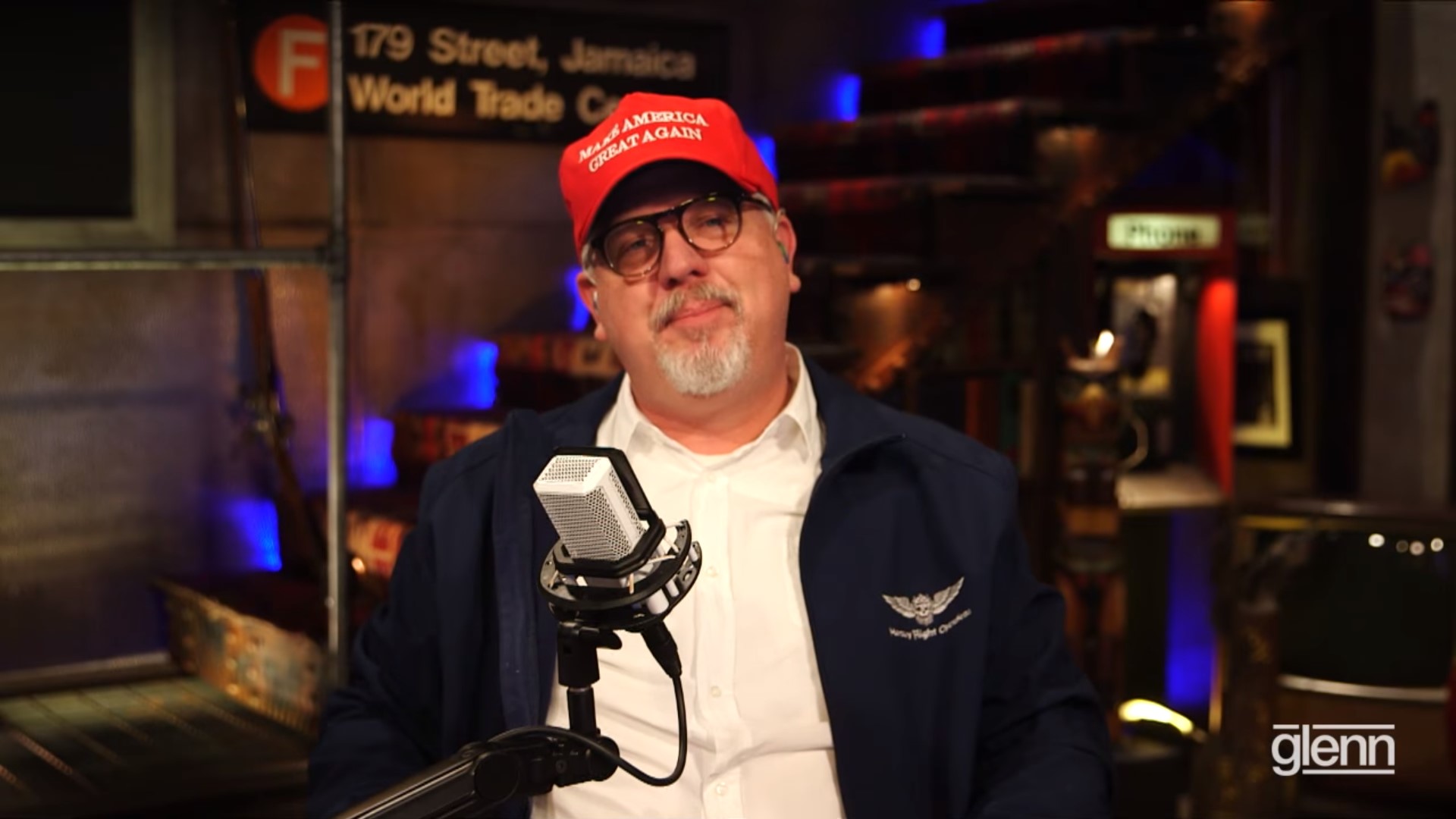 Remember how TheBlaze founder and one-time Fox News star Glenn Beck was one of the leaders of the #NeverTrump movement? Well, he's a Never Trump no more, as the conservative host declared on Friday that he was officially aboard the Trump Train.
Citing a combination of President Donald Trump's accomplishments and the media's treatment of Trump — specifically his belief that the mainstream media misconstrued the president's "these are animals" comment — Beck donned a 'Make America Great Again' ballcap and delivered monologue/rant declaring that he'll vote for Trump in 2020.
Following Beck's announcement, Mediaite columnist and #NeverTrump conservative John Ziegler tweeted at Beck and said he was still trying to process this. (It should be noted that in an interview with Ziegler ten months ago, Beck pilloried other conservative hosts for embracing Trump, calling them "frauds" while maintaining it was an "easy" decision for him to reject Trump because he's "principle-driven.")
Beck responded to Ziegler with the following tweets:
Nothing to process. This monologue is about the mainstream media and their psychotic hatred of DJT. There are two main things we must consider. 1. His actual accomplishments. 2. His personal flaws. The latter w/o question is inexcusable. How about 1?

— Glenn Beck (@glennbeck) May 18, 2018
2. His accomplishments on ISRAEL alone is remarkable. Iran may be destabilized by his actions as uprisings have now begun. NK is at the table. Movement is not a lasting good but let's recognize they have moved. ISIS has been destroyed (for now).and ppl have real $ in pocket.

— Glenn Beck (@glennbeck) May 18, 2018
3. Does that make him the greatest?nope. But I am so tired of the press siding with Iran /hamas and 'divine spark' talk w/MS13 because of him. We must be able to recognize both good and bad. Everything the press is doing is driving ppl into his arms.

— Glenn Beck (@glennbeck) May 18, 2018
4. The people chose him. He is here. They baked in porn stars and lies. Nothing will change that. I despise that. But to smear him with 'animals' was a breaking point. They knew it was a lie, deleted then defended. They have become everything they fight.

— Glenn Beck (@glennbeck) May 18, 2018
Ziegler replied by telling Beck he was blowing the media's reaction to Trump's "animals" remark out of proportion. He would also tweet out a link to his interview with Beck.
Glenn the reporting on "animals" was bad, but not as bad you make it out. He MIGHT have been meaning MS-13 but he did NOT say that & I don't think he deserves much benefit of the doubt here given his history. Obviously I agree the media's horrible/broken & often wrong about Trump

— John Ziegler (@Zigmanfreud) May 18, 2018
Since a lot of people are mentioning it given his very pro-Trump monologue today, here is an article on the really great interview I did with Glenn Beck (just ten months ago!) about the conservative media selling out to Trump. #LifeComesAtYouFasthttps://t.co/0l7qaXhY5B

— John Ziegler (@Zigmanfreud) May 18, 2018
One has to wonder at least if TheBlaze's well-known financial troubles in the Age of Trump has anything to do with Beck's about-face. Last summer, mass layoffs were announced at the outlet and earlier this year Beck was in negotiations with Ben Shapiro's website to either buy or partner with TheBlaze. And just a few weeks ago, it was reported that Beck was selling his private plane.
Glenn Beck succumbs to the imperatives of the conservative entertainment complex. https://t.co/fDXsN1uACw

— David Frum (@davidfrum) May 18, 2018
Watch Beck's coming out above, via TheBlaze.