TPUSA Diaper Protest Organizer Says She's Victim Of 'Blatant Racism' Over Campus Gun Stunt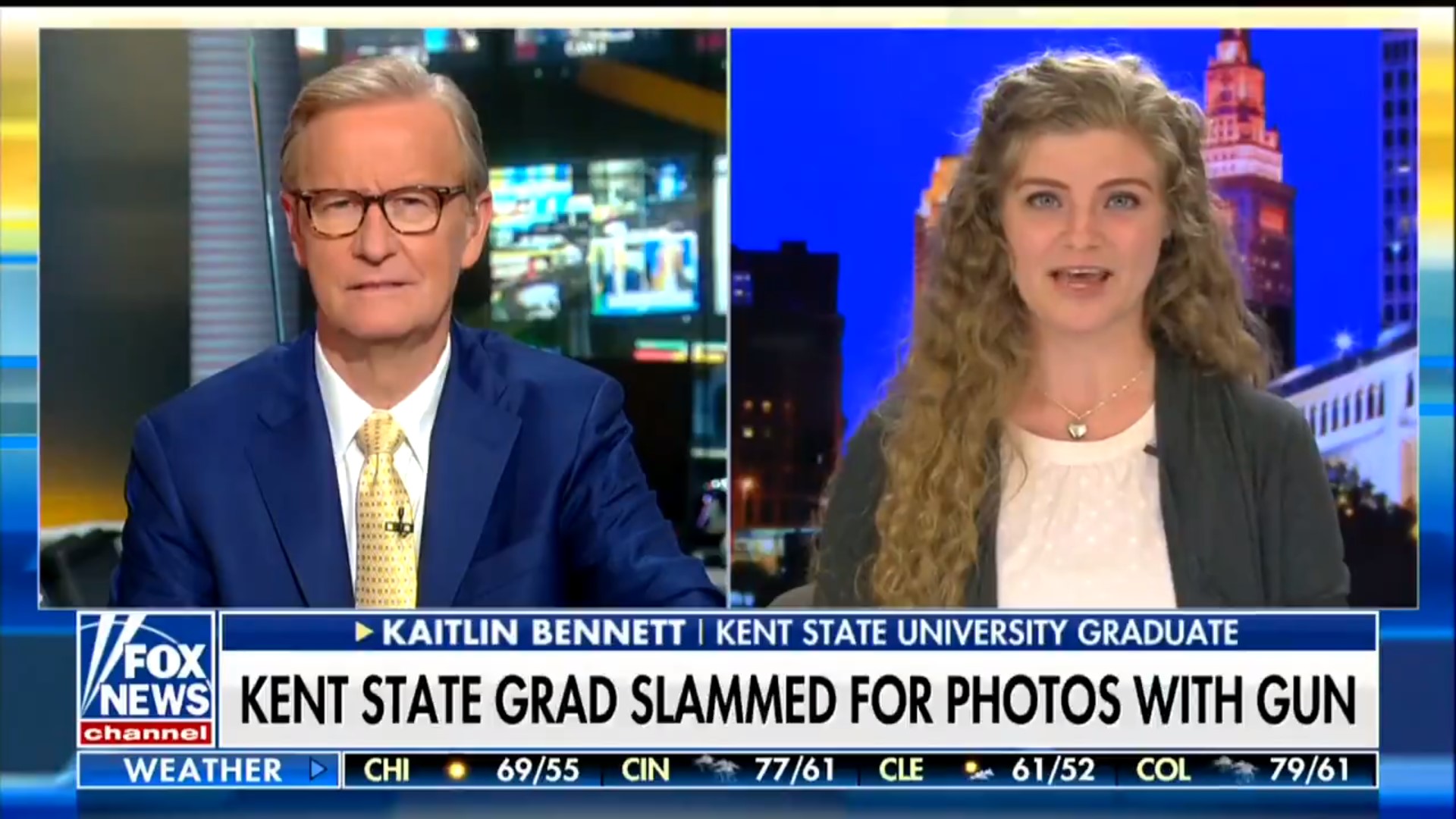 Earlier this week, former TPUSA Kent State chapter president and current wannabe conservative celebrity Kaitlin Bennett drew a whole bunch of attention on social media when she posted pictures of herself posing with an assault rifle on campus. See, she recently graduated from Kent State and wanted to make a point about the Second Amendment and students' rights to carry on campus — Kent State doesn't allow students to carry deadly weapons — by walking around with her massive gun and graduation cap.
As Bennett has graduated the previous day, the university's guidelines said she was able to open-carry on campus, as long as she was outdoors. She also instructed the university she would be doing this beforehand and she had a campus police officer with her when taking her photos. So, yeah, obviously a stunt to get maximum exposure.
Now that I graduated from @KentState, I can finally arm myself on campus. I should have been able to do so as a student- especially since 4 unarmed students were shot and killed by the government on this campus. #CampusCarryNow pic.twitter.com/a91fQH44cq

— Kaitlin Marie (@KaitMarieox) May 13, 2018
I have no apologies for my graduation photos. As a woman, I refuse to be a victim & the second amendment ensures that I don't have to be. pic.twitter.com/5CKmQobrMb

— Kaitlin Marie (@KaitMarieox) May 15, 2018
And, like clockwork, Bennett popped up on Fox & Friends Thursday morning. Bennett took that opportunity and spun it into more viral gold.
Having already engaged with Parkland survivor David Hogg on Twitter — she called a tweet he shared calling out her white privilege "racist" while mocking his "tiny arms and Hitler-like bands" — Bennett had the following exchange with F&F co-host Steve Doocy:
"I was not expecting the blatant racism that has been thrown at me, the right-out death threats," Bennett said.
"What kind of racism?" Doocy dutifully asked.
"They're saying that I have white privilege for going out on campus with my AR-10," she complained. "They are saying that this all has to do with me being white that I was able to do this. I think that's very insulting to minorities; I don't think that anything bad would happen to them."
End scene.
Former TPUSA activist who is a guest on Fox & Friends: "I was not expecting the blatant racism that's been thrown at me."

Doocy: "What kind of racism??"

Guest: "They're saying I have white privilege" pic.twitter.com/XulEiEqxGN

— John Whitehouse (@existentialfish) May 17, 2018
That just hits all the marks for your average Fox News viewer. The accusation of anti-white racism. The victimization of conservatives. The whole "keep yer hands of my GUNZ" attitude. I mean, this is like catnip for the right.
Anyway, if you were thinking you may have heard about Bennett before, it is probably due to the own-the-libs diaper protests she organized on the Kent State campus a few months ago that backfired, leading to widespread mockery of TPUSA and her ultimate departure from the group.