Hannity Has Beaten Maddow In The Key 25-54 Demo For Three Straight Weeks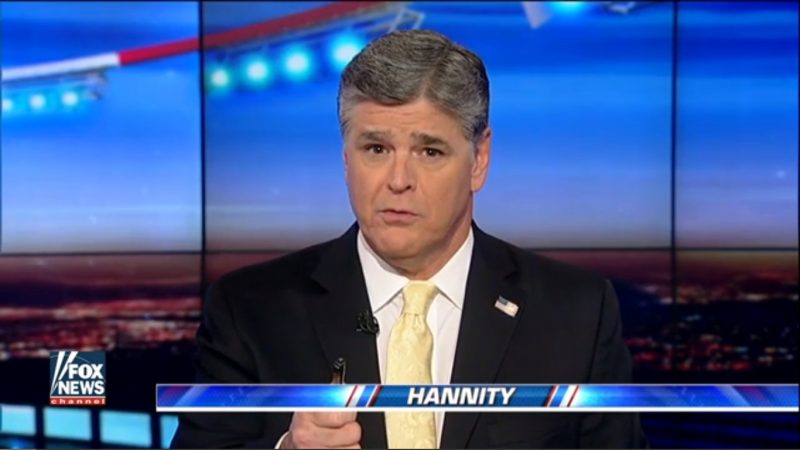 During the early part of 2018, MSNBC's The Rachel Maddow Show and Fox News' Hannity battled back and forth for cable news ratings dominance. For the month of January, Maddow led all of cable news in the key 25-54 demographic, pulling in 678,000 in the metric compared to Hannity's 660,000, and in March it was the most-watched show in total viewership. For the 1st quarter, Hannity topped the field in overall audience while Maddow placed first in the demo.
In these last few weeks, however, it appears that Hannity has taken a stranglehold on the ratings and firmly pushed Maddow back into second place for the time being.
For the week of 4/30 – 5/6, the Fox News program averaged 3.23 million total viewers and 640,000 in the key demographic, according to Nielsen. Maddow, which like Hannity airs at 9 PM, pulled in a total audience of 2.746 million and 568,000 in the demographic.
Last week represented the third straight week that Hannity has topped Maddow in both total viewers and the demo and the seventh consecutive week it has been the most-watched program in cable news. During the week of 4/23 – 4/29, Maddow attracted 576,000 in the demo compared to Hannity's 640,000. The previous week, Hannity's demographic audience was 734,000 while Maddow nabbed 685,000.
Meanwhile, Maddow has seen her total viewership drop from 3.36 million during the week of 4/9 – 4/15 to last week's 2.746 million. Hannity's overall audience has remained mostly steady in that same timeframe, dropping slightly from 3.423 million to 3.23 million.