Fox News Host Apparently Thinks NBC Bungled Cohen Report Because They're Upset Trump's Creating Jobs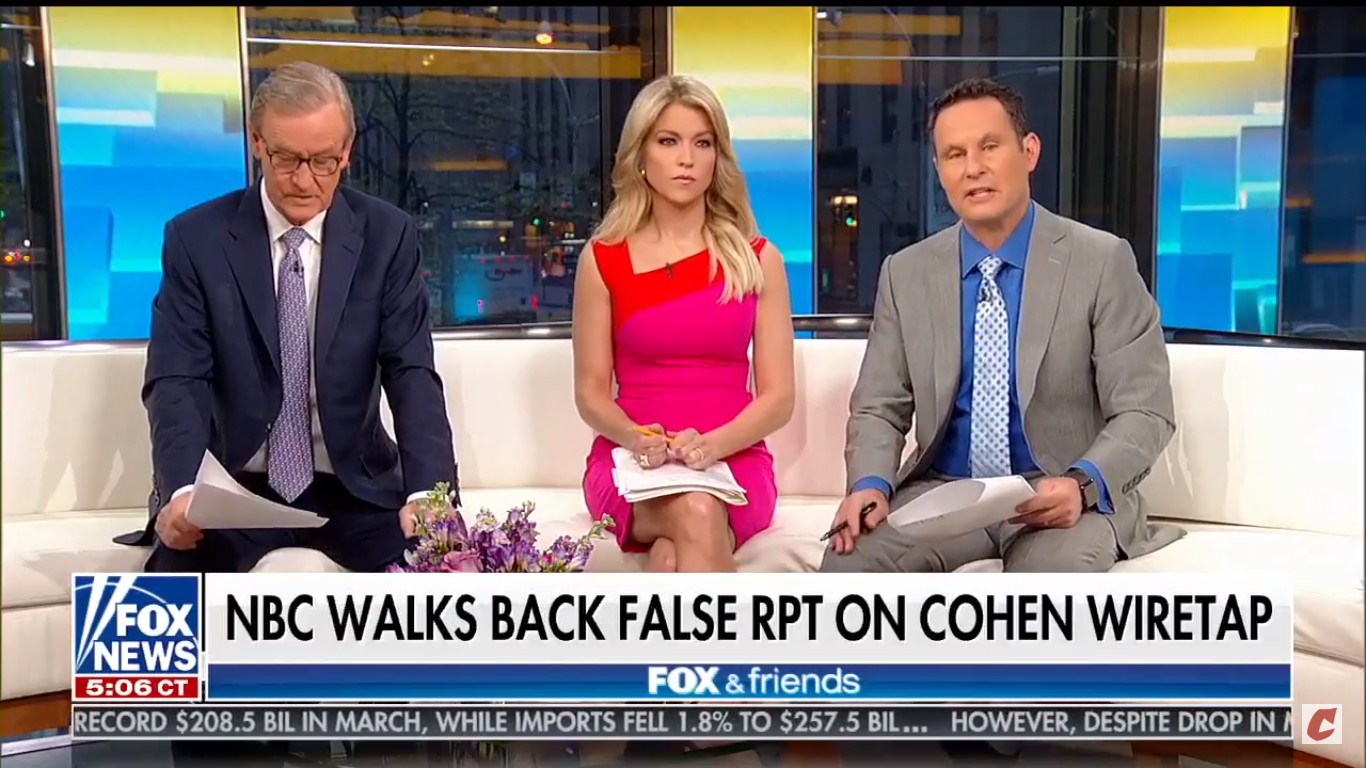 It should probably come as no shock that the Fox & Friends crew were champing at the bit to roast NBC News for issuing a major correction on its bombshell report that Michael Cohen's phones had been wiretapped. But co-host Ainsley Earhardt took things in a surprising direction, as she expressed her belief that something else was at play besides NBC being given bad info by sources.
After the curvy couch denizens chastised the network for waiting four hours to correct the report and pointing out that it was "very embarrassing," they played a clip of former Bush White House spokesperson Ari Fleischer claiming the threshold for anti-Trump stories is so low and that's why we saw this report get published.
"When is the last time you saw a headline they had to retract that said 'Donald Trump exonerated in the Mueller probe — an announcement about to happen.' It's always on the negative," Brian Kilmeade exclaimed. "It's always pro-the investigation and against the Trump administration."
"They're upset because he's creating so many jobs," Earhardt interjected. "They're really mad."
Yep, the reporters at NBC News reported that the feds were tapping Cohen's phone instead of monitoring the calls because they were pissed that the unemployment rate is low. Get it? Got it. Good.
Towards the end of the segment, Earhardt noted that the president had not tweeted about the NBC News correction. Well, wouldn't you know it? Just minutes later, Trump sent out the following tweet excoriating the network over the report.
NBC NEWS is wrong again! They cite "sources" which are constantly wrong. Problem is, like so many others, the sources probably don't exist, they are fabricated, fiction! NBC, my former home with the Apprentice, is now as bad as Fake News CNN. Sad!

— Donald J. Trump (@realDonaldTrump) May 4, 2018
Earhardt would also claim that the reason the term "fake news" came about is due to reports like NBC's, and that the only reason the president keeps tweeting is to get "the story correct in his opinion" because he "can't rely on the mainstream media."
And one wonders why Fox & Friends is Trump's absolute favorite show.
Watch the clip above, via Fox News.