Did Trump Spend His Sunday Afternoon Holed Up Watching Fox News? Sure Looks Like It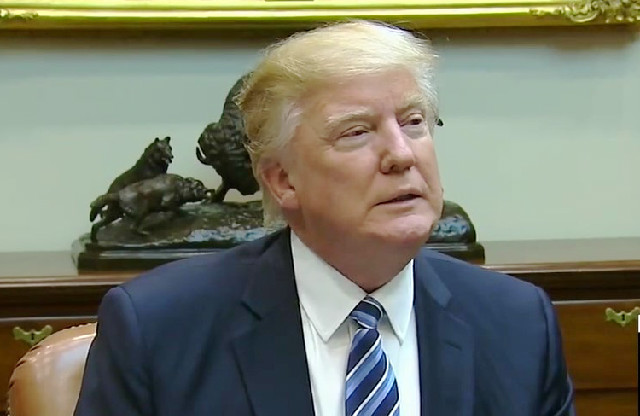 President Donald J. Trump, a man who insists he doesn't watch that much television because he's too busy reading documents, chimed in on Twitter Sunday afternoon to quote two Wall Street Journal opinion writers. The topic the columnists were opining on? The "dumb Comey Memos," what else.
Kim Strassel of the WSJ just said, after reviewing the dumb Comey Memos, "you got to ask, what was the purpose of the Special Counsel? There's no there there." Dan Henninger of the WSJ said Memos would show that this would be one of the weakest obstruction cases ever brought!

— Donald J. Trump (@realDonaldTrump) April 22, 2018
So where exactly did the president hear Kim Strassel and Dan Henninger provide their expert opinions on the content of the Comey memos and viability of an obstruction case? I'll give you one guess.
Actually, she said it about an hour before he tweeted.

Left, Fox's Journal Editorial Report, 3:03 pm

Right, Trump, 4:04 pm pic.twitter.com/tNbW5e9jEf

— Matthew Gertz (@MattGertz) April 22, 2018
Henninger's comment came about a minute later. pic.twitter.com/GPykUh7PX9

— Matthew Gertz (@MattGertz) April 22, 2018
As Media Matters' Matt Gertz pointed out in his tweets above, Trump was apparently watching Fox News' Journal Editorial Report. But it doesn't look like he was checking it out live, Rather he was probably watching it on his "Super TiVo," as he tends to do to get all his Fox viewing in.
It has been estimated that the president spends as much as eight hours a day watching television — mostly cable news. During his work week, he generally has "executive time" written into his schedule so he can watch Fox & Friends and other comfort food shows. As for the weekend, it appears his schedule consists of two things — golf and TV.
Meanwhile, as for the substance of his Sunday afternoon tweet, journalists pointed out he was quoting people who are paid to opinionate. Basically, he's just quoting the pundits, which is more than a little ironic considering he railed against punditry earlier in the day.
These tweets are generally distressing for the news side of WSJ. https://t.co/zx3G8CMIRx

— Maggie Haberman (@maggieNYT) April 22, 2018
A note on behalf of my former talented WSJ newsroom colleagues: Strassel and Henninger are both opinion writers. https://t.co/dtY1cay7JS

— Josh Dawsey (@jdawsey1) April 22, 2018
Watch the Fox News clip of Strassel and Henninger above.