CNN's Jeffrey Lord: 'Think Of President Trump As The Martin Luther King Of Health Care'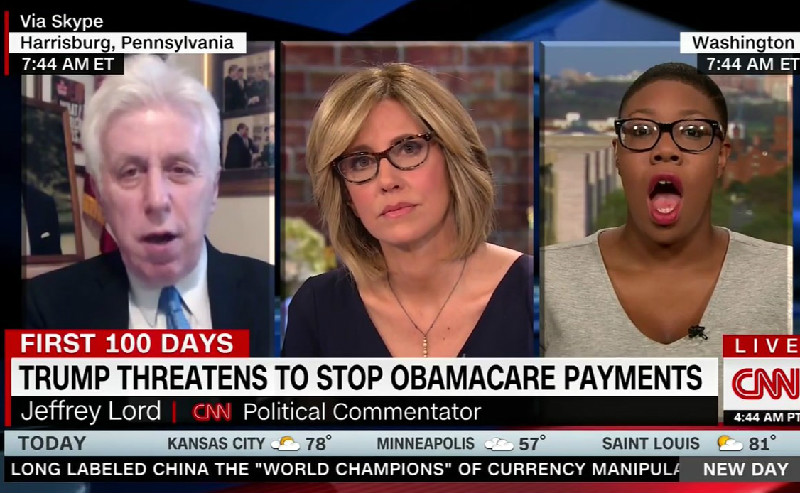 A Thursday morning discussion on CNN quickly went off the rails when the network's resident Trump defender directly compared the president to America's greatest civil rights icon.
Talking about health care legislation and recent comments made by President Trump in which he threatened to cut Obamacare subsidies if Democrats won't negotiate on a repeal, CNN political commentator Jeffrey Lord said that Democrats should "get with the program" if they don't want millions of people to go uncovered.
With fellow CNN commentator Symone Sanders jumping in to say that this is dangerous rhetoric and that the president should take a "more humane tone and course of action," Lord then came back with just an amazing — and obviously trollish — response.
"I want to say something here that will drive Symone crazy," he said. "Think of President Trump as the Martin Luther King of health care."
"Oh Jeffrey, Jeffrey, Jeffrey," Sanders exclaimed, using a tone similar to that of an embarrassed mother.
"When I was a kid, the president didn't want to intro introduce the civil rights bill because he did not have the votes for it," Lord attempted to explain. "Dr. King kept putting people in the streets in harm's way to put pressure on for the bill to be put forward."
After noting that King was marching for civil rights because people were being mistreated due to the color of their skin, Sanders then went there with Trump.
"Let's not equate Dr. Martin Luther King Jr. — a humanitarian, a Nobel Peace Prize winner — to the vagina-grabbing President of the United States," Sanders shouted.
Watch the clip above, via CNN.