'Is He Ready To Apologize?': Fox News' Chris Wallace Pushes Priebus On Trump's Wiretap Claims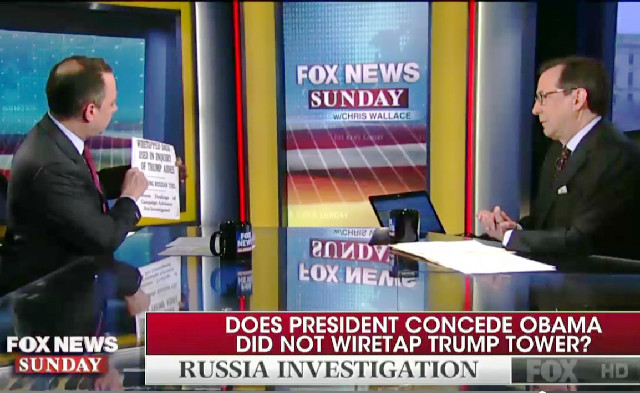 In a wide-ranging and at times confrontational interview this morning, Fox News Sunday host Chris Wallace pressed White House Chief of Staff Reince Priebus on President Donald Trump's unproven claims that former President Barack Obama had wiretapped his phones at Trump Tower prior to the election.
After having already grilled the embattled ex-RNC chair on Trump blaming the failure of the American Health Care Act on Democrats and the president's curious tweet telling followers to watch Judge Jeanine Pirro's show Saturday night — a program that began with Pirro calling for Paul Ryan's resignation as Speaker of the House — Wallace asked Priebus about Trump's wiretap tweets.
"Does the president accept the conclusion from all sides that President Obama did not wiretap Trump Tower during the campaign and is he ready to apologize?" Wallace asked.
"The answer is no," Priebus responded. "And I don't accept it."
Coming prepared with props, Priebus proceeded to hold up an enlarged printed copy of a New York Times headline which used the words "Wiretapped" to make Trump's point that his tweets were accurate. (This is a tactic the president and White House Press Secretary Sean Spicer have already utilized.) He also repeated the talking point that Trump was talking about surveillance in general.
"The fact is reports have come out for many, many months now that people on the Trump campaign transition team were surveillanced by potentially some intelligence group," the White House official said. "Whether they were intentionally swept up, whether their names were unmasked — Chris, you don't know the answer to that question and I don't either."
Priebus and Wallace would then go on to discuss leaks to the press and how the Trump Administration feels it is possible the former White House is behind many of them before moving on to talk about House Intelligence Committee Chairman Devin Nunes' curious decision to run to Trump with info before his own committee members. (Priebus wouldn't state whether he thought Nunes was in the wrong or not.)
Watch the entire interview below, via Fox News: