Michael Moore: Donald Trump Is "The Godfather Of This Decade's Fake News"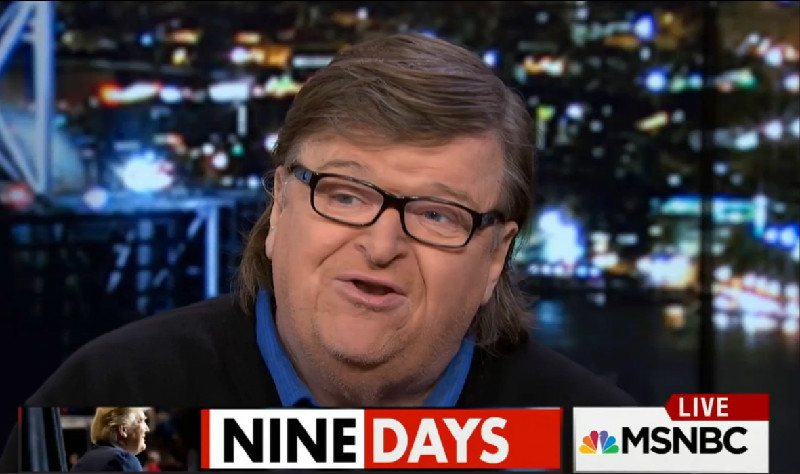 A day after Buzzfeed published an unverified dossier that claimed there were efforts made by Russia to compromise President-elect Donald Trump, leading to all kinds of renewed lamentations of FAKE NEWS from the Trump team, liberal documentary filmmaker Michael Moore showed up on MSNBC's All In to talk about it, among other things.
As you may recall, following the much-criticized Buzzfeed doc dump that closely followed CNN's carefully reported story on Trump being shown a two-page synopsis regarding these claims at his intelligence briefing last week, Trump and Co. went on the attack at today's press conference. Besides taking aim at Buzzfeed, which was called a "failing pile of garbage," Trump attempted to conflate CNN's reporting with Buzzfeed's document release. (This is something aides Sean Spicer and Kellyanne Conway have done as well over the past 24 hours.) This led to Trump brow-beating CNN's Jim Acosta at the press conference, telling the reporter he couldn't ask a question because "you are fake news!"
Discussing this with host Chris Hayes tonight, Moore found the whole thing amusing because Trump is essentially the founder of fake news, considering all the conspiracy theories he's publicly peddled over the years. After the two of them debated whether the dossier should have been published and what damage Buzzfeed may have done to serious journalism, Hayes then jumped into Trump's appropriation of the term "fake news" to use as a weapon against media outlets.
Moore countered right away: "He's one of the founders of it in the Obama era! He created the fake news of the — and he said there was intelligence!"
"He himself was hiring investigators to support his fake news," he added. "He is the godfather of this decade's fake news!"
The All In host noted that it was a "great point" due to the fact that Trump launched his political career by pushing the birther conspiracy about Barack Obama, claiming Obama was using forged documents and was hiding his papers. He also explained that Trump now using the terms "fake news" is a "judo move" so that everything can be described as that. And, thus, nothing can be trusted, which Moore called "genius."
Watch the clip below, via MSNBC.