After Breitbart's Kellog's Ban, Colbert Wonders If The Trix Rabbit Is A Bigot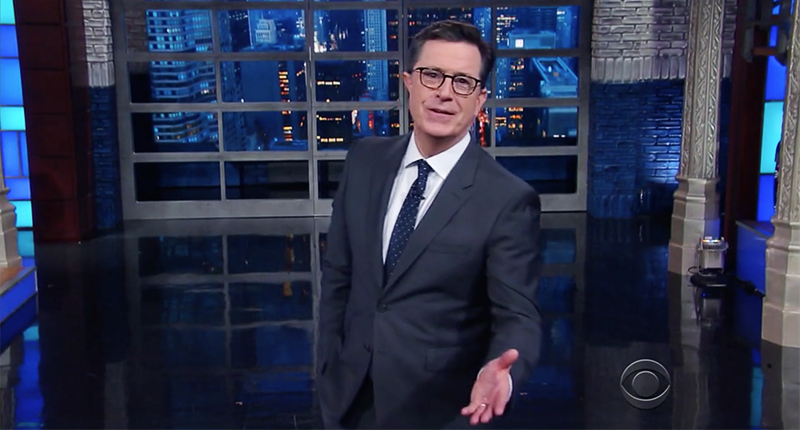 Stephen Colbert mocked Breitbart.com's attack on Kellog's cereals last night on The Late Show. Colbert criticized the right-wing news site for calling for a boycott of the cereal company after Kellog's pulled advertising from the site. Kellog's is ending its advertising with Breitbart because the company does not believe the site is compatible with its values.
"Critics say the site is a hotbed of racist, sexist and anti-Semitic views while supporters say exactly the same thing," Colbert said. Breitbart was until recently run by Steve Bannon, whom Donald Trump has now appointed a special adviser.
"Really, the maker of Frosted Flakes doesn't agree with Breitbart? You'd think they'd love a bright orange cartoon who promises to make the country grrrrrreat!" Colbert discussed Breitbart's response to Kellog's decision by joking that Breitbart had given a measured response.
"They actually published this article title, '#DumpKellogg's: Breakfast brand blacklists Breitbart, declares hate for 45,000,000 readers' and went on to say 'if you serve Kellogg's products to your family, you are serving up bigotry at your breakfast table.'"
Colbert said a breakfast cereal could not be bigoted but couldn't help joking about Breitbart's claim that by pulling advertising from the alt-right site, Kellog's was now bigoted against its readers.
"Other than, obviously, Lucky Charms. That leprechaun is magically offensive! That Trix rabbit's weird, too. Keep him away from the kids."