Stephen Colbert Refuses To Bow Down To 'Kim Jong Trump': That's What A Pussy Would Do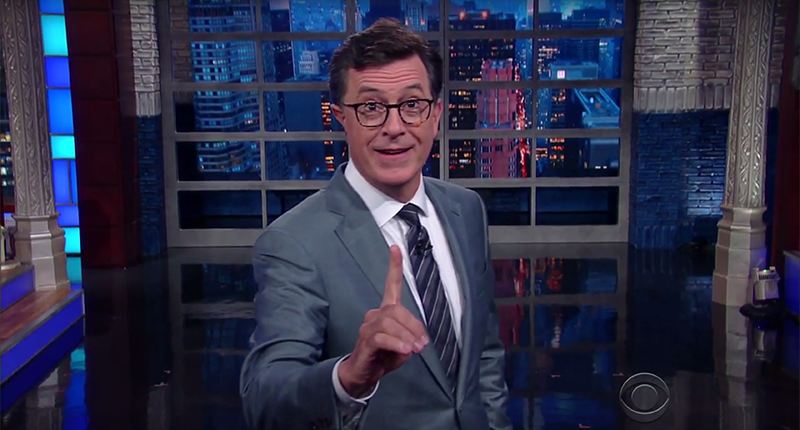 Stephen Colbert is one of the late night TV comedians who mocked Donald Trump mercilessly during the campaign and seriously warned against electing him president. Now that the election is over, Colbert is not apologizing and is ready to mock Trump for years to come.
Colbert was not reassured by President Obama's meeting with Trump or RNC Chair Reince Priebus' assurances that Trump is taking the job seriously. "Well, the fact that Reince Priebus found it necessary to say that out loud gives me renewed confidence," Colbert said. "Just like I'd have if I was on a plane and, right before takeoff, the pilot hopped on the intercom and said, 'Ah, this is your captain speaking. I promise you guys I'm going to take flying this plane very seriously."
"Now, when it comes to filling cabinet positions, Trump has cast a wide net, starting with Donald Trump, Jr.," Colbert said. "Hey, Don senior? If you're trying to tone down the whole 'dictator' thing, maybe don't give a cabinet position to your son, Kim Jong Trump. It's a little on the nose."
Colbert warned that if Rudy Giuliani becomes attorney general, African-Americans will have to add 30 minutes to their daily schedule if stop and frisk is introduced, as Trump suggested during the campaign. Colbert also warned that critics and comedians who were opposed to Trump would now have a tough time.
"Every critic, every detractor will have to bow down to President Trump," Colbert said. "It's everyone who's ever doubted Donald, who ever disagreed, who ever challenged him. It is the ultimate revenge to become the most powerful man in the universe."
Colbert pretended to grovel before President Trump. "t was Sam Bee and Seth Myers! They're the ones who said all those horrible things about you. I was just joking. All hail our glorious leader! Giant hands! You've got giant hands! You're going to be great – is what a pussy would say."