Fox News Refuses To Comment On Jesse Watters' Blatantly Racist Chinatown Segment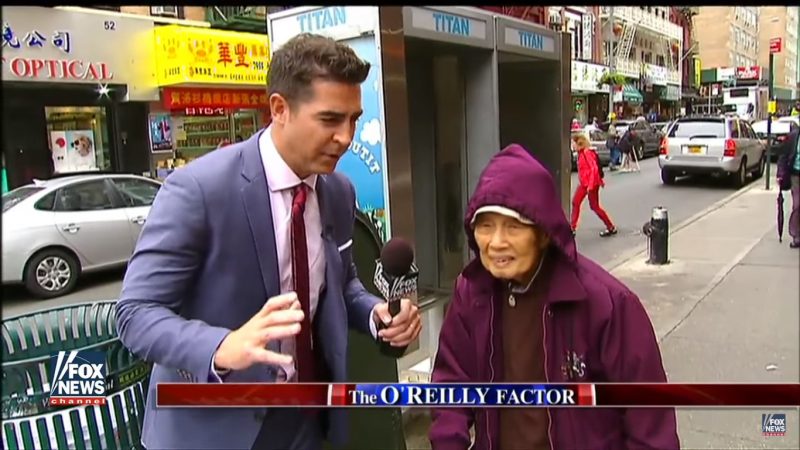 Sure, Roger Ailes may not be at Fox News anymore, but the Fair & Balanced network will still circle the wagons when one of their own does something unabashedly offensive that's worthy of condemnation.
During Tuesday night's broadcast of The O'Reilly Factor, interviewer Jesse Watters aired on of his semi-regular 'Watters World' segments. Introduced by host Bill O'Reilly as a man-on-the-street take of Asian-Americans' views on the presidential election, the piece was nothing more than four minutes of Watters speaking to people in Chinatown and reinforcing every outdated Asian stereotype one could imagine. Think Long Duc Dong in Sixteen Candles, only presented as serious news in 2016.
Following the airing of the segment and O'Reilly offering up his own patronizing opinion, the outrage from media observers and Asian-American groups began in earnest. Vox's Libby Nelson was one of the first to give a scathing opinion of the clip:
Fox News' Jesse Watters went to New York's Chinatown to ask people what they thought of Donald Trump and Chinese-American relations for The O'Reilly Factor.
Or at least that's what he said he was doing. What Watters was really doing was making fun of the people he encountered with the broadest, dumbest Asian stereotypes imaginable — making it clear they were there as props for him and his viewers for what he clearly considered a hilarious joke, rather than to actually give their opinions.
The Asian American Legal Defense Fund sent out the following tweet giving their opinion of not only Watters, but Fox News in general:
This racist mocking of people in NY #Chinatown makes clear that @FoxNews doesn't care about Asian American voters. https://t.co/uTfr8WkoME

— AsianAmericanLegal (@aaldef) October 5, 2016
And Gregory A. Cendana, executive director of the Asian American Pacific Labor Alliance, gave the following statement to Media Matters:
"Though it's not surprising that The O'Reilly Factor did such a segment, we're still extremely disappointed in the racist and stereotypical coverage of Chinese Americans on a major outlet. The Asian American and Pacific Islander (AAPI) community, for one, is not a monolith nor a model minority nor a perpetual foreigner. It was inappropriate for Watters to ask about Chinese herbs for performance. It was inappropriate for Watters to make fun of Chinese elder who did not answer his question. So much of that coverage played into the exoticization and the status of perpetual foreign of the AAPI community, which continue to be an issue in the media today. And it's a shame that this segment had to exacerbate that."
However, despite the outcry, Fox News has refused to comment so far on the segment, according to CNN's Dylan Byers. However, they did point to previous interviews he has given in which he defended his style of ambush journalism.
Of course, if this were just an isolated experience with Watters, then one could see providing some cover for him. But it ain't. Watters has made his name by doing these kinds of segments that portray the most offensively stereotyped views of ethnic or social groups. All one has to do is watch his piece on the New York homeless, where he presents them all as drunk black prostitutes addicted to crack, to see what he's hoping to accomplish with his brand of reporting.