"It's Indefensible!" Jake Tapper Has Just About Had Enough Of Rudy Giuliani's Idiocy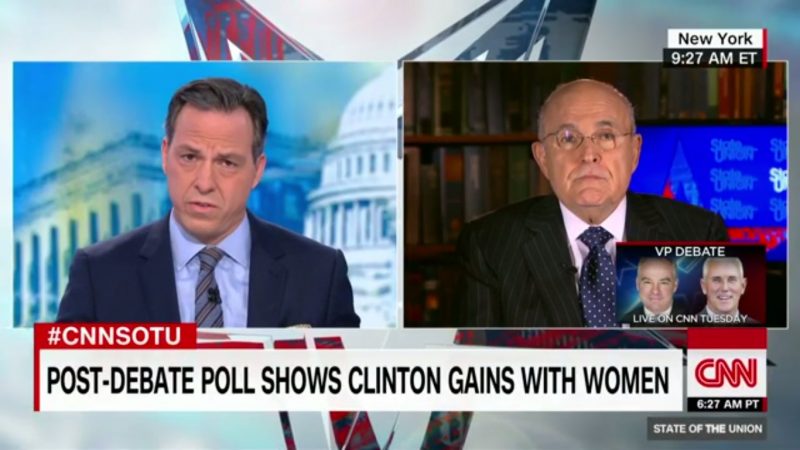 Former New York City mayor must have been tapped by the Trump campaign to be the point man following an absolutely horrendous week for the GOP nominee, as he was all over the Sunday shows. In the 24 hours preceding Giuliani's appearances, not only was there the bombshell New York Times report about Donald Trump taking a $916 million loss in the 90s, but the real estate mogul also kept his promise to be "nastier" than Hillary Clinton.
At a campaign event on Saturday, Trump openly mocked Hillary for nearly fainting at the 9/11 memorial due to pneumonia. However, it was his comment that the ex-First Lady may have cheated on her husband that got the most attention, especially considering that Trump is on his third marriage and committed adultery on his first two wives.
Towards the end of Giuliani's interview with CNN's Jake Tapper, the CNN host let his contempt for the one-time presidential candidate show. They'd already tussled over Trump's taxes but it got heated when Tapper played the clip of Trump accusing Hillary of infidelity. At first, Rudy said it was "fair game" to make an unsubstantiated accusation because Clinton had called the Republican standard-bearer a racist and xenophobe.
When Tapper called him out on that bullshit, Giuliani demurred somewhat and tried to claim that Trump was just being "sarcastic" and that what he was really doing was mocking Hillary for posing as a feminist. Tapper was having none of it, and flatly asked, "Is Donald Trump and the people around Donald Trump really the ones to be casting aspersions on the marriages of anyone else?"
This wasn't even a subtle dig at Giuliani, who is currently on marriage #3, just like Trump. (And Newt Gingrich, if we're counting.) Rudy then tried to say this wasn't even about Hillary's marriage but about the Clinton Foundation taking money from Saudi Arabia and the former Secretary of State attacking "victims" of Bill's "sexual predations."
Wrapping up the interview, Tapper read Giuliani for filth, noting that he understands that he has to defend his candidate, but that some things are "indefensible."
"It was an unhinged and wild accusation. I can understand why you can't defend it, because it's indefensible," Tapper said, then sarcastically thanked Giuliani for coming on.
Rudy Giuliani defends Trump's remarks that Hillary Clinton hasn't been "loyal" to Bill https://t.co/Vu1HmwH4V3 https://t.co/Z2NCyReyVH

— CNN (@CNN) October 2, 2016