Rush Limbaugh Denies Calling Alicia Machado A Porn Star (He Did), Calls Her A Porn Star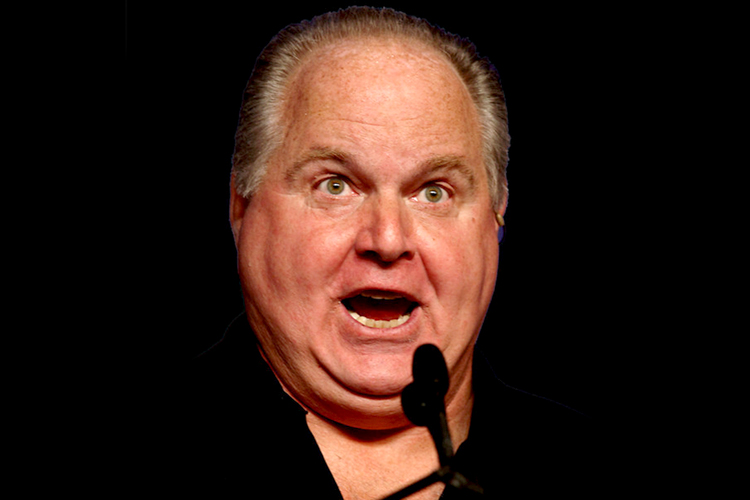 For some reason, Donald Trump and his merry band of sycophants just cannot stop talking about how a former Miss Universe deserved being fat-shamed by the real estate mogul 20 years ago. (I'm looking at you, Newt. You too, Roger Stone and Alex Jones.) Rather than leave it alone and hope it went away the next day after Hillary Clinton name-dropped Alicia Machado at Monday's debate, the GOP nominee has continued to keep the story going by justifying his behavior and running a smear campaign against Machado.
One of those smears that have been spread in the Conservative Entertainment Complex is that Machado worked in porn. Starting with The Daily Caller and quickly gaining steam, Trump's allies soon added slut-shaming into the mix with the attacks on Machado. It didn't matter if the claim was false (and if she was one, so what?), just that it was out there in the fever swamp.
Rush Limbaugh, the most famous slut-shamer of them all, repeatedly called Machado a "porn star" during Wednesday's broadcast of The Rush Limbaugh Show. At one point, he described Machado as "the porn star Miss Piggy," referencing Trump's insult of her when she was the reigning Miss Universe.
Of course, after The Daily Caller edited its original report about Machado's porn star past (i.e. there was none), Limbaugh said during today's program that he never said what he had clearly said multiple times. And, in classic Limbaugh form, he then stated that she was "worse than a porn star" because of feminism or something.
From Media Matters' transcript:
"And they say that "Rush Limbaugh the other day called her a porn [star]." I didn't call her a porn star. I was reading a news report in which she was referred to as a porn star. I don't watch porn. I don't know if she's done porn or not. I have no idea if she's a — I read what one of your colleagues in the drive-by media wrote about her. She's worse than a porn star. Because she's a woman and this and this is 2016 and women are getting bullied and raped on college campuses, ostensibly. You got to be very, very careful here.
So Trump calls her Miss Piggy. There is a character called Miss Piggy, proudly called Miss Piggy. One of the Muppets. Looks like somebody in American politics today, I might add. If you can't figure it out, I'll leave it up to you at some point to see."
Ok, ok. Now that's pretty bad. But this is just a day in the life of Limbaugh. He constantly denies saying things that anyway can easily prove that he did. It's just who he is. That is how all of this works.
But then, minutes later, during the same broadcast, he said this:
"You would think if the [Clinton campaign] thought they won [the debate] hands-down, slam dunk, that they would start hammering Trump on any number of things that include issues. And instead they bring up this former porn star and this whole sordid thing that happened 20 years ago with the Miss [Universe] pageant."
Jesus F'n Christ, Rush. At least wait until an hour later in the show or something.