There's No Other Way To Say It…Ed Schultz Is Officially Vladimir Putin's Puppet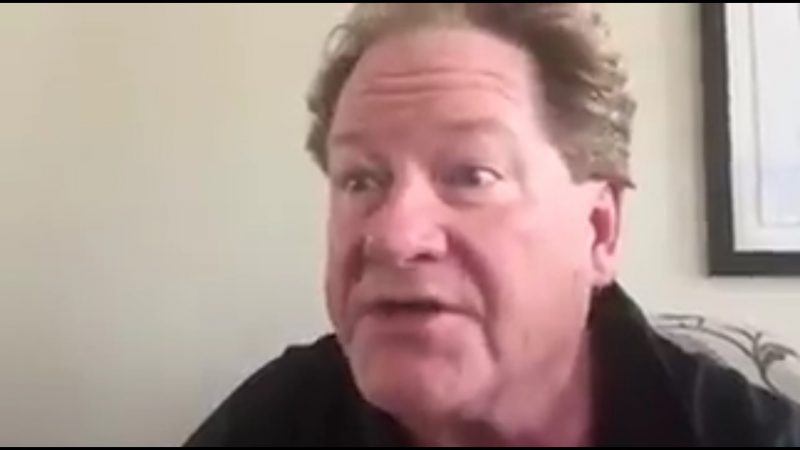 GOP nominee Donald Trump, already dealing with concerns about his love affair with Russian autocratic leader Vladimir Putin, appeared on Kremlin-backed RT America Thursday night for an interview with Larry King. During the interview, he heavily criticized US foreign policy, said he didn't believe Russia was behind the DNC hacks and indicated that he was against the idea of a free press.
Naturally, the decision to appear on a state-owned media outlet of Russia's to criticize America came under fire from both the right and left. Trump's camp claimed that he believed the interview was only going to run on King's podcast and not RT America. (Yeah, right.) But, in the end, regardless of the spin control,  the damage was done and it fed into the narrative that Trump is cozying up to Putin due in part to the Russian leader complimenting the real estate mogul. (Also, likely Trump really admires an authoritarian strongman who wields unrestrained power over his country.)
One person who came to Trump's defense on Friday was former MSNBC host and one-time liberal firebrand Ed Schultz. Working as an anchor for RT America since January, Schultz has for months now softened his previous positions on both Trump and Putin. As Politico noted earlier this year in an article describing Trump as the Kremlin's candidate, Schultz was previously very critical of Putin, especially when Republicans a couple of years ago praised him as a strong leader in comparison to Obama. Ed also didn't have much love for Trump during his MSNBC days.
Back when he hosted a prime-time talk show on MSNBC, Ed Schultz divided the world into heroes and villains. The heroes usually included Democrats like Barack Obama and Hillary Clinton. The villains were most Republicans, and especially Donald J. Trump. When Trump obsessed over Obama's birth certificate and academic credentials in 2011, Schultz branded him "a racist." When Trump flirted with running for president the next year, Schultz ridiculed him. "Who has shown any interest in Donald Trump being the next president of the United States other than Donald Trump?" he fumed. "Mr. Trump, stop embarrassing yourself!"
Another bad guy was Russian President Vladimir Putin. Schultz delighted in ripping conservatives for what he called their "love affair" with the Russian leader and his ability to make Obama look weak on the world stage. "They hate Obama so much they will even embrace the head of the KGB … 'Putie' is their new hero!" Schultz said in one 2013 segment. In another, he smugly reminded conservatives about Putin's "nasty human rights record" and the way his "reckless behavior" was "crippling" Russia. More generally, Schultz often framed GOP opposition to Obama as "anti-American" or "unpatriotic."
But, of course, when you're out of a job and the only place calling is a Russian propaganda network, you begin changing your tune. Schultz's broadcasts have been filled with criticisms of President Obama and Hillary Clinton, two people Schultz used to express much admiration for. He's been highly critical of American foreign policy while praising the strength and decision-making of Russia. And he's praised Trump numerous times for his appeal to the working class.
So, when he tweeted a short, generally unhinged cellphone video from his living room Friday lashing out at Hillary Clinton regarding Trump Russian TV appearance, it just reaffirmed what has been apparent for a while now — Schultz is a puppet of Putin.
In the video, the 'working class hero,' in all of his disheveled glory, lambasted Clinton and other progressives for never coming on the network for interviews. He claimed there is no evidence that Russia or the Kremlin was behind the DNC hacks and said it was nothing more than Clinton propaganda. He came to the defense of Trump throughout, positioning him as a victim of the Clinton machine.
Below is the tweet:
The media hysteria is amazing. CNN claims #DonaldTrump is 'unpatriotic' for doing an interview on @RT_America. pic.twitter.com/E96RPsCXjh

— Ed Schultz (@NewswithEd) September 9, 2016
It should also be noted that prior to Schultz becoming a liberal commentator, he was a a run-of-the-mill conservative talk show host. Throughout the '90s — you know, the Clinton years — he was just another Limbaugh wannabe. Towards the end of that decade, he began shifting towards the left, eventually settling on the Middle America populist that brought him a decent-sized fanbase and a six-year run on MSNBC.
More than anything, Schultz's loyalty shift and embrace of authoritarianism show just how easy it is to find propagandists to do your bidding. If you have the money and the media reach, you can easily locate soulless individuals who will flip on a dime and preach your gospel. Find those who can appeal to a certain demographic or have some bit of credibility media-wise and toss them out there while insisting they have editorial control.