CNN's Scottie Nell Hughes: Hillary's The Real Bigot For Saying The Alt-Right Is Racist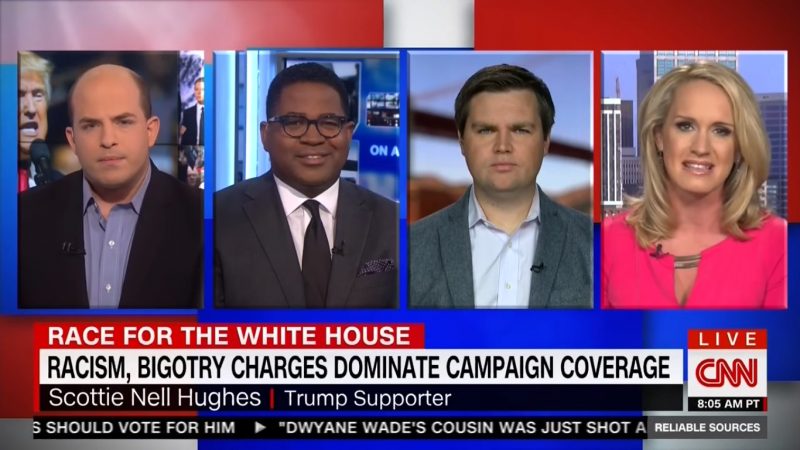 Ever since Donald Trump called his opponent a bigot last week, and repeated it multiple times, his defenders have had a difficult time justifying the attack, especially since Trump himself can't actually point to any instances of Hillary Clinton displaying personal bigotry.
During Sunday's broadcast of CNN's Reliable Sources, contributor Scottie Nell Hughes came up with a unique explanation for why Clinton is a bigot. See, when Hillary gave her speech in Reno last week connecting Trump to the Alt-Right, and noted that the movement was based on white supremacy, she was displaying the very definition of bigotry. How's that? Well, she directed hate towards another group by labeling them racists.
Following up fellow panelist Jamil Smith's remarks about Breitbart being a voice for the Alt-Right and mainstreaming white supremacist views, Hughes complained about how the publication was being portrayed. She then ranted about how everyone who reads Breitbart and is part of the Alt-Right are nothing more than God-fearing Americans who love their country.
"Bigotry, if you look at the definition, it's about someone who's small-minded and sits there and directs hate towards a certain group Hillary Clinton's speech was all about hate towards a group that, while my fellow counterpart might consider them to be very racist, it's the exact opposite.
…
These are God-fearing, baby-loving, gun-toting, military-supporting, school choice-advocating Americans! And just because maybe there might be some, a part of a very small fringe group that read Breitbart — by sitting there and saying the entire website is white supremacy is kind of ridiculous as saying just because you have people that are anarchists and communists that read the Huffington Post, calling that newspaper establishment, saying that they're pro-anarchy and they're against the United States government."
This is just another variation of the 'you're the real racist for pointing out my racism' argument that conservatives love to engage in. Also, we're seeing Hughes try to rehabilitate the Alt-Right's image, claiming that they are the exact opposite of racist.
Smith wasn't buying the argument, and reiterated what Breitbart and the Alt-Right really stand for.
"What they present is the view of the white supremacist mentality through their coverage. It's not necessarily saying, 'Well, everyone who works there is a white supremacist.' I don't know that.The point is to say, what kind of viewpoint did they reflect? And it's undeniable that they reflect a white supremacist view if you looked over their coverage over the last several years."
Expect to see more of this spin from the Trump camp regarding the Alt-Right. While the real estate mogul himself pretends he's never heard of the movement, others around him will say that they are just misunderstood, and just represent a freedom-loving, alternative viewpoint. At the same time, they'll defend Breitbart as a legitimate news outlet that reflects a mainstream conservative viewpoint.
Below is video of the segment, courtesy of Raw Story: