John Oliver To Donald Trump: Drop Out And Teach Us All A Lesson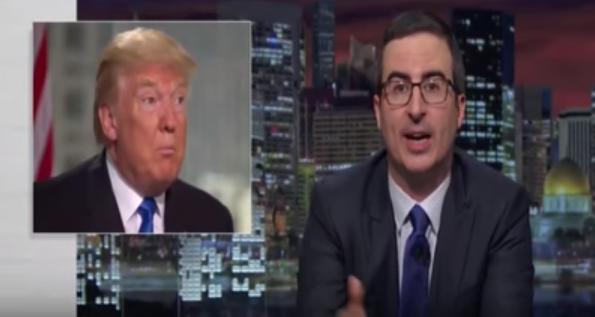 In his last show before a month's hiatus, Last Week Tonight's John Oliver offered Donald Trump a radical proposal: drop out of the race to highlight America's broken political system. Oliver spoke directly to Trump in a passionate appeal to the Republican candidate.
'Racist voodoo doll' Trump is running a campaign like 'a bigoted clown's blazing funeral pyre', Oliver said. He suggested that either Trump will lose in a 'brand destroying' moment or he will rebound and win, an outcome that Oliver believes will be even worse for Trump's temperament.
"I know that you're watching Donald," Oliver said, addressing Trump directly. "Drop out. Simply drop out and tell America this entire candidacy was a stunt -a satire designed to expose the flaws in the system." Oliver then praised Trump for 'accidentally' raising good points about campaign financing, media exposure and blind party loyalty.
"You didn't just expose the flaws in the political system. You exposed the flaws in us," Oliver said. He encouraged Trump to drop out 'in order to teach America a lesson'. Oliver even invited Trump on his show if Trump is willing to drop out and read a speech from the novel The Kid Who Ran For President.
Oliver drew uncanny parallels between the children's novel about a boy who becomes president and Trump's own rise and behavior. "This book is your only way out," Oliver said. "Please prove me wrong and show yourself to be a three bit bullshit artist, conning America to help America. Embrace your destiny as the real life kid who ran for president."
https://www.youtube.com/watch?v=pzkECkuOMTw