Trump Requests Magazine He's Blacklisted From Campaign Events To Put Him On Cover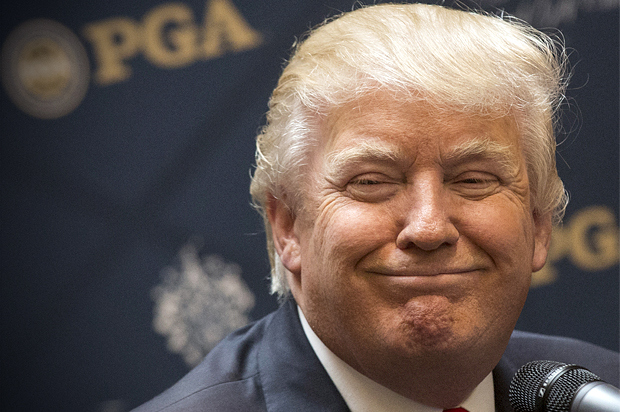 Every single day of this crazy election season brings us another 'can't make it up if you tried' story from Donald Trump's campaign.
According to Politico, the GOP nominee's camp sent the publication an email this week asking if they'd place The Donald on its magazine cover.
Donald Trump's campaign emailed POLITICO asking to order "Politico Magazine with Mr. Trump on the cover. Appreciate the help!" Meanwhile, Trump's campaign has blacklisted POLITICO and refuses to allow us entry into any campaign events.
Uhhh, what? Now, we all know that the Trumpster LOVES being on the cover of magazines. All one needs is to go to his office to see his legendary narcissism on full display. (Just ask him about the Playboy cover. Please. He really, really, REALLY wants you to.) But, does his staff not realize that they've banned Politico from covering Trump at campaign events?
Yup. Back in March, Trump's team began denying access to Politico reporters based on a story published by the site claiming that there was concern among staffers about then-campaign manager Corey Lewandowski's behavior. Since then, Politico has been unable to get credentialed for official Trump events.
Of course, Politico is far from alone on the banished list. Last month, the real estate mogul famously banned the Washington Post over an article the paper published regarding Trump connecting the Orlando shooting to President Obama. (Something he actually did do.) Other outlets who have been barred from campaign events are Univision, Buzzfeed, The Daily Beast, The Huffington Post and The Des Moines Register.
So, not only does Trump's fascistic leanings cause him to trample all over the free press, but he also figures that they need to promote and amplify his cult of personality? But, according to many, he's going to calm down and temper his impulses once given the power of the White House. It won't be that bad. It's OK to risk him in office so the REAL progressive revolution can happen.
You keep telling yourself that, folks. Keep telling yourself that.