Look Who Got The Message! Bill O'Reilly Calls On Trump U Judge To Recuse Himself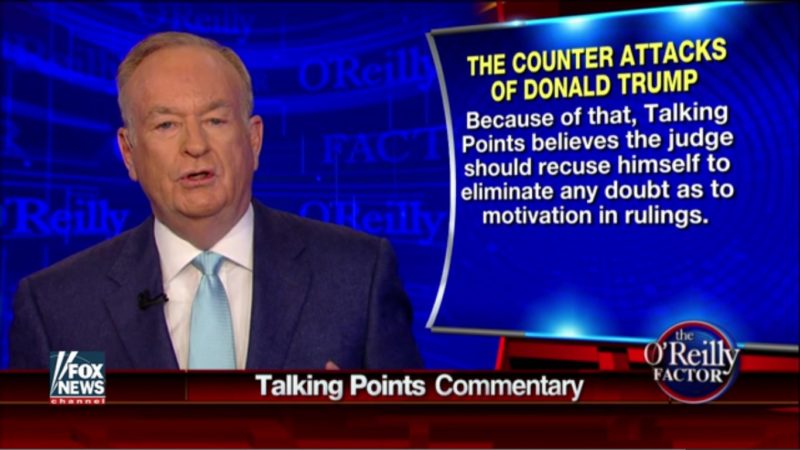 Well, wasn't that convenient!
Following news that Republican nominee and failed steak salesman Donald Trump had ordered supporters and surrogates to defend his racist attacks against Judge Gonzalo Curiel, Fox News host Bill O'Reilly took to his opening 'Talking Points' segment Monday night to call on Curiel to recuse himself from the Trump U fraud case.
Yep. Your humble correspondent, a man of great integrity and honor, a man who calls it right down the middle, got on his knees and serviced his true master. Now, mind you, Papa Bear made sure to point out that he didn't think Curiel had done anything wrong — HE TOTALLY HASN'T — but he should just do it to eliminate any doubt. What doubt would that be? Oh, you know.
BILL O'REILLY (HOST): Although appointed by Barack Obama, Judge Curiel is no raging liberal. In fact, he is a tough guy. At one point a Mexican drug cartel threatened to assassinate him because of his anti-drug trafficking stance. However, the judge belongs to a group called San Diego La Raza Lawyers Association, which does advocacy work on behalf of Latinos. It's not associated with the radical La Raza group, but confusion is understandable.
Because of that, Mr. Trump apparently believes the judge may be biased against him, as it is well-known the candidate has taken a strong stand against illegal immigration, include building a border wall.
Summing up, the Trump U. case is certainly political to some extent, and it's a very high profile situation. Because of that, Talking Points believes the judge should recuse himself. Not because he did anything wrong, he didn't, but to eliminate any doubt as to the motivation in court rulings.
There are plenty of federal judges that could immediately step in. It is valid that some may see any recusal as caving to intimidation. But stark justice in a case this important, trumps, pardon the pun, any theoretical argument.
Notice how Bill-O plays his little game here. See, Trump thinks Curiel has radical ties to extremist organizations and could assume bias because of Trump's very patriotic immigration policies. O'Reilly doesn't really believe Trump is opposed to Curiel due to his ethnicity as much as to his possible political leanings. THAT'S ALL! NO RACISM HERE!
But, even though Curiel has done nothing wrong, he should step aside and let another judge oversee the case, because it is the right thing to do. Y'know, be the better man, FOR AMERICA.
Oh, and just in case you didn't know, Trump appeared on the program immediately after for an extremely hard-hitting interview.
Following The O'Reilly Factor, Megyn Kelly began The Kelly File by throwing shade towards Bill, saying pundits who want Curiel to recuse himself don't know what the fuck they're talking about. (Paraphrasing here.)
Below is video of Bill-O doing Trump's bidding, courtesy of Fox News: