Trump's Campaign Has Opened The Door For Other Attention-Seeking Rich Dudes To Seek Office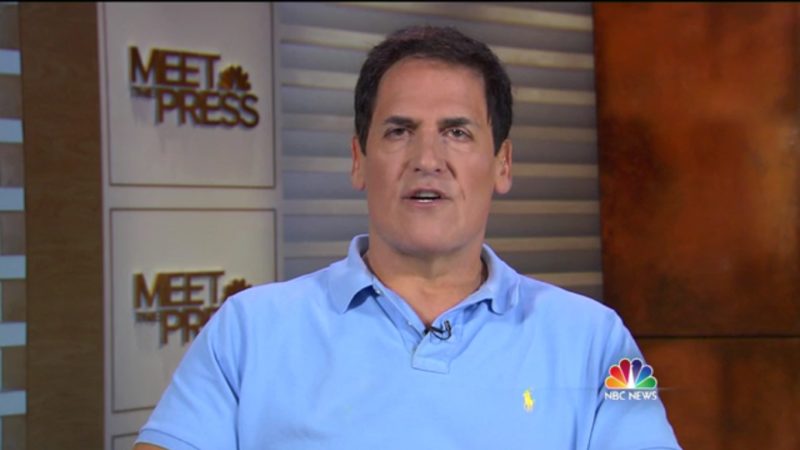 Over the past few months, Dallas Mavericks owner and braggadocios billionaire Mark Cuban has hinted that he'd like to get involved in politics, specifically a run at the White House. On Sunday, he dropped any semblance of subtlety, as he flat out said that he was considering a run, referencing Donald Trump's campaign as a reason he's open to getting involved. He also stated that he'd like to be the running mate of either Trump or Hillary Clinton, obviously because he's so principled.
Appearing on Meet the Press after Clinton was interviewed, Cuban was treated as some kind of policy expert and legitimate Presidential candidate by host Chuck Todd. The star of reality show Shark Tank waxed poetic on his thoughts about President Obama's policies, the need for more ultra-wealthy dudes to run for office and his thoughts on the current state of national politics. At the same time, Todd kept urging him to run for office, because what we really need are more narcissistic ego-drive wannabe alpha male billionaires seeking the White House.
Here's a sample of some of the questions and answers during the interview, courtesy of Meet the Press's transcript:
CHUCK TODD:
You know, you were a big advocate of Michael Bloomberg running. You advocated him running I think in '08, in '12 and again in '16. He chose not to because he said he didn't think he could win. Is that a good enough reason?
MARK CUBAN:
Well, yeah, if you're the person having to do all the work and grind through it. Of course, it is.
CHUCK TODD:
But is that good for the country?
MARK CUBAN:
Well, again, if you don't think you can win, then your decision making is impacted by that. It's the same in sports, it's the same in politics, it's the same in business. If you don't think you're going to succeed, I think voters in this case would see right through it and see that that's the case. So you can't go into it not willing to do the work, not willing to grind. And so, you know, and it's his choice to make.
CHUCK TODD:
Assess the Obama presidency.
MARK CUBAN:
I think he's done a lot of good things, contrary to what some think. I think he's made a lot of mistakes as well. And that's what you expect from a president. I think he's smart. His goal was to really bring up people from the bottom in providing health care. That's been a positive step. I think he's really had the interest of the country at heart. But I think he's made some significant mistakes in foreign policy.
[…]
CHUCK TODD:
All right, let me go back to Clinton versus Trump here. You joke that you would love to be Clinton's running mate, as long as you were allowed to throw bombs at Trump. If she really did come to you, would you listen?
MARK CUBAN:
Absolutely. But the key would be that she'd have to go more to center. I like the fact that Senator Clinton has thought out proposals. That's a good thing because at least we get to see exactly where she stands. But I think Senator Sanders has dragged her a little bit too far to the left. Things like college tuition and, you know, other business elements that really I think could hurt the economy. If she's willing to listen, if she's willing to, you know, hear other sides of things, then I'm wide open to discussing it.
CHUCK TODD:
What about Donald Trump?
MARK CUBAN:
Same. You know, I'm an independent. And I'm fiercely independent and think for myself. And I'd have the same conversation for Donald. I think Donald has a real chance to win, and that's scary to a lot of people. But what's scary about it to me is that you can see him now trying to do what he thinks is right to unify the party.
And he's listening to everybody, which is fine on the surface. But what's also happening is it's coming across as if he's proposing things based off the last person he talks to. "Oh, you need to, you know, unite the conservatives and here are 11 people to propose for Supreme Court justice." I bet you if you asked him about any one of them and then to discuss any one of their findings, he wouldn't be able to do it. And to me, that's a problem. And so if he asked me, I'd be, like, "Okay, Donald. That's great. Let's talk about it. But we're both going to have to dig in and really look and understand the issues so we can come up with solutions."
[…]
CHUCK TODD:
What would it take to convince you to run in a 2020 or a 2024?
MARK CUBAN:
It's too early to tell. I mean, depending on what happened with, you know, whoever's elected, depending on what happens with the economy because the reality is, there's so much uncertainty with the economy. And neither candidate really has come up with anything even relevant to the economy, you know? And so, we'd have to see what happened. We'd have to see, you know, if Congress still does nothing or they've managed to take steps and really have an impact. There're so many variables that I don't have the answers to. I really couldn't tell you.
The big takeaway here is that Todd, host of the venerable institution Meet the Press, essentially fanboyed Cuban, doing everything he can to make out national political landscape an even bigger joke than it is right now. Chuckie Boy was all like, 'Well, since Trump's changed the game, let's get more rich, totally unqualified douchebags into the mix.' I mean, seriously, Cuban is saying he'd be EITHER Trump or Clinton's running mate, and he gets no real pushback or eyebrow raising from Todd.
This is where we are right now. Dudes like Cuban and Kanye West, who announced last summer that he's running for POTUS in 2020, just thinking they have what it takes to be the leader of the free world because they're rich and have name recognition. They have no clue about policy, political and social science, constitutional law, history or international relations. But, they are 'powerful' and 'leaders,' so absolutely they should be considered.
It's all a joke to our national news media. They don't care how bad any of this is for the country. Whatever it takes to get eyeballs glued to their programs.