Rob Reiner Gives 'Morning Joe' The Vapors By Accurately Pointing Out Trump's Racism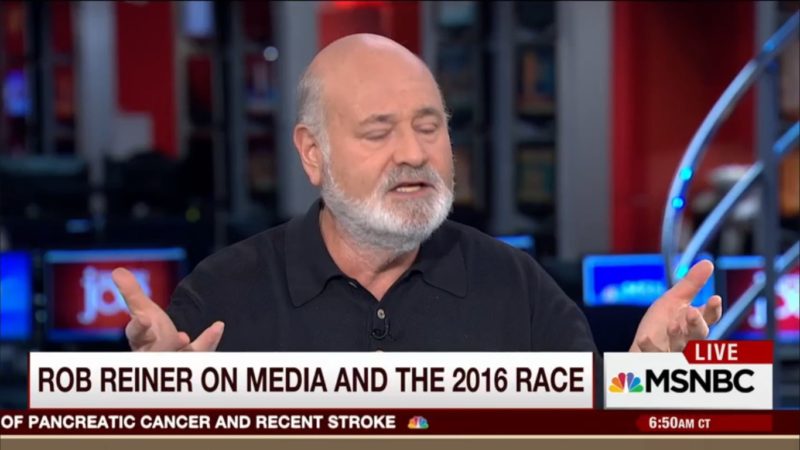 Well, that was refreshing.
Filmmaker Rob Reiner showed up on Morning Joe Thursday morning to ostensibly talk about his latest film, Being Charlie. Whiles he did promote the move for a bit, you just knew that much of the conversation would center on politics and the presidential race. And did it ever!
The outspoken liberal first started talking about his support of the two Democratic hopefuls, stating that Hillary Clinton was the most qualified candidate in his lifetime and that progressives need to unite behind her because of Donald Trump's candidacy. This then morphed into the former All In The Family star railing on the news industry, specifically cable news, and explicitly Morning Joe.
After highlighting that the news industry has been profit driven in recent decades, and celebrity worship helps drive ratings, Reiner noted that Trump's campaign has been boosted by shows like Morning Joe who have treated him kid gloves and cozied up to him. As Joe Scarborough and Mika Brzezinski started fighting back, Reiner stated that Trump has not only been provided tons of free media coverage, but that his bigoted behavior has been normalized.
After some back and forth between the duo and Reiner, with Mika giving her best Serious Face and Joe in full righteous indignation mode, co-host Willie Geist jumped in to try to newsplain to director why the show is just reflecting the will of the people or something. Geist told Reiner that there are millions of Trump supporters who don't watch the show, so how do you explain them voting for the celebrity billionaire.
Reiner had the perfect and simplest explanation — RACISM. And the whole panel flipped! Yep, they absolutely did not want to hear that the thing that everyone knows is driving Trump's campaign actually exists. While the vast majority of minorities have very unfavorable views of Trump, and the former reality TV star plays footsie with white supremacists, all as he promises to ban Muslims, deport immigrants and build a wall along Mexico, Joe and Mika don't want to acknowledge that his appeal is based mostly on racism.
Mika went from Serious to Troubled Face. Joe blustered and ranted about Trump mostly appealing to the working class voters who have been left behind. Willie looked for his fainting couch. Mark Halperin most just stood there with his trademarked smug smirk. It was all so glorious to see Morning Joe's bubble punctured, at least for one segment.