Fox Host Says Fox News May Implode Like Breitbart Due To "Internal Strife" Over Trump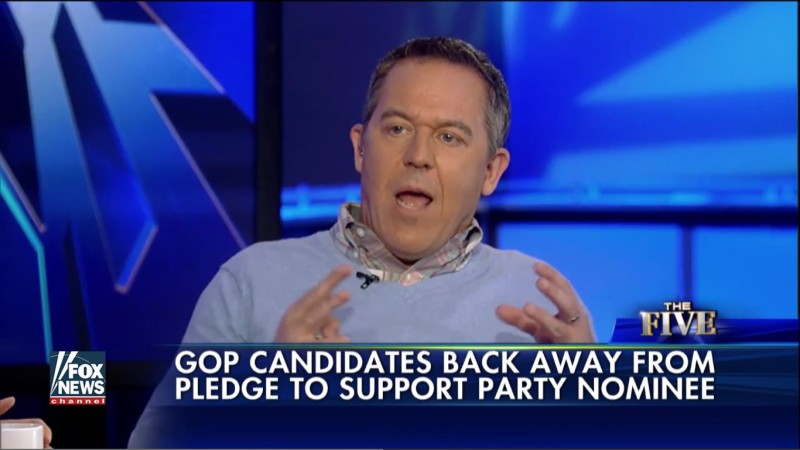 As the GOP runs headlong into the impending disaster that is the Republican Convention this summer, the members of the Conservative Entertainment Complex are going through the five stages of grief regarding the destruction of the party. During Wednesday's broadcast of Fox News' The Five, co-host Greg Gutfeld tried to get his fellow panel members to move on from anger and over to bargaining.
After talking about the fractured nature of the Republican Party and the damage Donald Trump has created, Gutfeld attempted to have a counseling moment with his colleagues. In essence, he told them that Trump's campaign has created a whole lot of tension not only among the members of the panel, but within Fox News itself. He then stated that if they don't fix this "internal strife," the network may end up like Breitbart, which has imploded over support of Trump.
For those unlucky enough to watch The Five on a regular basis, lead host Eric Bolling and regular panelist Kimberly Guilfoyle are decidedly pro-Trump, with Bolling being one of the network's leading Trump apologists. Meanwhile, Gutfeld and co-host Dana Perino, while staunchly conservative, have been vocally opposed to Trump's campaign for some time now.
In Gutfeld's view, the entire network needs to come together and decide how they are going to handle what Trump has done to the party, and they need to do it soon. He highlighted that they "are having issues within a family of anchors over this stuff." In a nostalgic aside, Gutfeld yearned for the days when they "could all unite against the hatred of Obama."
While Bolling said that it will all come back over time — he does know that Obama is out of office in less than a year, right? — Gutfeld wasn't so optimistic.
"Trump has shattered that, and now we're sitting here, we're grappling with this internal strife and we have no way to get out of this. So when we're talking about the convention and we're talking about how do we improve this, we actually have to talk amongst ourselves as conservatives, as Republicans. Can we express our grievances honestly about how we feel about this so that we can move beyond? So we can unite. I'm not talking like an encounter group, but I'm saying we all have to be honest with each other."
They eventually moved into talking about how everyone is so angry and how the convention will be a clusterfuck, all while conveniently not pointing fingers at themselves for causing the level of faux outrage among conservatives that got them to this boiling point.
Maybe that will be in the next stage.
Below is video of the segment, courtesy of Fox News: