Amy Goodman: "Exposure For Trump Is Frightening," Media Is "Manufacturing Consent" For Him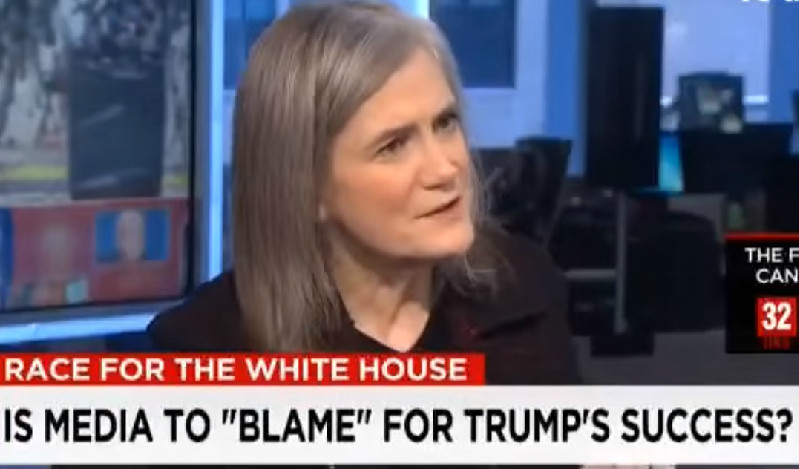 During a segment of CNN's media criticism program Reliable Sources, Democracy Now! host Amy Goodman lit into the mainstream media for creating an uncritical environment that allowed for Donald Trump's ascendancy in the 2016 Presidential election. With Sunday marking the 13th anniversary of the start of the Iraq War, Goodman quoted Noam Chomsky, who has said that the media finds ways to manufacture consent for dangerous ideas or people.
Speaking to host Brian Stelter, Goodman pointed out that CNN and other cable news networks really should be ashamed of themselves for consistently overexposing Trump while ignoring other candidates. Specifically, she took the networks to task for airing live coverage of an empty stage and podium at Trump headquarters during Tuesday night's primaries while Democratic candidate was delivering a speech to supporters.
"Let's look at Super Tuesday 3. You had major coverage here at CNN, at MSNBC, at Fox. All the networks across all through the night as the polls are closing. You see the concession speeches and the great victory speeches, you see Hillary Clinton, Ted Cruz, Kasich, you see Donald Trump. You're waiting here at CNN, at MSNBC. They said he's going to hold a news conference, and that's it.
Where was Bernie Sanders? Well, in fact, Bernie Sanders was in Phoenix, Arizona before thousands of people and as the networks were waiting for Donald Trump and waiting and all the pundits are weighing in, they don't even say that Bernie Sanders is about to speak."
Stelter, playing devil's advocate, tried to provide the networks' justification for ignoring Sanders, stating that Hillary Clinton had beat him on that evening and looks to be the presumptive nominee. In response, Goodman noted that both Missouri and Illinois had yet to be called at the time and both ended up going down to the wire. She also highlighted that the news channels all covered John Kasich's 'victory' speech after he won Ohio, even though it was his first primary victory and it is currently mathematically impossible for him to get a majority of the delegates before the GOP convention.
Goodman further noted that during the previous Super Tuesday, the networks all stayed focused on Trump while he delivered an infomercial and spent nearly an hour talking about his steaks and vodka, all while Clinton was also speaking live. However, at least that time, they recorded Hillary's speech and showed it afterward. This past Tuesday, they didn't even both to tape Bernie's address.
Towards the end of the conversation, Goodman brought up Chomsky, stating that it is worrisome that the media seems to be "manufacturing consent" for Trump's candidacy, despite the clear and present danger that it represents. Sure, we are now seeing some critical coverage of Trump, but it follows months of overexposure that poisoned the water.
"This is the anniversary of the Iraq war. I think this exposure for Trump is frightening. Yes, there is now some critical coverage. But for the year 2015, as the snowball rolled and it got larger and larger, he got 23 times the coverage of Bernie Sanders."
Below is video of the segment, courtesy of Raw Story: