With Two Networks Covering It, Trump's Event Drew 10 Million Fewer Viewers Than Debate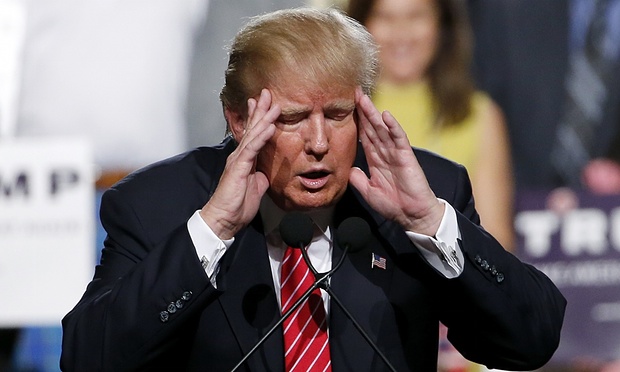 Well, the final numbers are in for Thursday night's battle between Republican Presidential frontrunner Donald Trump and Fox News. And while Trump can invariably claim some sort of victory, in the end, he attracted far fewer eyeballs than the Fair and Balanced network he is currently feuding with.
In the end, Fox News pulled in an 8.4 rating and drew 12.5 million viewers for the Republican debate that Trump boycotted because Megyn Kelly is a big meanie. Meanwhile, CNN and MSNBC, which both provided live coverage of Trump's Iowa event that was meant as counter-programming to the debate, only had a combined audience of 2.7 million.
Now, the ratings for the GOP debate are the second-lowest for the Republican primary season and half of what the first one did for Fox News in August. However, no debate has reached those numbers since and the audience has slowly fallen after the novelty of Trump wore off. The last Republican face-off, hosted by Fox Business earlier this month, had about 11 million viewers and a 7.4 rating. Of course, Fox Business isn't as widely watched as its sister network, so that should be taken into consideration.
Still, Trump was hoping to strike a death blow to Fox News by killing them in the ratings on Thursday, and that did not happen. Trump's campaign manager, Corey Lewandowski, promised earlier in the week that Fox would only get 1 – 2 million people to tune in while his boss would dominate the evening with his sham 'For the Vets' event. While that was silly when he said it, Fox pulling in 12.5 million while he could only muster 2.7 million on TWO DIFFERENT NETWORKS has to be a blow to his ego.
Now, Trump being Trump, he and his supporters will spin this as a positive. The celebrity billionaire has already tweeted about the mentions he received during the debate.
Thank you for your interest & support during last nights #GOPDebate! #IACaucus finder: https://t.co/ANvTcZqfOq pic.twitter.com/yadQiPC49g

— Donald J. Trump (@realDonaldTrump) January 29, 2016
Great Twitter poll- and I wasn't even there. Thank you! #GOPDebate pic.twitter.com/yLJGkoOeBg

— Donald J. Trump (@realDonaldTrump) January 29, 2016
And he will be sure to point out the drop in ratings between Fox News' first debate and Thursday night. (Though he hasn't done that yet as of this publication.) However, the plain fact is that 10 million more people wanted to watch the debate than him. In fact, MSNBC and CNN barely drew more combined viewers than on any average weeknight.
One takeaway that could come from the overall drop in ratings for the GOP debates and the lack of people turning out to watch the Trumpathon is the general fatigue the public has with all things Trump. Let's face it, people are just fucking tired of this guy. And, if he wins the GOP nomination, they'll have 10 more months of him hogging the spotlight. While he might be appealing to a certain angry white demographic, he is highly unpopular with the rest of America, and with more and more media exposure, the general public will continue to hate him.